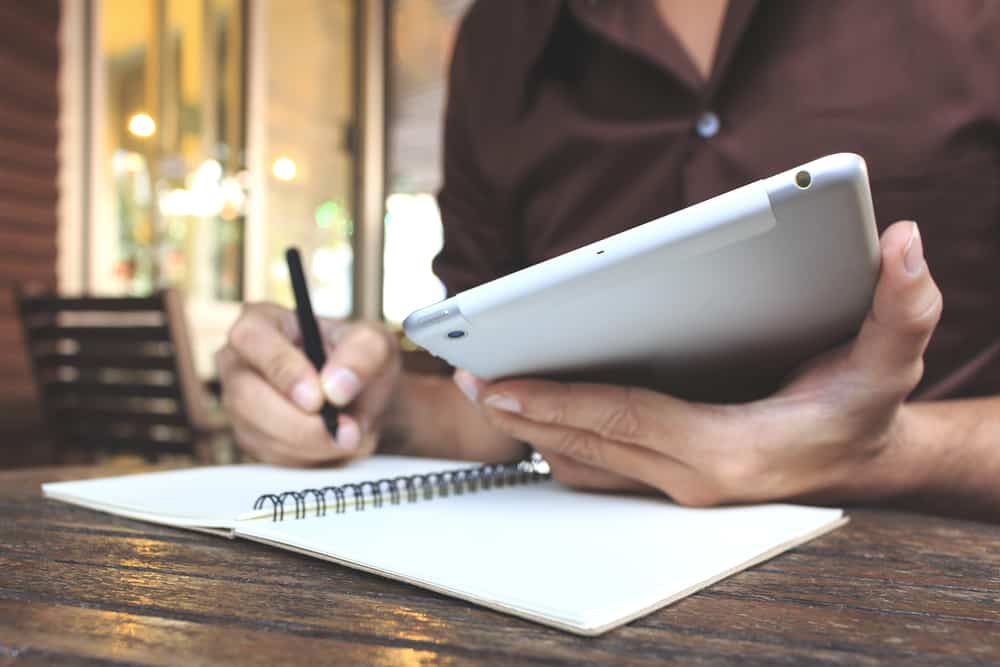 Do you love to write text on paper? We all do! Even though the human race has progressed, there's something to write on paper we can't overlook. But writing on paper, taking its image, and then import on our devices is quite a hassle.
That's why Apple iPads gave us the features to write on them directly. With a proper papery protector and a good stylus, our iPad can feel like any other piece of paper. So, how do you write on an iPad?
To write on an iPad, turn on the "Scribble" options in Settings and start writing on the screen. To write and save your text as notes, use a third-party app like Notability.
In this article, we'll discuss using "Scribble" and other note-taking apps to write and save your notes on the iPad.
Using Scribble on iPad
Apple iPad provides you with the feature "Scribble" to write text using your handwriting and convert it into text. You can use this feature anywhere on the screen.
How To Turn On Scribble
Turning on Scribble on your iPad is easy. Follow these steps to turn on the Scribble to start writing.
Launch your Settings app.
Search and choose the "Apple Pencil" option.
Turn on the Scribble.
Now, you can start writing on the screen using your Apple Pencil. Let's take on its features to write text effectively.
How To Delete Text
While using Scribble, you'll encounter errors. To remove and fix the text, you must draw a zig-zag vertical or horizontal stroke. With this, the selected text will disappear.
How To Select Text
To select any text for more editing, you need to draw a circle around it. If you draw a horizontal line underneath, it'll also do the job.
Method #1: Write on iPad Using Notes
If you're new to iPads, you should use its native Notes app. This app allows you to draw and write text using Apple Pencil or your hand. You can use different markup tools to edit the colors and sizes of various texts or shapes.
Follow these steps to start drawing and writing on the Notes app.
You can start drawing and writing with your Apple Pencil. If you want to operate through your fingers, tap the yellow pen tool button on top.
Change the colors or use different tools in the "Markup Tools" section.
Adjust and resize your handwriting area using the left side's vertical slider tool.
Touch and drag the selected selection to expand. You can double-tap to select a word and triple-tap to choose a sentence.
One of the best features of the Notes app is that it allows you to import pictures and vectors to spice up your creativity.
Method #2: Write on iPad Using a Third-Party Software
You'll need third-party software to use your iPad to its full potential. The App Store facilitates you with note-taking apps like Notability, Notion, and Microsft OneNote.
You may have used Microsoft OneNote once in your lifetime at work or school. But did you know that the iPad allows you to take handwritten notes?
OneNote facilitates its users with blank pages or a layout like a sheet of paper to write on it. This makes writing more fun!
You can also import pictures, graphics, and even voice recordings. OneNote gives you all features of Notes and more features like the ability to download other people's notes and share yours too.
Microsoft OneNote covers you if you feel worried about losing your notes. It uploads and saves your notes in OneDrive, allowing you to access your notes on any iPad as long as you've got an internet connection.
By integrating Microsoft OneNote into your workflow, your productivity will increase as well as the experience.
Conclusion
The Apple iPad is not just a tab but a whole computer. When combined with Apple Pencil, you're open to a new world of things you can do. Taking notes is a good habit of retaining information for later use. This can help you in your college or at work.
Frequently Asked Questions
Can I write on an iPad without Apple Pencil?
Yes, you can write on an iPad without Apple Pencil. Go to your Settings > "Control Center". Turn on the "Access Within Apps" option. Add "Quick Note" to the "Control Center Titles" list. On the Quick Note, you can write without Apple Pencil. 
What can I use instead of an iPad pen?
You can create your iPad pen, but it'll not have the Apple Pencil's features. To make your stylus, dampen the nimb of your pen. Insert a cotton bud of any Q-tip on the nib of your pen, and you've your DIY iPad pen.