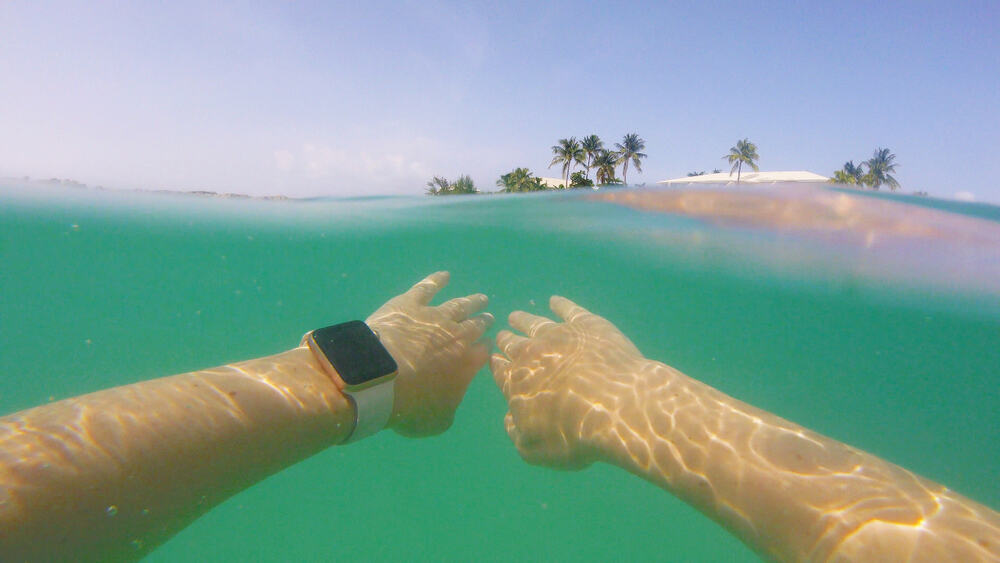 It's human nature to panic whenever your expensive smart device, such as the Apple Watch, comes into contact with water. Apple has released several models which incorporate more innovative features. However, there's no single Apple Watch that's completely waterproof.
Instead, Apple Watches are usually water-resistant, which means they can continue working even when they come into contact with water. The first-generation Apple Watches were only splash-resistant; submerging these models into the water wasn't recommended. But Apple Watch Series 2 and newer had a water resistance rating of up to 50 meters. 
With this in mind, you can now understand that while the Apple Watch can withstand exposure to water, this doesn't necessarily mean it's completely impervious to water damage. Read on to learn more about your Apple Watch's water resistance and how you can best protect it from water damage.
In addition, we'll take you through a few frequently asked questions about the Apple Watch. Let's get started.
Apple Watch Water Resistance Explained
Understanding the water-resistance feature of the different Apple Watch models is essential to ensure you observe measures that don't expose it to possible damage. However, you should start by understanding the difference between waterproof and water resistance.
Waterproof usually means that a gadget is entirely invulnerable to water even when fully submerged in water. However, there's no single Apple Watch is waterproof. In contrast, water resistance means that a device can withstand water intrusion.
The first two Apple Watch models, the first-generation Apple Watch and Apple Watch Series 1, are only splash-resistant and have a water-resistance rating of IPX7. This means you must never immerse them in water. But the newer models starting with Apple Watch Series 2, are waterproof up to 50m and have a water resistance rating of 50m.
Therefore, you can take the newer models of the Apple Watch are much better if you want a smartwatch that can withstand water damage while swimming. With that said, you shouldn't strictly stick to shallow depths like the beach or the pool. But these watches can suffer water damage when participating in high-velocity water sports such as water skiing or scuba diving.
It's also advisable you don't wear your Apple Watch, regardless of the model, in a steam room or sauna. You also shouldn't go to the shower with your Apple Watch because regularly exposing it to cleaning solutions, skin products, and bath products will negatively affect your smartwatch. As a result, the Apple Watch might end up experiencing irreversible damage.
You need to know that while your Apple Watch might be rated as water-resistance, this usually isn't permanent. This is because the adhesives and seals can fail over time, increasing the chances of water penetrating your Apple Watch. As a result, your Apple smartwatch suffers a greater chance of water damage.
Summary
The Apple Watch is an excellent investment, especially if you're into sports, and its water-resistant feature makes using them a lot more exciting. This is the case even though the Apple Watch isn't 100% waterproof, so you must observe certain limitations when wearing it in water.
This exhaustive guide has clarified everything you need to know about the Apple Watch, whether waterproof or water-resistant. This will help you understand how best to use this gadget when performing different water-related activities. Therefore, you can better ensure that your Apple Watch remains functional for a much longer period.
Frequently Asked Questions
How can I prolong the life of my Apple Watch?
There are specific measures you can implement that help prolong the life of your Apple Watch. One effective trick is always to clean your smartwatch each time you're done working out, especially if you tend to sweat a lot when exercising. You should also routinely drain your smartwatch and use the Water Lock feature. 
Another effective approach to prolong your Apple Watch's lifespan is cleaning it with fresh water whenever it contacts a different type of liquid. After that, use a lint-free and non-abrasive cloth to dry the Apple Watch meticulously. You must never use compressed air or heat your Apple Watch to dry it because this will shorten its lifespan. 
What is the water drop on my Apple Watch?
A water icon or water drop on your Apple Watch shows that the Water Lock feature is activated. Doing this safeguards your Apple Watch from possible water damage and makes it impossible to click, swipe, or tap on its buttons. 
You can deactivate the Water Lock feature by turning the digital crown to unlock and remove the water. You'll hear a sound and feel a slight vibration which happens to show that water has been removed from the speaker. After a couple of seconds, you can resume using your Apple Watch. 
The Water Lock feature doesn't only have to be used when you're out swimming. It can also come in handy each time you run in the rain.