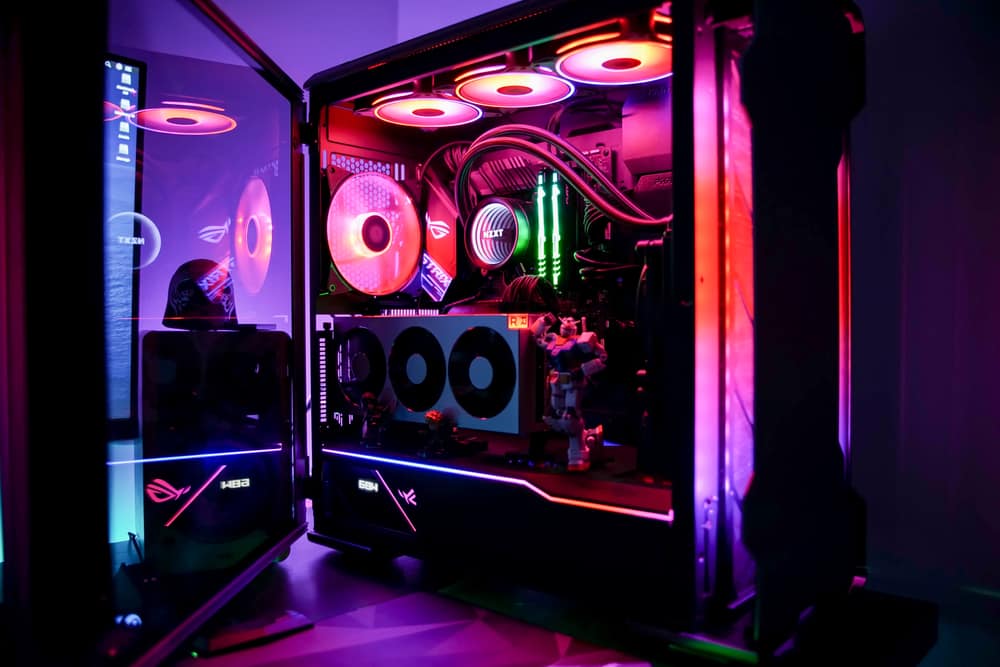 Once your PC is finally built and turned on, there are several things you need to do to finish setting up.
Let's go over each of these items to know what you need to do when you first log in to your new machine.
Antivirus Software
Do not underestimate the power of a virus to cripple your PC, not to mention risking losing private information! This is easily avoided by installing good antivirus software.
Windows 10 comes with Windows Defender, but you need a dedicated program to protect your PC. You also want one that won't bog down performance. Bullguard is an excellent choice, especially for gaming PCs, as it works well and has a gaming mode, so you don't lose performance due to the antivirus program hogging all your resources.
Many antivirus providers offer free trials, so if you are not sure who you want to go with, take advantage of that and test them out.
Make Sure Everything is Up To Date
You will want to check for Windows updates and any driver updates for the hardware you installed. Often, you can find driver updates listed on the manufacturer's website. For example, if you have an ASUS graphics card, go to the ASUS website and find the products or support section to locate your card and see what drivers are available.
You should also check the motherboard's BIOS for any updates. The instructions that came with your motherboard should tell you how to access BIOS. If you are missing instructions, search online for the model, and you should find the instructions on their official website or even online tutorials from other owners.
Ensuring every driver is current should prevent crashes and other performance issues associated with running an older and outdated patch.
Benchmark Your PC
This is often a good idea to check that all components are running as they should. This also helps diagnose problems when something is not running right.
Benchmarking is not a mandatory step to start using your new computer, like installing antiviral software and updating critical drivers and operating system features. Still, it is an excellent tool to test out your new rig. Graphics cards are often tested using a program called 3DMark, for instance. You can also test your processor's performance, RAM, and your Internet connection itself.
Install Programs
Install whatever programs are a priority for your computer. That could be making sure Microsoft Office is ready to go or installing Steam to start downloading your game library. There is no real guidance on this, as each person's desired software varies.
One tip is to make sure you have enough storage onboard for all the programs you want to install, although this is likely not relevant if you have at least a 500GB hard or solid-state drive. However, be mindful of your storage space because pushing drives near full capacity will lead to noticeable performance deficits in many cases, warranting additional storage to be installed.
Uninstall Programs
Along with adding your favorite programs, you probably want to get rid of the automatically installed programs that come with Windows. There are usually several, and you can see them by opening the start menu and scrolling through the list. You can also open your control panel and go to the section for uninstalling programs.
Be sure to do this as it frees up space for the stuff you want on your computer, not to mention making your list of programs more concise and easier to find what you want.
Change Your Settings
Windows will be installed under default settings. You can edit many of them, such as enabling or disabling Cortana, changing the background(s), swapping to a new color scheme, etc. These are usually aesthetic items and just optimize the interface for you.
It is well worth spending a few minutes tweaking different things to your liking.
Make Sure You Have Recovery
If you need to wipe your computer clean and reinstall the operating system, you need a recovery mechanism.
You have a few choices in doing this, including having Windows on a USB drive, making a recovery drive, or creating a "system image." The USB is self-explanatory, the recovery drive is a Windows option, and the operating system walks you through it.
On the other hand, the system image requires you to go to the control panel, then system and security, and finally to backup and recovery. This is like creating a snapshot of a point in time to recover your PC if you want to "roll back the clock," so to speak.
Back Up Your Files
If you plan on storing important data on your PC, make sure it is duplicated somewhere else if you happen to lose it due to hardware failure, a virus, or something else.
You can use a USB drive, but it would be better to go with an external hard drive if the files are particularly important. USB drives, or flash drives, are somewhat volatile and are not as reliable over the long-term as a dedicated hard drive is.
Set Up Your Peripherals
Presumably, you have at minimum a mouse, mousepad, keyboard, and monitor for your new setup. There might be driver updates, so be sure to install those.
Keyboards and mice often have software support, like Razer's Synapse or Corsair's iCUE. While these are optional, they help you customize and enhance your control over the device and are worth installing.
Your monitor is likely in need of adjustment, as well. Not only do you want the angle that works best for you, but you want the color and contrast settings to provide the best possible picture. Refer to your monitor's instructions or look them up online if unsure how to access the control menu for your monitor.