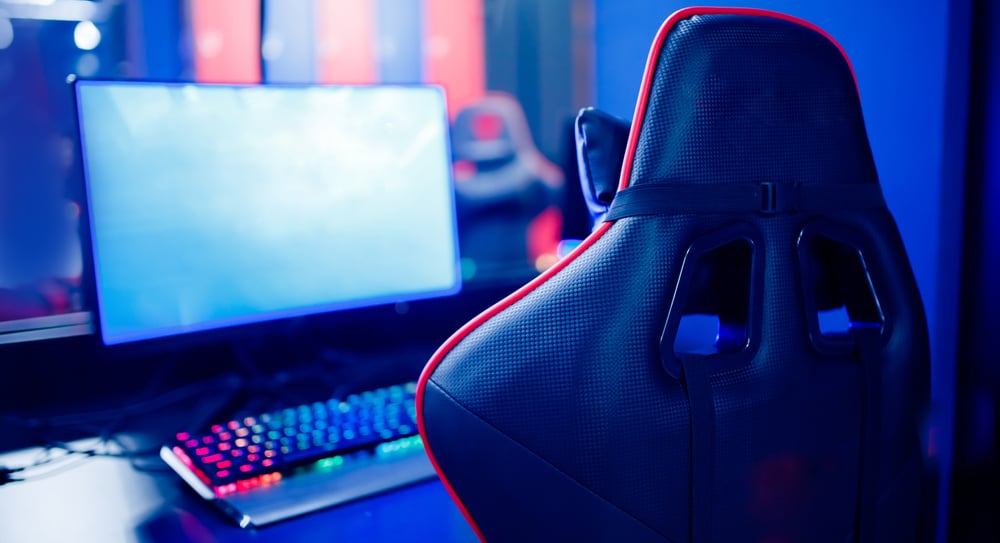 Today, many people have designated streaming areas in their homes. When setting up a dedicated stream space, it's essential to consider your health, directly affected by the chair you use. 
Chairs that lead to inappropriate posture can result in severe health conditions over time, including back pain, strained neck muscles, and postural disc degeneration. If you want to protect yourself from such issues, take the time to research different chairs and be very selective when making a purchase decision.
In this guide, you'll learn what chairs streamers use. We'll also determine what factors should be considered when picking a gaming chair for your streaming endeavors.
Factors To Consider When Buying a Gaming Chair
When shopping for gaming chairs for their streaming rooms or offices, streamers consider several factors. The most critical ones include the following.
Ergonomics
When spending long hours as a streamer, you're likely to be cramped in your chair for lengthy periods. Ergonomics refers to how your chair can keep you healthy and comfortable. To ensure sufficient support as a streamer, look for chairs that can be adjusted to your body type and height. 
If you're a novice streamer looking for the correct ergonomic chair, pick a seat that matches these criteria:
Your feet to rest flat on the floor.
Your knees bend at a 90° angle.
Your thighs parallel to each other.
You have relaxed shoulders.
Your elbows bend close to the body at a 90° angle.
It would be best if you sat back with your head over your shoulders and your shoulders over your hips. This way, all your joints should be in correct alignment.
Similarly, look for a chair with footrests and armrests to maximize comfort. A chair that doesn't let you get your posture right will only give you pains and aches in the future.
Size
Most gaming chairs have requirements for weight and height, which you must check before making a purchase. Otherwise, you may not be able to use it at all. The size of the chair will also impact its portability and storage. So, be sure to account for the size of the chair when choosing a gaming chair. 
Heat Build-Up
Intense and lengthy gaming sessions often prove too suffocating for streamers. They often become messy due to heat build-up and sweat, which is a big concern for streamers nowadays.
It's a recurring problem with cheap, foam-based gaming and office chairs. Regardless of how well-ventilated a room is, a foam-based chair will become unfit and too dusty to sit when not ventilated adequately. 
Knowing this pain point, the top gaming chair manufacturers address this issue through their high-end chair models. Sensible streamers pick high-end task and gaming chairs that are breathable and offer mesh back support. They continue to invest in elite office chairs or pro gaming chairs that feature hygienic designs. 
Complimentary Tech Features
Depending on the games you play frequently, you may have additional needs around your gaming chair. For example, some chairs come with storage containers for gaming controllers and food, while others feature vibration capabilities, Bluetooth inputs, and subwoofers.
Certain gaming chairs will even offer all these tech features. If your budget allows, you may invest in a similar chair. 
However, if you're never going to use such functions, there is no need to invest in tech-loaded gaming chairs since they will only be a waste of money.
Compatibility With Your System
Before making a purchase decision, make sure that the gaming chair you're considering is compatible with the gaming system in your use. Although most modern gaming chairs can be integrated into different platforms, some lack functionality or are specifically designed for certain types of games only. 
A racing gaming chair, for example, works best for racing games but is not ideal for other games. They come fully decked out with a shift knob, pedals, and a steering wheel. If you play different games or use multiple systems, you'll require a versatile chair that integrates and works well with various designs and games.  
On the other hand, PC gaming chairs are comparable with office chairs, except for the additional support they lend. While they're ideal for computer games, they may not deliver the same functionality for racing games as racing chairs would. 
As you consider system compatibility, you'll find that there are many types of chairs tailored to the different needs of gamers.
For example, the two most popular chairs include rocking chairs and pedestal gaming chairs; the former enables gamers to recline backward, while the latter features a pedestal to elevate it over the ground. 
Keeping these aspects in mind, it should be clear to you why certain chairs work well with specific systems instead of others. You should not ignore its systems and game compatibility when selecting a gaming chair.
Now that you're aware of the most important factors to consider when buying a gaming chair, it's time to examine the best chairs used by popular streamers.
What Chairs Do Streamers Use?
Streamers most prefer the following gaming chairs.
DXRacer Racing Series
As the trendiest line of gaming chairs offered by DXRacer, Racing Series is fashionable among streamers and YouTubers.
Like other chairs from the brand, the chair features the following.
Extra-high backrest.
Superb-quality build.
Tilt lock.
4D armrests.
However, keep in mind that the Racing Series is primarily designed for medium-sized users. If you classify yourself among the tallest and biggest gamers, this chair won't be ideal for you. Go for DX Racer Tank Series instead. 
Jacksepticeye, Summit1g, Amouranth, sypherPK, Yoda, and Faker are some of the streamers and YouTubers that leverage the DXRacer Racing Series.
Secretlab Titan Gaming Chair
If you don't want to take any chances, go for the Secretlab Titan, which comes with superior quality PU leather upholstery and can be upgraded to Softweave Fabric or NAPA leather. Other features include cold cure foam, 4D armrests, a maximum load capacity of 290 lbs, and a tilt lock. 
To benefit from the latest, cutting-edge features, consider acquiring the newest model that goes the extra mile by offering excellent perspiration control and humidity. Besides being super ergonomic, the gaming chair is highly durable and resistant to scratches and abrasion. 
Popular streamers and YouTubers using the Secretlab Titan include KittyPlays, xMinks, Forsen, DrLupo, JoshOG, and Nightblue3.
Clutch Chairz Throttle Series
When determining what chairs streamers use, you can't ignore this fantastic gaming fixture. This gaming chair can support up to 330 lbs, with a swivel-tilt mechanism, tilt lock, and 13 degrees of tilt 4D armrest. 
Its features include premium materials, 3D straight armrests, a lumbar support pillow, and a cold-cured seat pad in high-density foam. This top-of-the-line gaming chair guarantees a high-end feel.
There's a reason why PewDiePie, a YouTuber with over 100 million subscribers, uses this chair. 
GTRacing Gaming Chair
This gaming chair promises a highly comfortable and efficient design. Its sturdy metal frame is built with the sole purpose of comfort through lengthy, sedentary tasks. You'll also appreciate the adjustable footrest and thick padding of the GTRacing Gaming Chair, which allows for relaxation between long gaming sessions. 
Thanks to the element of sophistication added by the GTRacing gaming chair's classy look, the seat will become the center of attraction in the room. 
Wrapped in smooth polyurethane leather, the gaming chair is highly durable. The chair's seat cushion and headrest pillow allow brief naps for relaxation. The chair also has nylon-based rolling casters and a top-quality base to keep itself balanced and facilitate easy movement.
Furthermore, the GTRacing Gaming Chair combines armrests with an adjustable seat height. You can even adjust the recliner in the 90° to 170° range, allowing for sufficient scope of relaxation while you're streaming.
The smooth-rolling casters of the chair support movement in all directions. You can easily detach the lumbar and headrest if you don't require them. 
Furmax High-Back Gaming Office Chair
The Furmax High-Back Gaming Office Chair makes an excellent seat fabricated with black carbon fiber leather. What leads it to perfection is its thicker internal sponge with unmatched density.
Regardless of where you place it, the attractive patterns of the seat establish a tremendous style. Not only does it feature an ergonomic design, but the structure encompasses adjustable lumbar support and a headrest. 
You also get a built-in controller in the chair that you can use to move back and forth, make a 90°-180° backward movement, or a 360° turn.
You don't need to think about floor damage, thanks to its soft rolling. You may also adjust the chair's angle using its easy-locking adjustment and class 3 explosion-proof spring.
Whether you're engaged in long hours of gaming activity or office work, these feature assist in improving the perception of pressure and fatigue that stems from long hours of sitting.
Herman Miller Embody Gaming Chair
A joint product of Logitech and Herman Millar, this Embody Gaming Chair is similar to the classic Embody chair, except for a few updates that we will highlight here. 
Suited to pro's more active posture style, the multi-layered chair comprises two spring layers, a foam layer, and a mat layer. The copper-fused cooling technology of the foam ensures that the seat stays cool at all times. A new dark fabric skin featuring a grooved surface covers the foam layer, and the front of the backrest shows a Logitech G logo. 
There is also a blue plastic backrest at the back of the chair that includes a central spine and black ribs. The entire unit adapts well to the micro-movements, delivering consistent support, regardless of the position you want to shift to. Not to forget the noteworthy blue color accents that match the color of the Logitech G logo.
Maxnomic Pro
As a pioneer in the gaming chair field, Maxnomic is a trendy brand in the gaming industry. Many gamers consider its chairs the best in the market.
The highly flexible ergonomic grips and comfortable cushions make this chair highly versatile, suiting the needs of all types of gamers. You can easily set it to the desired height using the lever at the bottom. 
You can slide the chair back and forward through locking mechanisms to achieve the proper reclining position. Leveraging the tilt mechanism, you may also lower the seat to almost 180°. The metal base and adjustable lumbar support further make it a well-designed chair.
Conclusion
Who doesn't enjoy the sensation of browsing through their favorite streaming or gaming sites? But as users spend their day outperforming other players, they could face a damaged back or spine, carpal tunnel syndrome, and other acute or chronic conditions.
As a health-conscious streamer, you should consider the ergonomics, comfort, adjustability, size, and potential for heat build-up of the gaming chair you choose.
Other aspects to consider are whether or not the chair is compatible with the system, the types of games you prefer to play, and if they provide any tech features you need.
To determine which gaming chairs are most popular in the industry, we conducted in-depth research to offer you the most suitable recommendations. So, you now know what chairs streamers use. We genuinely hope that this guide helps you choose the right gaming chair for yourself!