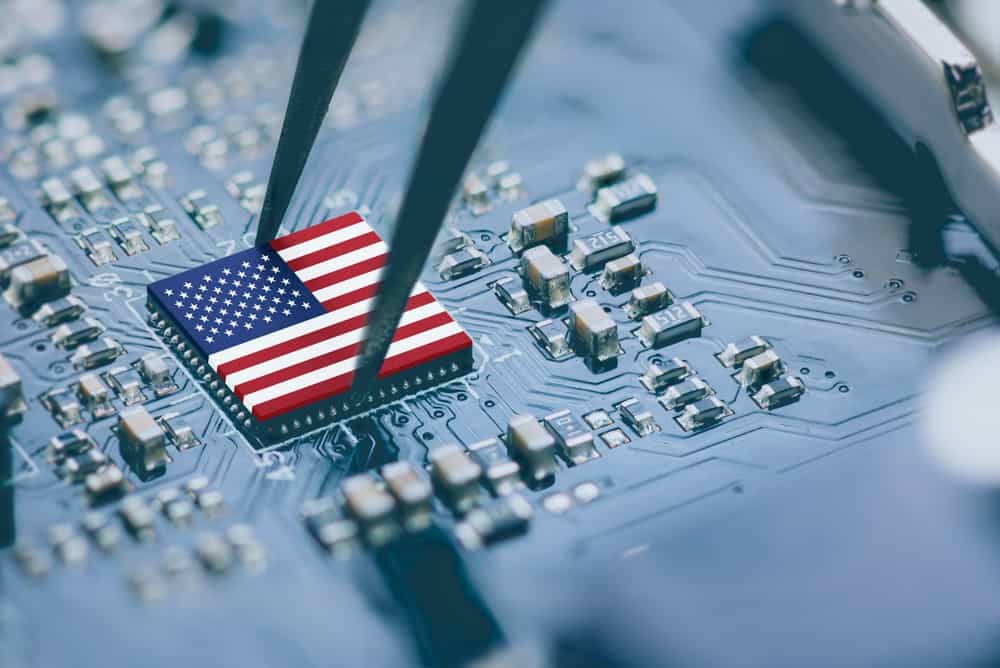 The truth is we live in a global economy. So, it's not surprising that most of the world's computers are made in overseas countries with lower labor costs. But if you're looking for a computer or laptop made here in the good ol' USA, you still have a few options!
You can't buy an entirely American-made computer or laptop since some components aren't manufactured here. Several companies, however, offer computers and laptops assembled in the USA from components made in various countries.
Some of these companies include Dell, Apple, HP, and Lenovo. They make some parts here and others overseas, but they're assembled at the end. So, if you're looking for a computer that's as American as it can be, check out one of these companies.
Let's take a detailed look at who's making what in the United States to help you find the best deal on your new laptop or desktop computer.
What Computers Are Made in the USA?
As you know, most of the world's electronics are made in Asia. Most computer parts and components come from countries like China, Taiwan, and South Korea.
Today, only a small percentage of computers and other electronic devices are made in the USA. Most computers sold in the US market are assembled in Asia from parts and components manufactured there.
In light of that, here are some computers and laptops that are locally assembled here in the United States of America.
HP Laptops
Hewlett-Packard (HP) is an American multinational laptop manufacturers company headquartered in Palo Alto, California.
As one of the world's leading technology companies, HP has assembly plants all over the globe – including in the United States.
The main plant is located in Spring, Texas, and employs thousands of workers that assemble HP products. Other plants are located in Austin, Plano, and Houston.
These plants produce a variety of HP products, including desktop computers, laptops, printers, and more. Despite being a global company, HP still recognizes the importance of assembling products within the United States.
Apple's Mac Pro
The Mac Pro is a powerful computer used by creative professionals, scientists, and engineers. It features an innovative design with top-of-the-line specs and is built to last.
The Mac Pro is made in Austin, Texas, where a team of skilled workers assembles high-end desktop computers by hand using the latest technology.
Since 2013, Apple has been manufacturing Mac Pros at its Austin facility and invested over $100 million.
With over 9,000 domestic suppliers in the US, Apple's commitment to manufacturing the Mac Pro in the country supports the economy and creates local jobs.
Dell Laptops
Dell is one of the largest computer manufacturers in the world, and while many of its products are assembled in other countries, some laptops from Dell are still assembled in the USA.
Dell has assembly plants in Nashville, Tennessee, and Austin, Texas, where they assemble various laptop models.
As for Dell laptops geared toward home users, they are manufactured overseas, while in the United States, they focus more on the assembly of servers and other industrial-grade computers.
While Dell's American-made products make up a small percentage of its overall product lineup, it's good to know that there are still some US-assembled options available from this major computer manufacturer.
Lenovo Computers
Lenovo operates a small manufacturing plant in Whitsett, North Carolina. The plant assembles desktop computers, laptops, and servers for the US market on a small scale.
The plant employs around 350 workers and is the only assembly plant for Lenovo in the US. Most of Lenovo's computers are assembled in China, Taiwan, etc., where labor costs are lower.
This plant assembles a few models of ThinkCentre desktop computers and ThinkPad laptop computers. However, the individual components are still imported from overseas.
The assembly plant began production in 2013 with about 150 employees. There has been an increase in the number of employees over time.
MSI Computers
MSI is a Taiwanese multinational laptop and computer manufacturer headquartered in New Taipei City, Taiwan.
And it also has an assembly plant in the City of Industry, California, where they manufacture some Aegis and Codex computers.
The company's products undergo strict quality control measures to meet MSI's high standards.
Conclusion
In the end, it's important to know where your computers come from, and thankfully there are still some options for those of us who prefer to buy American products.
Frequently Asked Questions
What laptop brands are from the USA?
Some US-based brands include Apple, Dell, and HP, but most of their manufacturing and assembly happens overseas in countries like China, Taiwan, India, etc., where labor costs and taxes are lower.