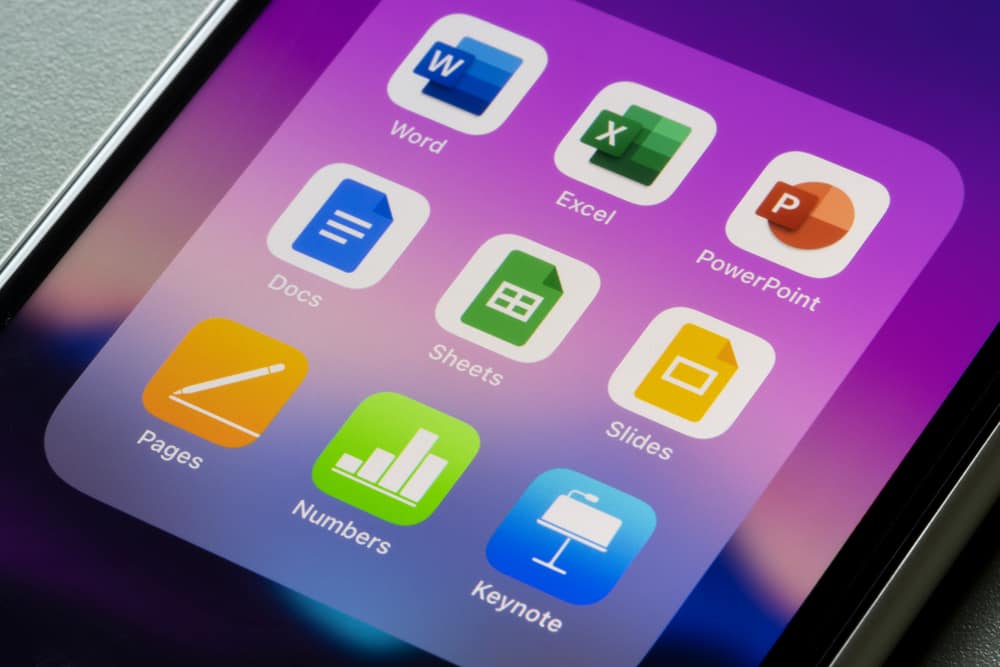 At some point, you must have looked at your iOS device's default apps and wondered, what's this Keynote app? What does it even do?
Keynote is a pretty helpful app for the right users. The Keynote app is Apple's PowerPoint. It lets you quickly make professional-looking presentations on your iOS devices.
There are many things the Keynote app can do. Its function and unique features are thoroughly covered below.
What Does Keynote Do?
Keynote is Apple's answer to Microsoft's PowerPoint for its iOS devices. Whether you're an office employee or a student who needs to present your idea in front of an audience, Keynote is your friend. With its remarkable amount of tools and 40+ themes, you can create elegant presentations effortlessly.
Keynote brings Apple's software expertise to the table. It makes it very easy for anyone, especially students, to make a presentation, thanks to Keynote being extremely user-friendly compared to other similar apps.
Features of the Keynote App
Keynote has some very intuitive features that set it apart from similar apps. It has great templates to choose from, so you don't have to design your presentation from scratch. Additionally, Keynote lets you add animated text and transitions quickly so that you can captivate your audience with your presentations.
Keynote also features dynamic backgrounds that add beauty to your presentation and move along with your pointer or cursor while explaining or presenting.
Keynote features up to 100 cinematic transitions, 700 premade shapes, and 18 adjustable dynamic background presets.
To further improve your presentation, Keynote even lets you embed YouTube or Vimeo videos into your project, which is a neat feature considering how much content available on YouTube can help clarify any idea.
Keynote has also exceptionally integrated the Apple Pencil, making designing anything in your presentations even more flexible. With the Apple Pencil's integration, you can make handwritten notes to your presentation for added personalization, or you can choose that handwritten notes turn into text automatically if you aren't keen on typing too much.
Taking advantage of apple's ecosystem, Keynote has multi-device editing enabled, which means you can open Keynote on any iOS device and continue working on your Keynote project. This offers you great flexibility in how and where you choose to work.
Also, just like Apple did with the FaceTime app recently, where anyone with a link could join the call regardless of the platform, Apple has integrated the same feature into Keynote. Whether you're a student or anyone who needs to work with a group or team, Keynote lets your whole team be a part of the project. Anyone on a PC or a web browser can join in and help with the project or add anything they want. You can also see the changes others are making as they happen. This feature makes Keynote a desirable app for many.
Present Like a Pro
When it's come to presenting a presentation, Keynote handles that department excellently. Keynote has a smart rehearsal mode that lets you rehearse beforehand; you can easily make everyone a part of it and rehearse so your presentation goes well.
With voice-activated commands—thanks to Siri—and easy control of your slides from your iPhone or iPad, presenting your Keynote presentation will make you look no less than a pro.
Keynote vs. PowerPoint
Microsoft's PowerPoint pre-existed Keynote, and that's why many are more familiar with PowerPoint. PowerPoint is used widely for creating Presentations on Windows and Mac.
Fortunately, Keynote works like a charm along with PowerPoint. You can edit PowerPoint projects in Keynote and vice versa. This makes using Keynote more manageable than other iOS-exclusive apps that don't work with alternative software.
There are aspects where Keynote outshines PowerPoint. Its user-friendly interface and excellent cross-device compatibility make it a great alternative to PowerPoint. Keynote's fantastic animation and smooth transitions make your project look gorgeous without any problematic editing.
Making charts and graphs is straightforward in Keynote as compared to PowerPoint. Keynote has an effortless drag and drop feature to insert visual cues into your project.
That said, there are many instances where PowerPoint tends to be better. PowerPoint offers project customization in greater depth. If you're someone who wants to manage even the tiniest of details in your Project, PowerPoint will be the better option than Keynote. PowerPoint also has more advanced functionality, like being able to merge shapes to create new shapes is something not found in Keynote.
Overall though, to have an elegant-looking presentation up in the quickest time, Keynote is the clear winner. Keynote is simple and well-optimized, making it better than PowerPoint from an average user's Point of view.
Conclusion
As you have read above, Keynote is a great app and can be a lifesaver for you if you are a student or a professional who regularly has to create presentations to present their ideas. It's a must-have app if you regularly work with multiple people, plus it's free with your iOS device, so you might as well try it.