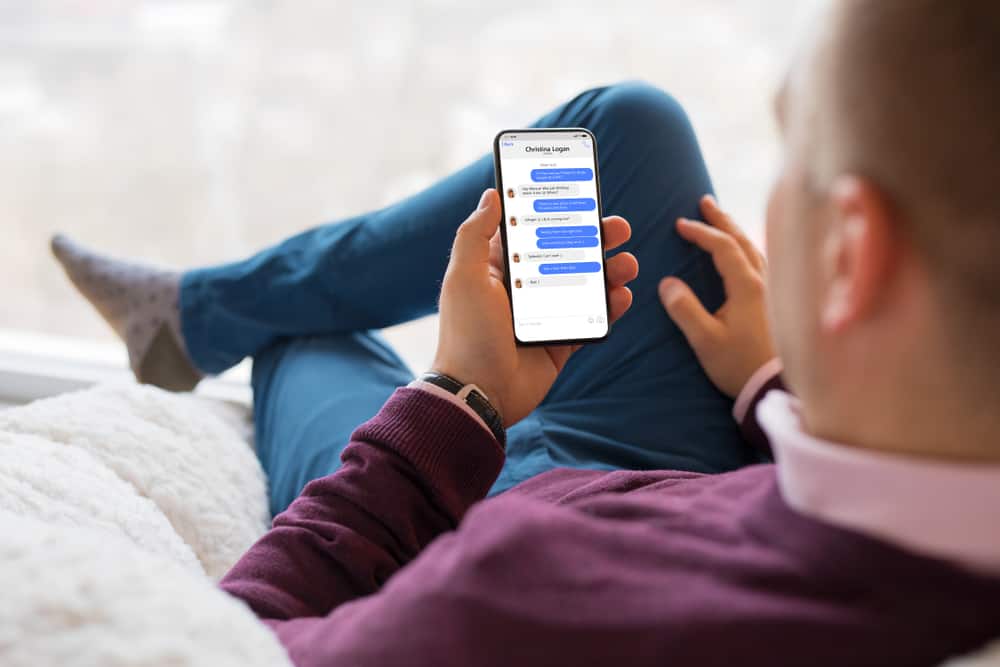 iMessage is an exclusive messaging platform on iOS devices that allows Apple users to connect. You can send text, images, message effects, and even share locations via this platform. But what will happen if you turn off the iMessage function on your iPhone?
When you turn off iMessage on your iPhone, you will no longer receive or be able to send iMessages over the Apple network. Hence, you would only be able to send and receive text messages via your carrier's SMS network. 
If you are having issues with the Messages app on your iPhone, turning off iMessage is one of the first things to try to fix the problem. If you don't know how to deactivate the iMessage on your iPhone, keep reading, as this article explains the steps in detail.
How To Deactivate iMessage on iPhone
Apple devices such as iOS, iPadOS, and watchOS support the iMessage functions. You must be on iOS 8 or later to use iMessage on your iPhone. Provided your iPhone supports iMessage, you can easily turn it off from the Settings app. Note that if you turn off iMessage to enable it later, you will not receive any message sent to you while it is off. 
Follow the steps below to deactivate iMessage on your iPhone.
Step #1: Launch Settings
Go to Settings on your iPhone. Alternatively, you can ask Siri to open the Settings app if you are having trouble locating it.
Step #2: Click on "Messages"
The Settings app is a useful app on your iPhone that lets you make many changes. And in this case, you will use the Settings app to turn off the iMessage function. So, in the Settings menu, find and select the "Messages" option.
Step #3: Toggle iMessage Off
In the "Messages" menu, find the "iMessage" option and toggle the switch off. You can also open the "Send & Receive" option and disable iMessage on those devices.
If you enabled iMessage on all your Apple devices, such as Mac, iPhone, and iPad, turning off iMessage on one will not disable it on other devices. If you turn off iMessage on one device, people can still send you iMessages, but it will only appear on the device that has iMessage enabled and not on the one you've disabled.
How To Deregister iMessage
If switching from iPhone to Android, you should deregister iMessage from your iPhone. The reason is that iMessage is exclusive to only Apple devices. Hence, if you have iMessage still active on your phone number even though you are not using an iPhone anymore, other iPhone users may try to send you a message, but Apple will send the message to your iMessage. You would not receive messages from your friends using an iPhone until you deregister iMessage from your phone number.
Follow the steps below to deregister your number from iMessage.
Step #1: Go to the Apple Selfsolve Website
Apple has made it easy for users who want to stop using the iMessage to deregister their number from it if they choose to. However, the first step is to ensure you have turned off iMessage and FaceTime from your device using the Settings app. You can then proceed to Safari or any other browser on your iPhone to access the Apple Selfsolve website.
Step #2: Enter Your Phone Number
On the web page, scroll down towards the base to find the section where you can enter your phone number. Type in the phone number you want to deregister from iMessage and tap on "Send Code". Don't worry; receiving the code on your phone number is free.
Step #3: Enter the Confirmation Code
Apple will send a six-digit code to your phone number. Copy and paste the number in the next field titled "2". If you did not receive a confirmation code, you could request it be sent again. However, if the problem persists, transfer your SIM back to your iPhone and try again, and ensure you entered the correct phone number.
When you deregister your phone number from iMessage, your friends need to clear the conversation and then create a new conversation to be able to send you regular SMS or text messages.
Conclusion
You can quickly turn off iMessage on your iPhone from the Settings app if necessary. When you do, everyone on your list that has iMessage enabled will no longer be able to send you iMessage. If they send you a message, they will receive a red exclamation mark which means Apple did not send the message.
Unfortunately, there is no way to turn off iMessages for only one contact. In such a case, blocking the contact is better than turning off the iMessage, which restricts all your friends from sending you iMessages.