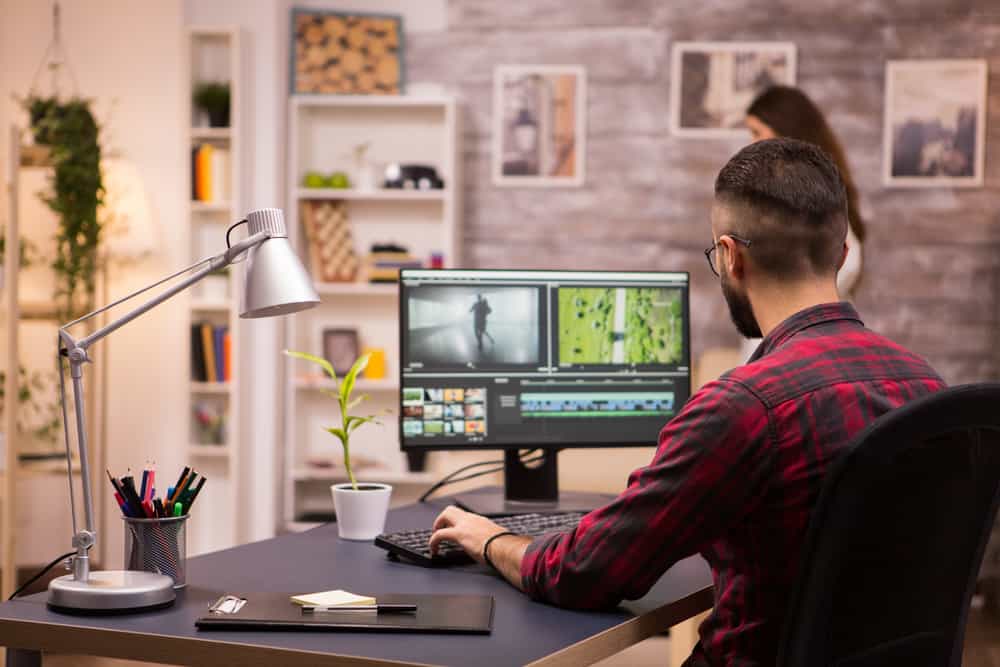 Do you value a crisp and high-resolution screen? If yes, you understand how challenging it can be to find a screen that offers you unmatched crystal clear resolution due to the numerous options on the market. And in this search, you'll most likely have come across a QHD monitor being hailed as one of the sharpest screens money can buy.
A QHD (Quad High Definition) monitor is a screen with a high resolution of 2560 x 1440 pixels, four times that of 720p, and an aspect ratio of 16 x 9. This screen is often found in high-end gadgets such as smartphones, televisions, and laptops. The QHD resolution is also classified as 4K, similar to 4K UHD with 4096 x 2160 pixels. 
If you're considering buying a QHD monitor because of its exceptionally high pixel density of 538dpi, read on to learn everything about this screen.
In addition, you'll be taken through frequently asked questions linked to the QHD monitor. Without further ado, let's get started.
What is Quad High Definition?
Quad High Definition, better known as QHD, is a screen that boasts 2560 x 1440 pixels and a pixel density of 489.5 pixels for each square inch on a six-inch screen. This screen usually has 3,686,400 pixels, and it's the standard resolution for high-end smartphones such as Google Pixel XL, Sony Xperia XZ, and Samsung Galaxy S7 Edge having this display.
In addition, QHD is nowadays the new standard display for high-resolution computer displays and television sets. This is no surprise considering many people want to watch a higher pixel density screen instead of a Full HD screen because of its sharper text and images. However, QHD screens aren't as superb compared to Ultra High Definition (3840 x 2160) or 4K screens.
Among gaming circles, QHD is also known as 1440p or 2k, and for manufacturers, this was done for marketing purposes. The 1440p monitors are among most gaming enthusiasts viewed as the perfect middle ground between enjoying superb graphics without breaking the bank. It's for this reason that QHD monitors are very popular among gamers.
Why Should You Buy a QHD Monitor for Gaming?
Getting a QHD monitor will offer you many benefits as a gamer, especially when playing graphically intensive computer games. Here's a look at some of these benefits if you're on the fence about getting a QHD monitor.
Perfect for Bigger Screens
You must have a great gaming monitor if you usually participate in competitive games. Many monitors on the market have a resolution that remains the same even with increasing screen size. This means that the pixels will become much more apparent for a bigger-than-average monitor. As a result, this ruins your overall gaming experience.
Luckily, you best avoid such a setback by investing in a QHD monitor. With this screen, you get more pixels, enabling you to select big monitors because you no longer need to worry about seeing individual pixels. This makes the QHD monitor undoubtedly one of the best options that deliver crystal clear image quality even with a bigger screen size.
Sharper Picture Quality
Another convincing reason you need to invest in a QHD monitor instead of a Full HD screen is that it delivers sharper image quality. You can have a great time playing games on this monitor with more pixels because the additional pixels boost the overall immersion. This can be the difference between winning and losing in highly competitive online games.
However, this sharper image quality does compromise for QHD monitors connected to the laptop, which uses up a lot of energy. In the long run, this high battery drain can destroy the battery's ability to keep a charge for a prolonged duration.
It's Quite Affordable
Everyone is always looking for a good bargain, and this also applies when it comes to monitors. The QHD monitor is among the best bargain displays that money can buy as it delivers superb clarity while still being cheaper compared to 8K and 4K monitors.
But despite being cheaper than the high-end monitors, they're relatively expensive compared to 720p and 1080p displays. With that said, the price of QHD monitors has in recent years dipped slightly, so you can still find a good bargain.
Summary
The QHD monitor is undoubtedly one of the best choices when looking for a gaming display or a screen to perform your everyday duties. This is because this display comes with one of the sharpest displays of many options available.
And to help you have more insights on a QHD screen, detailed above is everything you need to know. You're now thus better placed to know if this monitor is best suited to serve your needs.
Frequently Asked Questions
Which is better, QHD or 4K monitor?
The answer to this question isn't that straightforward despite a 4K display on paper boasting more pixels than a QHD monitor. This is because you must also factor in other things to decide which monitor best suits you. Here are some considerations that can help you pick out the best option:
– Their appearance from a distance: When you compare a 4K and QHD screen from a distance, you won't notice any clear disparity in the picture quality. This is because there's no need for more pixels when looking at these displays from a distance. Therefore, the QHD monitor enjoys an edge over the 4K display. 
– How they look up close: If you compare the QHD and 4K monitor up close, there's one clear winner, and this is the 4K screen. This is expected considering the 4K monitor offers more pixels than the QHD screen. 
Why should you get a QHD monitor? 
The 1440p is an ideal choice because it delivers exceptional performance while being available at an affordable price. Therefore, you can be sure of enjoying superb picture quality for your streaming needs and when playing modern games. This monitor is also great for word processing and web browsing tasks. 
But despite QHD monitors delivering outstanding resolutions, their cost is relatively reasonable, thus making it the perfect choice.