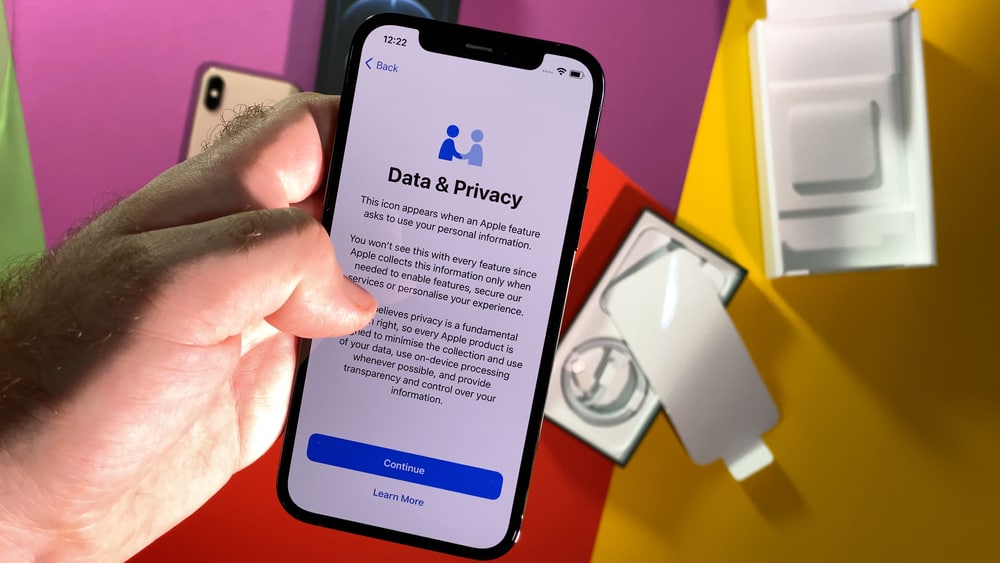 Passwords and PINs are not enough to secure your smartphones today. With the constant development of technology, hackers are constantly devising new methods to steal personal data. Thus, a more robust measure is needed to protect sensitive data like encryption. So, what is the meaning of encrypted data on an iPhone? 
An encrypted data on an iPhone is a high level of data security that stores your data in a scrambled form. Hence, it would be impossible to unscramble the data without the key, even with the most sophisticated tools. 
When you encrypt data with your iPhone, no one else can access it, not even Apple. However, it is essential that when you encrypt any data, you store the key safely. Keep reading to learn more about encryption on an iPhone. 
How To Encrypt Data on an iPhone
The ability to encrypt your device is now usually built-in into the operating system of most devices. So, you don't have any reason not to protect your privacy by encrypting your data.
Apple uses a minimum of AES 126-bit and a standard AES 256-bit encryption technology to encrypt data. This encryption technology is considered a very strong encryption standard that offers a great deal of security for data stored. Follow the steps below to encrypt your iPhone. 
Step #1: Launch the Settings App
You will find the option to encrypt your iPhone in the Settings app. So, launch the Settings app by tapping on it from the home page. There are other ways to launch the Settings app on your iPhone, like asking Siri to open Settings. 
Step #2: Enable Passcode 
In the Settings menu, scroll down and tap on "Face ID & Passcode". If your iPhone has a home button, then in the Settings menu, you will have to tap on "Touch ID & Passcode". Click "Turn Passcode On" in the new window to enable it. If the option says, "Turn Passcode Off", it is already enabled, so you can proceed to the next step.  
Step #3: Change the Passcode 
With the passcode enabled, tap on the back button at the top left corner of your screen and tap on "Change Passcode". You don't have to change your iPhone passcode, but doing so increases the effectiveness of your encryption. You can create an alphanumeric code or a numeric passcode; it depends on your choice. Tap on the "Done" button to proceed.  
Step #4: Confirm the Encryption 
Select the back button at the top left corner of your screen and confirm your iPhone encryption is enabled by scrolling to the button on your screen. At the bottom of the "Face ID & Passcode" or "Touch ID & Passcode" window, you should see the "Data Protection is enabled" message, which means that your iPhone's data is being protected and would be difficult for hackers to access. 
If you don't see the message saying, "Data Protection is enabled", you should go back to double-check to ensure your passcode is enabled. Although it might be inconvenient to use a passcode at times, it is vital to have it enabled for data encryption to work correctly.
Conclusion 
Encrypting your iPhone comes with many advantages. However, it has some drawbacks, like difficulty decrypting encrypted files without a key. But despite its limitations, encrypting your iPhone is valuable, and you should utilize it if you are concerned about your data security. And when used with other security measures, encrypting your iPhone will help secure your data very effectively. 
Frequently Asked Questions 
What happens when my iPhone is encrypted?
When you enable encryption on your iPhone, every time the device is locked, all your data and even Apple account information will be encrypted. Hence, when your iPhone is encrypted, it makes it difficult for hackers to get access to your iPhone through Bluetooth connection, cellular network, and internet. 
To decrypt your iPhone, you can do that with Face ID or with your passcode. However, anyone you give your phone to while it is decrypted can access your files. 
What data does my iPhone data encryption protect?
When you enable encryption on your iPhone, it protects everything on it. This includes your saved password, photos, videos, contact information, web browsing history, Wi-Fi settings, and app data. You can also encrypt data on iCloud. However, data on the iCloud is not as private as encrypted data on your local storage.
How can I encrypt messages on my iPhone? 
The iMessage app on your iPhone has a built-in end-to-end encryption technology that lets users encrypt messages sent via the app. Only you and the recipient can see the message when you encrypt your messages. While encrypting messages is great, it is still important to encrypt your device.