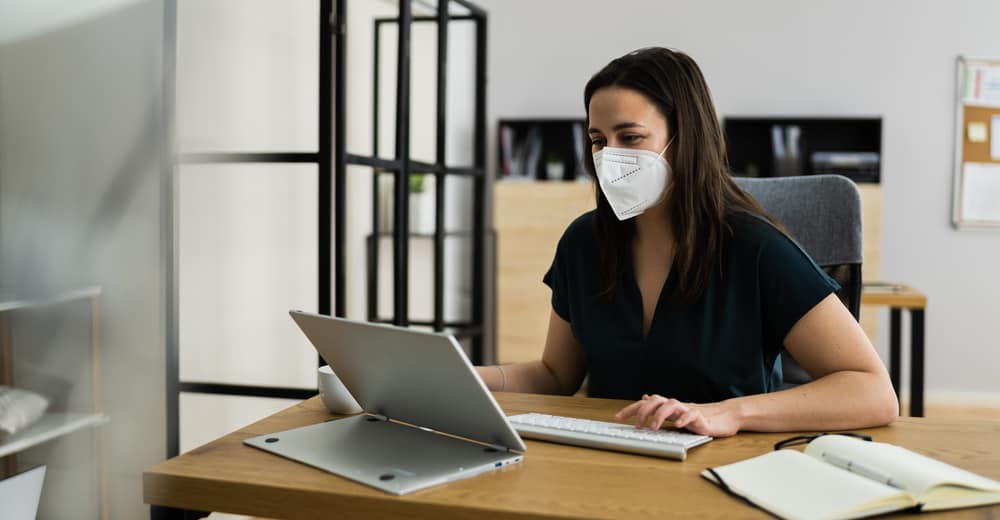 Do you have difficulty deciding whether to buy a tablet, a laptop, or both? A laptop will serve you well for office duties it isn't the most suitable option to have in transit. A tablet works well in transit and for leisurely activities, but it isn't as effective as a laptop when working. And you can't afford to spend so much money on both devices. Buying a 2-in-1 laptop solves your problem.
A 2-in-1 laptop allows you to combine the core functionality of a traditional laptop with the portability and convenience of a tablet in one device, saving money in the process. With a 2-in-1 laptop, you can perform office duties in a convenient space and use the device as a tablet when in transit.
This article briefly explains the meaning and properties of a 2-in-1 laptop. It also discusses the types of 2-in-1 laptops and provides several advantages of owning a 2-in-1 laptop instead of a traditional laptop or tablet.
What Is a 2-in-1 Laptop?
A 2-in-1 laptop combines the functions of a traditional laptop and a tablet into one device, allowing you to use the device as either a laptop or a tablet as the need arises. 
Before a device can be considered a 2-in-1 laptop, it must have a touch screen display, keyboard, and special hinge that allows you to fold the keyboard against the display or completely detach the display from the keyboard. 
Additionally, the device must have a complete operating system and more processing power than a standard tablet. 
What Are the Types of 2-in-1 Laptops?
Although the general idea of a 2-in-1 laptop is to have your device work as a laptop and a tablet, the device can be designed differently. There are two types of two-in-one laptops. 
Convertible Laptops
These are more like traditional laptops but have a special design that allows you to flip the screen to a 360-degree angle while still attached to the keyboard. This means you can use your device as a tablet, but the keyboard remains attached to the screen.
Detachable Laptops
The design of these laptops allows you to completely detach the screen from the keyboard and use the screen as a tablet. The advantage of detachable laptops over convertible laptops is that your device becomes easier to carry without the keyboard. 
However, that also means the device's internal components will be contained in the tablet to allow you to use it when it is detached from the keyboard. Usually, this means you have to sacrifice high performance for convenience because there is limited space to fit all the powerful hardware components in the tablet area.
Advantages of a 2-in-1 Laptop
Let's take a look at the benefits of owning a 2-in-1 laptop.
Reduced Cost
Perhaps this is the most significant advantage. Instead of spending a lot of money on two separate devices, you can achieve the same purpose by buying a 2-in-1 laptop. This option is very cost-effective, especially if you need a laptop for office tasks and a tablet for more creative or leisurely tasks. 
Portability
While a convertible laptop might not have much of an advantage over a traditional one, a detachable 2-in-1 laptop is more portable than a traditional one. When you detach the tablet from your keyboard, you have a much lighter device that you can easily take with you anywhere to carry out many important tasks.
Portability can be valuable for students and professional workers because you can use the laptop for projects, assignments, data processing, and word processing. In contrast, the tablet can be used for boardroom meetings, presentations, leisure activities, movies, etc. It is also much easier to use a tablet on public transport.
Battery Life
Generally, 2-in-1 laptops guarantee a longer battery life than traditional laptops. Detachable laptops usually have extra battery cells in the detachable portions to ensure that the tablet can run without the components in the keyboard area. 
Most convertible 2-in-1 laptops store their battery in the base like traditional laptops. However, the batteries last longer because they have fewer power-hungry internal components.  
Flexibility
The specially designed 360-degree hinge in a 2-in-1 convertible laptop makes it much more flexible than the normal laptop. You can use the convertible laptop in laptop mode when you want to work, tablet mode when you want to read, play games, or surf the internet; stand mode when you want to watch movies; and tent mode in the kitchen. 
Sleek and Compact
A detachable 2-in-1 laptop has a sleek and compact design, making it easy for the owner to carry it in their backpack. Their convertible counterpart is also more compact than a traditional laptop, making it easy to carry when the device is in tablet mode.
Should You Buy a 2-in-1 Laptop for Gaming?
The most important advantage of a 2-in-1 laptop is its versatility. It works as a laptop and a tablet. However, because of its sleek and compact design, it isn't the best device for gaming. A gaming PC usually comes with several power-intensive internal components like a dedicated graphics card, RAM, processor, memory drive, and a cooling system to prevent the device from overheating.
All these components require physical space, and the design of 2-in-1 laptops doesn't provide much space. Using it for power-intensive games could cause the device to overheat.    
Conclusion
Buying a 2-in-1 laptop is only cost-effective if you need a tablet and a laptop. If you don't need a tablet, there is no point in buying a 2-in-1 laptop because you will end up spending more for the hybrid features without having any need for it.