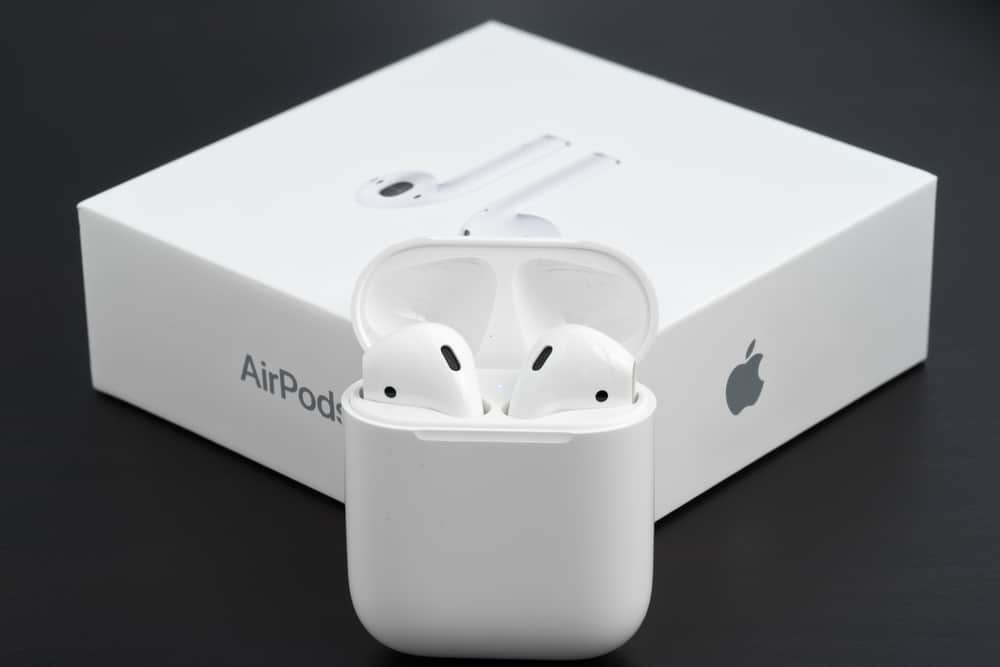 Apple AirPods are not the cheapest headphones on the market, which is why they come with a warranty. So, when you're having issues with your AirPods or charging case, and you take it to Apple or Apple Authorized Service Provider, whether or not you pay for the issue depends on the issue and whether the warranty covers it. Hence, what is the warranty on Apple AirPods like? 
Apple's AirPods come with a one-year limited warranty. The warranty covers your AirPods and charging case for one year in case of manufacturing or workmanship defects. Limited means that there are exceptions mostly related to users' damage or loss. 
If your AirPods develop issues due to manufacturing defects, you can get them fixed from Apple at no cost. But if you damage your AirPods, even with AppleCare plus, you will still incur additional costs for repair. 
How much you pay depends on the type of AirPod and whether the case is regular or wireless charging. Find out more about Apple AirPods below. 
What Does Apple AirPods Warranty Cover? 
The Apple AirPods Warranty covers your AirPods and other items that accompany them, like the charging case from manufacturing defects beginning from the day of purchase. This warranty runs for only one year, after which the warranty will expire. 
Apple's AirPods service covers a defective battery. You wouldn't pay for the repair or replacement service on your AirPods, provided the issue is covered under Apple's one-year limited warranty. While the Apple warranty covers many things, it is limited and doesn't cover certain things. 
Your Apple AirPods Warranty does not cover the following.
Lost or stolen AirPods. 
Unauthorized modifications by a third party.
Damages caused by you.
Normal wear of the AirPods.
How To Claim Apple AirPods Warranty Cover
Claiming Apple's AirPod warranty is not easy. You can contact Apple to claim your warranty or use a third party. We will be walking you through the steps to take to claim your Apple AirPods Warranty yourself.  
Here's how to claim your Apple AirPods Warranty yourself.
To claim your Apple's AirPods Warranty, you need to know your AirPods serial number. 
Your AirPods serial number is printed on the underside of the charging lid and is usually on the original product receipt. 
Go to the Apple support page and select a category based on the issue you are experiencing. 
Choose a way to contact Apple: call, live chat, or in person. 
When you want to claim your Apple AirPods Warranty, after contacting Apple, you have to make an appointment on when you bring your AirPod in for repair.
Conclusion 
Conclusively, if you're experiencing issues with your AirPod, Apple might fix it for you for free if you still have an active warranty and the warranty covers the issue. Always take advantage of the warranty before considering other options when dealing with issues on your AirPods. 
Frequently Asked Questions
How to check if your AirPods are still covered under Apple's one-year warranty? 
If you're unsure about when you bought your AirPods, you can use a tool from Apple to check if your AirPod is still under warranty. Go to Apple's Check Coverage website and input your serial number in the website and the captcha code, then tap on search. The website will then display all the information about the device, including your warranty information. Note that you can also use this method to check for more information about other Apple devices' warranties. 
If you're wondering whether or not AppleCare is worth it, you're not the first person. Many Apple users think the same thing, but the truth is that AppleCare costs you only $29, and it covers repair and replacement from an Apple authorized technician in case of any damage. So, for only $29, you can get repairs on your iPhone at a considerable discount. 
What is Apple's after-service guarantee? 
Apple's after-service guarantee is a feature that is available in a specific region with consumers' law rights. So it means that whether you have a warranty or not, provided you are in that region, Apple guarantees any service on their product for 90 days. If you experience any issue on your Apple device, including your AirPods, you can take it to an Apple store to have it fixed for free.
How long does an AirPod service take? 
When you claim your warranty and take your AirPods or charging case to an Apple store for repair, you often have to drop it off and return it on a fixed date to pick it up. You will usually get your AirPods charging case replaced within a week when you take it to the Apple store.