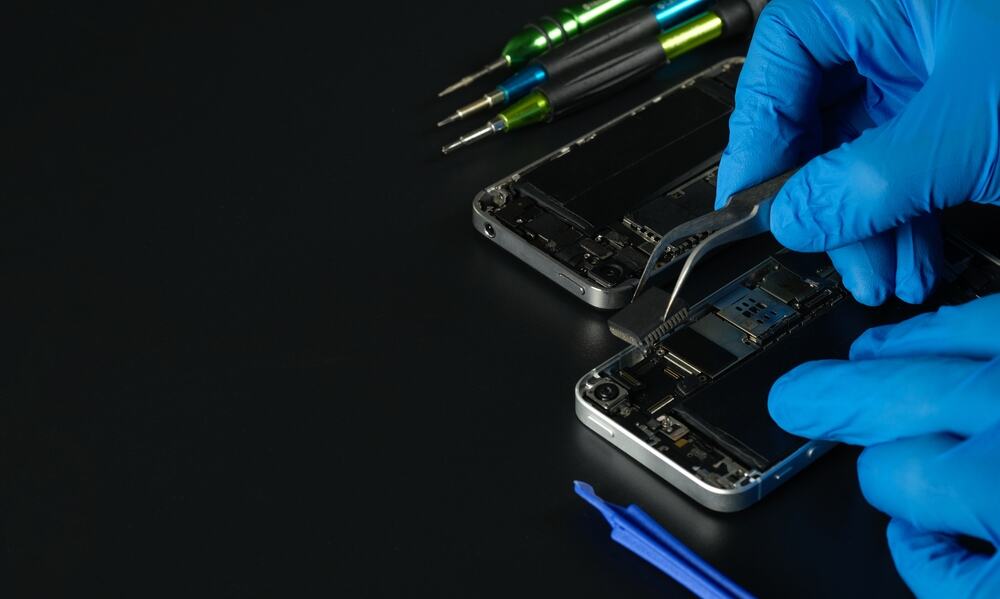 To manufacture is to produce the components that make an iPhone but to assemble an iPhone is to take all the components needed and combine them to offer a fixed working iPhone. Specialists are the ones that manufacture the components, but they are not the same people that build them. Apple manufactures its components in a different place and assembles them elsewhere. So that leads us to the question, where are iPhones made and assembled?
Memory chips, cameras, casings, glass screen interfaces, and everything are manufactured by over 200 companies in Asia and the United States. Two Taiwanese firms are in charge of assembling iPhones: Foxconn and Pegatron. They have branches around Asia where iPhones are assembled.
However, the Foxconn Plant in Zhengzhou, China, is the biggest assembling plant. It spreads across 2.2 square miles and has approximately 350,000 people employed. In a day, around 500,000 iPhones are produced by Apple manufacturers.
This article will show you more details about where Apple iPhones are made and manufactured.
Where Are iPhones Manufactured and Assembled?
Apple sells and designs the iPhone but doesn't manufacture its components. Apple instead uses manufacturers around the world to deliver individual parts like cameras, screens, and battery, and so on–It's not possible to list all the manufacturers of the products seen on the iPhone.
Also, it's not easy to discern where exactly the components are made because one company might build the same component at multiple factories sometimes. So, first, let's look at the details (name and location of companies) of where Apple gets its components from before we look at the companies that assemble those components to become the iPhone.
A-series processor: Samsung, TSMC, based in Taiwan with branches in China, Singapore, and the U.S.
Accelerometer: Bosch Sensortech, based in Germany with branches in the U.S., South Korea, China, Taiwan, and Japan.
Battery: Samsung, based in South Korea, and Sunwoda Electronic, based in China.
Camera: Sony, based in Japan, with branches in many counties. Qualcomm is based in the U.S., with branches around Asia, Australia, Europe, and Latin America.
Cellular networking chips: Qualcomm.
Compass: AKM Semiconductor is based in Japan but has branches in the U.S., England, France, South Korea, China, and Taiwan.
Controller for Touch-Screen: Broadcom, based in the U.S. with branches in some countries in Europe and Asia.
Flash memory: Samsung. Toshiba is based in Japan, with branches in over 50 countries.
Gyroscope: STMicroelectronics, based in Switzerland with branches in 35 countries across Asia, Europe, and North America.
Glass Screen: Corning is based in the U.S., with branches in many countries across Australia, Asia, and Europe.
LCD Screen: Sharp, based in Japan, with branches in 13 countries. LG is based in South Korea, with branches in China and Poland.
LCD screen: Sharp, based in Japan, with locations in 13 countries.
LCD screen: LG, based in South Korea, with locations in Poland and China.
Touch ID: Xintec, based in Taiwan. TSMC.
Wi-Fi chip: Murata, based in the U.S. with many branches.
Which Companies Assemble Apple's iPhone?
Just like we have established already, two companies located in Taiwan are in charge of iPhone assembling: Foxconn and Pegatron. They assemble iPhones, iPads, and iPods for Apple. Foxconn is a Taiwanese company specializing in assembling electronics. In building devices, Foxconn has been Apple's longest-running partner, and the firm's official name of Foxconn is Hon Hai Precision Industry Co. Ltd. Although it has factories across many countries, the majority of the iPhones assembled are made in Shenzhen, China. Foxconn has been Apple's manufacturer for a long time because of its incredible efficiency in manufacturing. 
Foxconn naturally has big assembly lines that can take up to 200,000 workers at a time and produce over 50,000 iPhone 5S back plates in a day. Although iPhone is mostly manufactured in Southeast Asia and the East, where they have a large and cheap labor force, China, Thailand, Taiwan, Vietnam, Malaysia, Philippines, and Indonesia are the countries that have those characteristics and also manufacture iPhones. China mostly assembles the iPhone (over 80% of iPhone 5s are made in China), but several countries in Asia also assemble the phone.
The iPhone in your pocket has components likely to be from several manufacturers around the world. Still, it's most likely the phone is assembled in China because China produces a high percentage of most iPhones in circulation.
Conclusion
Many companies supply Apple with the components needed to assemble their iPhones, but Foxconn and Pegatron are the assemblers of the iPhone. The largest assembler of iPhones is Foxconn, and they have been working with Apple for a long time. So with these facts stated above, you now know where iPhone is made and assembled.