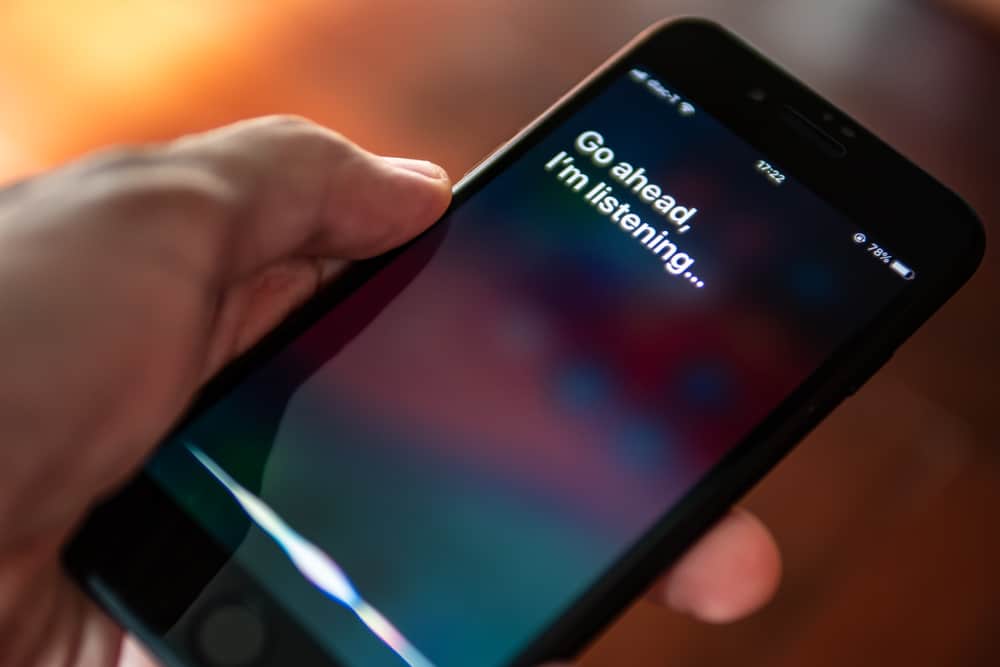 Are you looking for ways to use your iPhone hands-free? Or looking for a way to respond to calls when driving? Well, there is a simpler method than pressing buttons.
To use your iPhone hands-free, you can use the default virtual assistant, Siri, or turn on the Voice Control through the "Accessibility" setting. With the new Voice Control, you can perform multiple functions such as opening apps, searching the web, filling up the information, and sending and receiving calls without touching your phone.
This article will explain the Voice Control feature and how it helps you to use your iPhone with your hands free.
How Can You Use an iPhone With Your Hands Free?
Instead of tapping your device's screen with your hands, you can also perform a lot of actions just by using your voice with one of the two methods listed.
Method #1: Using Siri
Apple acquired Siri in 2010, and it has been part of Apple's devices since the iPhone 4. It is Apple's first voice-activated personal assistant that converts spoken commands into text and converts voiced desires into commands.
Siri is a hands-free technology that is turned on by default. However, you can toggle it on or off through Apple's settings menu. To turn on Siri, follow these steps.
Open the Settings app.
Slide down and find "Siri and Search". Tap it.
Switch on the toggle next to "Listen for 'Hey Siri'" and "Allow Siri When Locked".
Moreover, you can ask questions from Siri, use it to make calls, send texts, set timers, create reminders, and even play music with just your voice.
To activate Siri, press the Home button on old iOS devices or say, "Hey, Siri". If you have AirPods on, hold the center on the AirPods to turn Siri on.
However, there are some downsides as well. Siri is an Internet-based voice assistant. It sends your commands to the Apple servers and acts based on the response. So, you need a stable internet connection to use Siri. To cope with this problem, Apple introduced a new Accessibility feature, Voice Control, which works locally.
Method #2: Using the Voice Control Accessibility Feature
Voice Control is a brand-new feature that debuted alongside iOS 13 as an additional hands-free method. It expands Siri's capabilities in certain areas while duplicating them in others.
It is an assistive technology that can aid you with pretty much whatever you need, from opening apps to typing texts, playing music, and adjusting volume. When you don't have a reliable Internet connection, Voice Control takes the place of Siri and helps you with tasks that don't need a data connection. Instead of touching your gadget, you can just instruct it on what to do.
How To Turn On Voice Control on an iPhone
Since Voice Control can perform a lot, you must learn to turn it on your iPhone.
The Voice Control feature is only available on iOS 13 and onwards devices. So, before using it, ensure your current iPhone runs on iOS 13.
Go to the Settings app.
Drag down and select "Accessibility".
Under "Physical and Motor Section", tap "Voice control".
Select "Set Up Voice Control". It will take you to the pop-up displaying everything you can do with Voice Control.
Press "Continue" > "Done".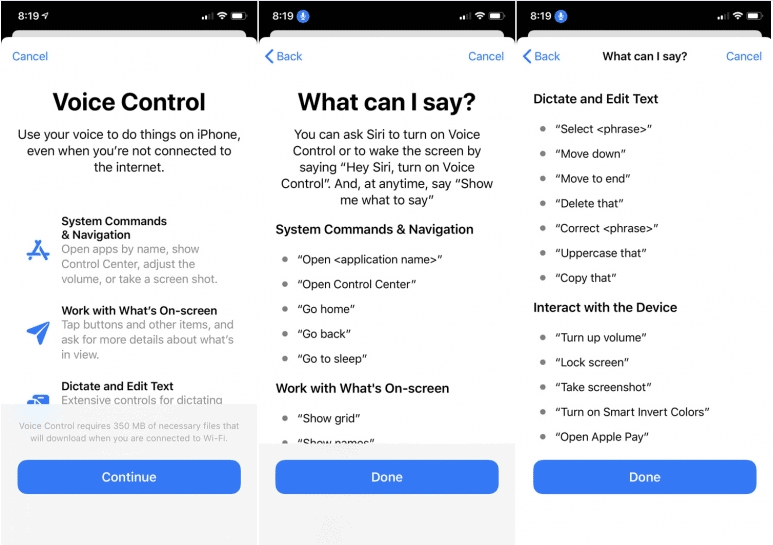 The voice control is now activated, and you will notice a speaker icon next to the time in the upper left portion.
Things You Can Do With Voice Control
You can use voice control to perform multiple functions with your hands free.
System Command & Navigation: You can open the application by just saying, "Open [app name]", or navigate around by saying, "Go back" or "Go Home". In addition, you can turn off the voice control by saying, "Go to Sleep".
Work With What's on the Screen: You can create gridlines or give numbering to all commands/graphics visible on the screen with voice control. You have to say, "Show grid" or "Show numbers". If the on-screen elements are numbered, you can easily perform a task by saying, "Tap number 5".
Dictate and Edit Text: When working on a notepad, you can select, delete, and copy text with just voice commands.
Interact with Device: You can take screenshots, raise the volume, and lock your screen, all without touching your phone.
When the voice control feature is on, you will see a blue speaker icon on the top left. Secondly, whatever commands you give are displayed on the screen.
How To Return Calls on iPhone Hands Free
One of the primary things people want to do hands-free is return calls. So, here are a few ways to do this on your iPhone.
Method #1: Using Siri
When you receive a call, you can just use it to pick up the call. Say, "Hey Siri, Answer the call". Then, to answer it, the best way is to put it into the speaker, which can be done again with Siri.
Method #2: Using Voice Control
If the voice control is turned on, you can use it to pick up the call and talk hands-free via the phone's speaker. To accept the call, you can give a voice command, "Tap Answer". Then, say "Tap speaker" to put the call on speaker.
Method #3: Using a Wired/Bluetooth Headset
You can also use a wired headset to return calls through your iPhone. Multiple wired and wireless headsets are available that can be paired with your iPhone. Another way is to use Apple's official AirPods.
Wrapping Up
iPhone users now have various options for hands-free communication with their devices. They can either use the powerful voice assistant Siri or turn on the new Voice Control to operate their device without using their hands.