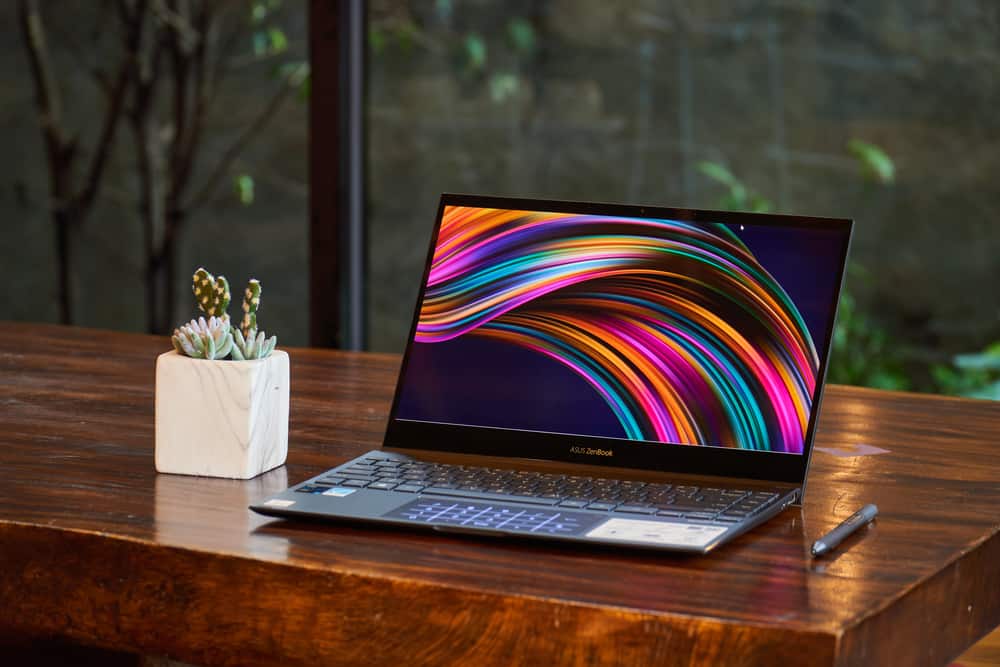 ASUS is a Taiwan-based company known for its quality computer hardware products, including but not limited to: notebooks, gaming laptops, netbooks, motherboards, graphic cards, workstations, mobiles, etc. ASUS laptops are designed to last, so buying one is an excellent financial decision.
To buy an Asus laptop, go to the official Asus Webstore, and select the device you want to purchase a model of (i.e., laptops). On the next page, select the laptop type you want to buy (e.g., gaming, work, personal use). Find the laptop you want and select "Add to Cart". Then, select "Review Cart" and proceed to Checkout by adding your preferred Shipping Method and Payment Method.
Asus offers a wide range of laptops, and buying the right laptop that fits your needs is as important as buying a good one. We will provide a detailed guide on where and how to buy ASUS laptops. Keep reading to learn more about ASUS and how to choose the right laptop.
Where To Buy ASUS Laptop?
ASUS is one of the world's leading laptop and computer hardware manufacturers. Buying an ASUS laptop might be a little heavy on your pocket in the short term, but you will eventually save money as their laptops have a long life and rarely face technical malfunctions. So unless you break it by accident, your ASUS laptop is designed to long for an extended period.
Follow these steps to buy an ASUS laptop.
Step #1: Go to the ASUS Webstore
You can buy ASUS laptops directly from their official store website. Visit the website here. The benefit of buying directly from the ASUS website is that you get the peace of mind that your product will be genuine.
If you are trying to access the website from outside the US, change your location by clicking on the "Switch the website of your location" option on the top right corner of the screen, as shown in the picture below.

Step #2: Select the Product Type You Want to Buy
An array of product types will be available on the ASUS Store homepage, as shown in the picture below.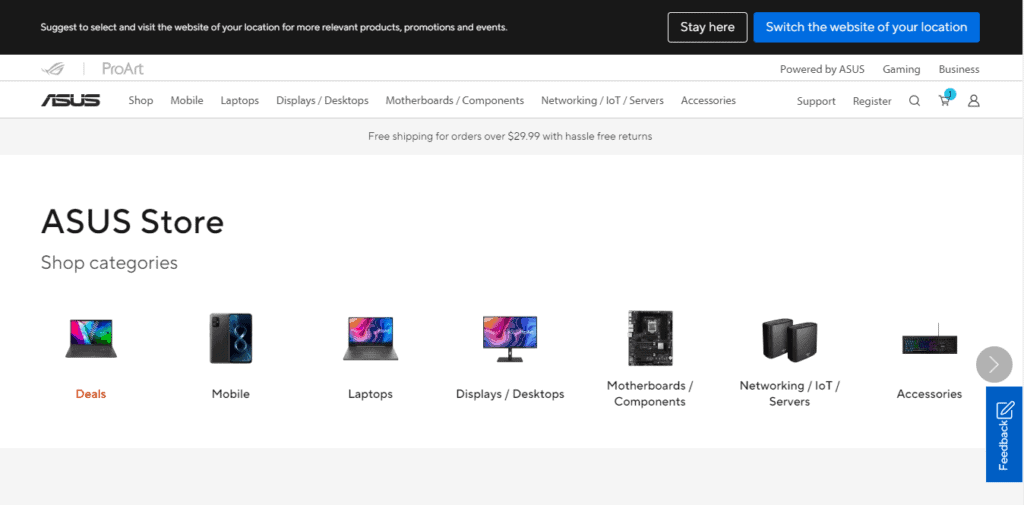 Select "Laptops" to proceed to buy a laptop.
Step #3: Finalize the Laptop You Want
On the next page, a list of all laptop types will be visible, as shown in the below picture.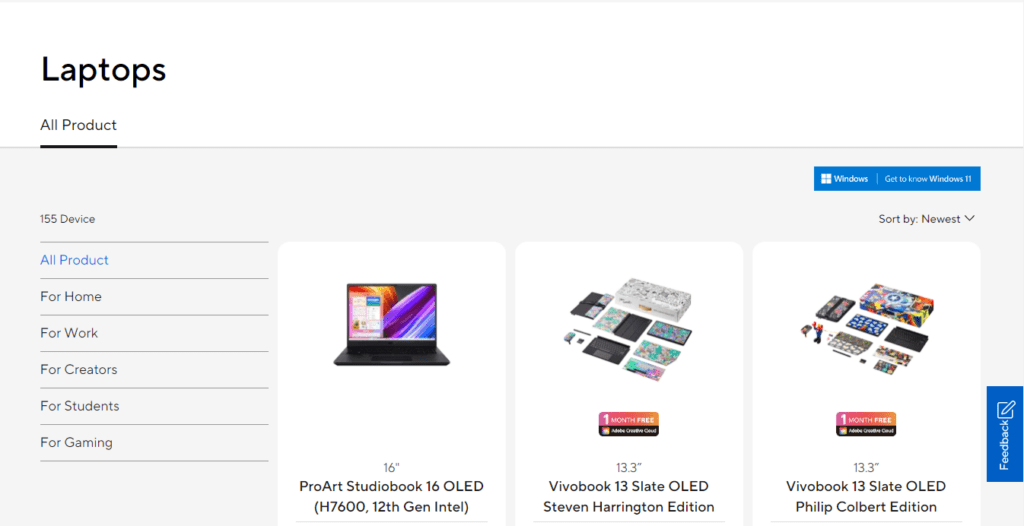 Select the laptop type you want, depending on your need. It is important to select the laptop type you need as a laptop designed for students will not be ideal for gaming purposes.
Once you select a laptop type, other filters—such as "By Series", "By Category", and "Operating System"—will appear on the screen. You can use these options to narrow down the search to exactly what you want.
Once you find your desired laptop, check whether you see the "Buy" option under it or "Notify Me". If it says "Notify Me", that means that the laptop is out of stock, and you can fill in your contact info to be notified when it becomes available again. If it's available, click on "Buy" to proceed.
Step #4: Checkout
After you tap "Buy", click on the "Add to Cart" option and select the cart by clicking on the cart icon. Select "Checkout". On the next page, you can either sign in to your ASUS account, sign up to ASUS or continue as a guest, as shown in the picture below.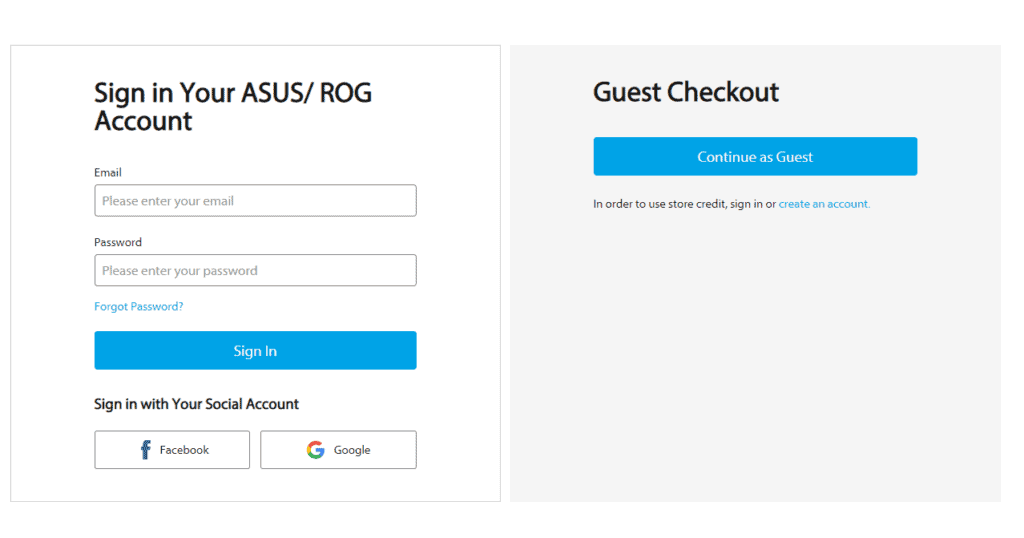 If you plan to use ASUS Store credit towards your purchase, you will need to sign in using your ASUS account.
Step #5: Add Shipping and Payment Method
The last step is to add the shipping address where you want the laptop delivered and specify your payment method. After you provide this information, you can click on the "Place Order" button present on the right side of the screen.
Your delivery details will be shared once your order has been confirmed. You can buy ASUS laptops using this step-by-step guide from their official store website.
Conclusion
ASUS laptops are ranked among the best ones in terms of reliability. Only 16% of ASUS laptops are reported to have a technical malfunction within three years of purchase, which makes them ideal for all needs.
You can buy ASUS laptops from leading e-commerce stores if you want. Still, we recommend using the official store as you get the peace of mind that your product is coming directly from the manufacturer and is guaranteed to be genuine.
Another benefit of buying from the official store is that you won't receive a laptop lying on a store's shelf for 6 months; you will get a newly manufactured product. Follow the step-by-step guide discussed above to buy an ASUS laptop directly from their official store.