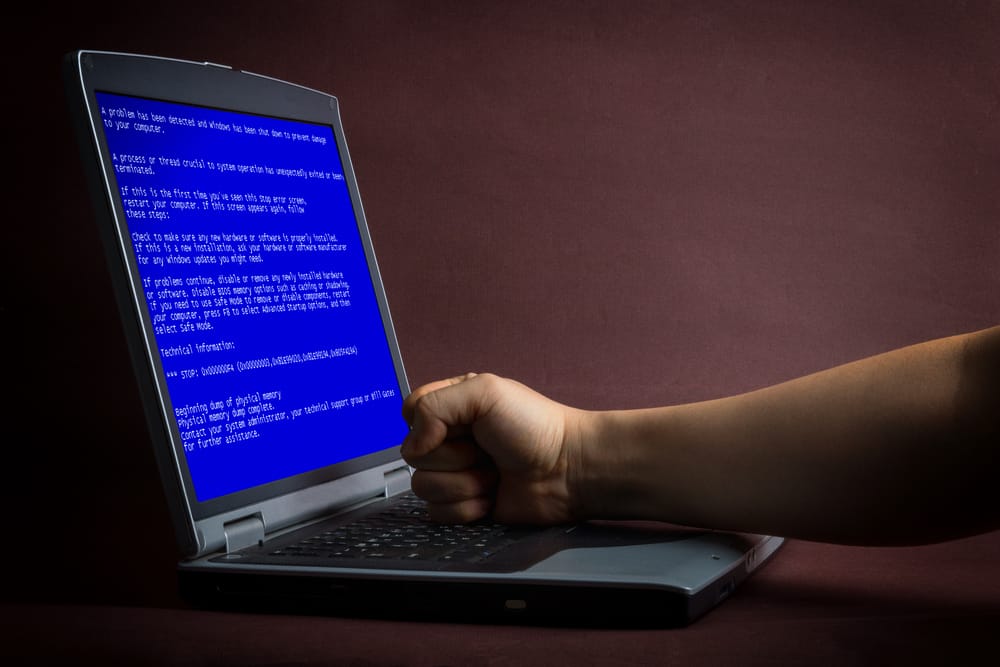 PC crashes are common and frustrating at the same time. You are working on something important, and suddenly a PC crash happens and erases all your progress. We know how it feels because we have also experienced it, which is really annoying.
There could be several causes of the computer crashing issue. Some users experienced it because of overheating and corrupted system files. On the other hand, some PC users said this occurred due to malicious software on their PCs. Notably, the reason could be different in your case, and it is vital to know the reason. 
Along with finding the culprit, it is also essential to resolve the issue. Otherwise, this will keep annoying you and cause more problems. This detailed guide shows you how to find out why your computer keeps crashing. Besides this, we have also mentioned some working fixes to resolve the issue to help you keep using your PC seamlessly.
So, follow the tutorial and find the root cause of the issue you are facing now.
6 Most Common Reasons for a PC Crash
Most PC crashes happen because of hardware and software issues. Users have reported different causes of PC crashes. However, there were a few reasons that were common in all crashes. Have a look at them below.
Corrupted system registry files.
Virus-infected software.
Outdated PC drivers.
Insufficient RAM.
CPU overheating.
Incompatible software and hardware.
How To Know Why Your PC Crashed
You can easily find the source of your recent system crashes with the help of the Reliability Monitor tool. The Reliability Monitor tool is a built-in troubleshooter that reports all the system crash and warnings. Reliability Monitor also explains the reason behind every crash. You can sort crashes and warnings by days and weeks to quickly locate your crash without hassle.
Here's how you can use the Reliable Monitor tool to know the explanation of the crashes.
Press the Windows key.
Type "Reliability History" in the search bar.
Click the "View Reliability History" from the results.
You will now see red crosses representing system crashes on different dates.
Select the date given on the graph by clicking on it.
Look for the "Critical Events" section under the "Sources" section.
Double-click the event to get more details about the crash.
Check the primary reason for the problem under the "Problem" section.
Click "Check for solutions to all problems" to look for working solutions.
Follow the solutions if some solution appears on your screen.
These are the steps to use the Reliable Monitor tool to know the root causes of your PC crashing issue. The Reliable Monitor tool also helps you find the cause of other problems, such as blue screens and freezing.
5 Quick Fixes To Fix Computer Crashing Issues
Here are some easy-to-follow and effective ways to fix computer crashing issues.
Fix #1: Update Your PC Drivers
One fix to resolve PC crashing issues is checking and updating your PC drivers. Corrupted or outdated drivers could be a reason behind the issue. You can try updating your disk drivers and check whether the problem resolves.
Here's how you can follow the below-mentioned steps to update your PC drivers.
Press Win + I.
Search and open "Device Manager" in the search bar.
Search for "Disk Drives" in the drivers' list; double-click to expand.
Right-click your disk to update it.
Click "Update".
Click "Search automatically for drivers" to let Windows find updated disk drivers.
Voila! Your disk drivers have now been updated.
Fix #2: Check Whether Your CPU Is Working Properly
Keeping your CPU running at its best for optimal performance is vital. One of the causes of the PC crashing problem could be your CPU. You should ensure that your CPU is working correctly and doesn't have any hardware faults. When the CPU doesn't perform at its best, it starts overheating and causes issues.
We suggest disassembling the CPU, ejecting the parts, and cleaning them properly. When cleaning out your PC, ensure that your CPU has enough ventilation to throw out the heated air. Additionally, also ensure that your fans are working correctly at a proper speed.
Try to be as gentle as you can while cleaning your CPU, especially the RAMs. Damage can make that part non-functional and obsolete. So, always be gentle while cleaning your entire PC.
Fix #3: Boot Your Computer Into Safe Mode
Safe Mode is one of the best fixes to the PC crashing issue. However, this method is only suitable when third-party software is suspected of causing the problem. Safe Mode is a feature that lets you start your PC in diagnostic mode rather than normal mode. It starts with the fewer and most essential software and drivers needed to run correctly.
Here's how you can boot your computer into Safe Mode.
Press Win + I.
Search for "Recovery settings" and click it.
Click the "Restart Now" button.
Move to "Advanced Options" under "Troubleshoot Settings".
Click "Startup Settings" in the "Advanced Options".
Click the "Restart" button.
Press 4 on your keyboard to boot into Safe Mode.
That's it. Your PC will restart, and you will be entered into Safe Mode.
Fix #4: Fix System Corrupted Files
Corrupted system files could also be one of the causes of the issue. You can use the System File Checker tool to repair corrupted system files automatically. You can only use this tool in Safe Mode. You need to boot into Safe Mode with Command Prompt access.
You can follow the steps to fix corrupted files using the System File Checker tool.
Boot into Safe Mode.
Press the Windows key and type "Command Prompt".
Open Command Prompt and type: sfc /scannow.
Wait a few seconds to let Windows scan and fix the files.
Close the Command Prompt when the scan completes.
Restart your PC in normal mode.
There you go! You have finally repaired all the corrupted files.
Fix #5: Run a Virus Scan
It could be possible that the malware is crashing your PC repeatedly. You can run a detailed scan and scan for infected files. You can use antivirus programs like BitDefender, Norton360, Malwarebytes, and McAfee Antivirus to find and remove infected files from your PC. Else, you can use Windows built-in antivirus program for scanning.
Summary
Some of the common culprits of this problem are outdated drivers, overheating problems, insufficient space, and corrupted system files. Yet, it could be different in your case. The Reliability Monitor tool can check for system errors and warnings.
Reliability Monitor is one of Windows's most valuable and great troubleshooting tools that lets you quickly check the culprits of your PC crashes. Once you find the problem, you can try to fix it with the above fixes. We are sure any of them will surely help you solve the issue.