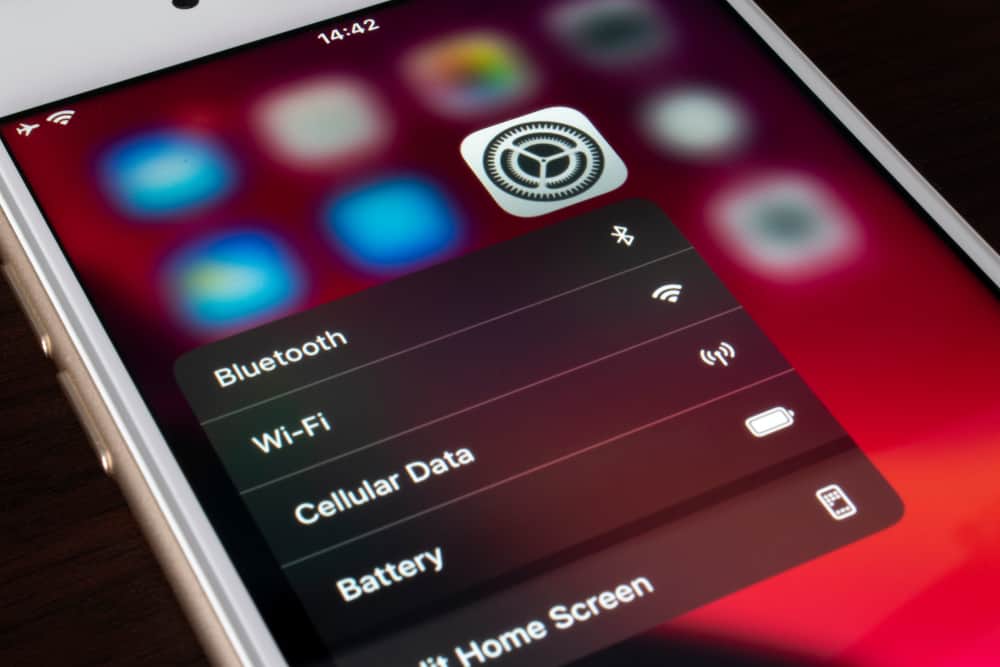 Have you ever experienced your iPhone disconnecting from your WiFi while streaming an exciting movie or making an important call? You're not alone. We've been there, and we can confirm that it is one of the most frustrating things that can happen to you while you're using your phone. 
There are many possible reasons your iPhone keeps dropping WiFi. If the WiFi router is causing the problem, try to reboot your router, update the router's firmware, etc. If your iPhone is causing the issue, try to restart your phone, forget and reconnect to the WiFi network, reset the network, restore or update your iPhone, or visit the Apple store.
The possible causes and solutions are numerous, and we shall explain them in detail in the article. You may have to try all the suggested solutions before finding the one that works for you, but we are confident you'll arrive at a much-needed solution. Let's dive in.
How To Isolate the Cause of the Problem
While troubleshooting, the first thing you need to do is diagnose the problem's cause. To make your job easier, try to eliminate the most straightforward fixes. Do the following.
Make sure your WiFi router is turned on and running smoothly. 
Ensure that your phone's WiFi is switched on and not on airplane mode.
Make sure that you're not out of the router's network range. 
Make sure you're connected to the right WiFi with the correct password. 
Check if there is no other device interfering with your WiFi connection. 
Isolate the cause of the problem to your iPhone or WiFi router by testing with other devices. Connect another iOS device to your WiFi router to see if the router is the problem. Also, connect your iPhone to another WiFi network to figure out if your iPhone is the problem.
How To Troubleshoot if WiFi Router Is the Problem
Once you have determined the problem with your WiFi router, you can try some quick and easy fixes. 
Reboot Your WiFi Router
Press and hold your router's power button to turn it off.
Unplug the router from the power source.
After a few minutes, connect the router to the power source and turn it on.
If this doesn't solve your problem, try the next suggestion. 
Update Your Router's Firmware
Check for available updates for your router using its mobile app or accessing its control panel through a browser. Update the router if there is an update available. However, get a new router if the current one is outdated and can't receive updates.
Contact Your Router's Manufacturer
As a last resort, contact the manufacturer and schedule an appointment with the technical team to help fix your router.
How To Troubleshoot if Your iPhone Is the Problem
If you diagnose that your iPhone is causing the problem, there are many ways to fix it. Here are nine ways to solve your problem.
Disconnect and Reconnect WiFi
Disconnect your iPhone from the WiFi network and reconnect. It may be a connection issue. 
Forget and Reconnect WiFi Network
WiFi networks are usually saved on your iPhone after the first connection. To avoid connection problems, forget the WiFi network when the password changes. Follow the steps below.
Open Settings on your iPhone.
Go to WiFi.
Locate and tap the information icon (i) in front of your WiFi network.
Tap "Forget Network."
Tap the network again to rejoin. Enter the password and reconnect.
Restart Your iPhone
Due to its simplicity, many people ignore this approach when dealing with technical problems. Sometimes, rebooting is all your iPhone needs to return to its usual self.
Disconnect VPN
VPN usually interferes with the WiFi connection. If you're using a VPN app, open it and disconnect. If your VPN is in your iPhone's settings, follow the steps below to disconnect.
Open Settings on your iPhone.
Select "General."
Scroll down and select "VPN and Device Management."
Disconnect VPN by turning off the toggle button beside "Status" at the top.
Turn Off WiFi Assist Feature
WiFi Assist allows your iPhone to switch to its data connection when the WiFi network is poor. To turn it off, follow the steps below.
Open Settings on your iPhone.
Go to "Mobile Data."
Scroll down to "WiFi Assist" and turn it off.
Enable Auto-Join Feature
Enabling the Auto-Join feature allows your iPhone to join the WiFi network automatically. You can do this by following the steps below.
Open your iPhone's Settings.
Tap "WiFi."
Tap the information icon "(i)" beside your WiFi network.
Tap to enable "Auto-Join." 
Restore or Update iPhone
If you started experiencing the issue after a recent update, you should try restoring your iPhone to the previous version. However, if you haven't updated your iPhone to the latest version, make sure you update it. 
Reset Network Settings
Resetting your network settings would cause you to lose all network-related settings, including saved WiFi and paired Bluetooth connections. It is, however, an effective fix for network-related issues. Follow the steps below to reset network settings.
Open Settings on your iPhone.
Select "General."
Scroll down and select "Reset."
Tap "Reset Network Settings" at the bottom of the screen. 
Enter your passcode. Your iPhone will reboot. Try to reconnect after the rebooting process.
Visit Apple Genius Bar
After trying all these fixes and nothing seems to work, schedule an appointment with the technicians at Apple Genius bar to fix your iPhone.
Summary
The above solutions have solved iPhone users' WiFi connection problems. Keep trying until you find the one that solves your problem. Also, it would help if you had this article handy in case you find yourself or a friend in a similar situation in the future.