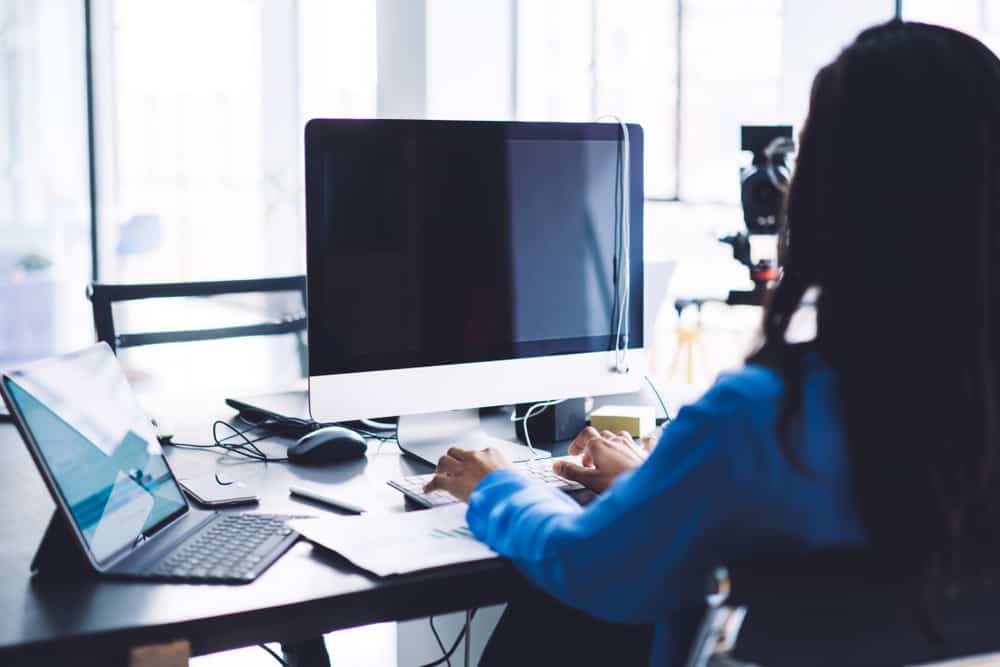 The monitor is a virtual device you can't do without when it comes to displaying videos, text, images, and graphic information. It can be quite frustrating if this electronic output device keeps going to sleep, particularly when you need it for something important. But there are ways to fix it. Before seeking a solution to the issue, you may want to know why the monitor keeps going to sleep.
Generally, your monitor will keep going to sleep for several reasons. The most common causes of this problem include the system's power settings, the screen saver function, a system file glitch, and an outdated graphics card driver.
Monitor keeps going to sleep is a common malfunction in Mac and Windows operating systems. The reasons for this issue can be external or internal. Whichever can cause the problem in your monitor, there are ways to deal with it.
This article will explore why your monitor keeps going to sleep and how you can alleviate the problem. 
Reasons Your Monitor Keeps Going To Sleep
Excellent performance for a long time is one of the features of high-quality systems with monitors. Nonetheless, you may sometimes experience the issue of a monitor that keeps going to sleep.
How will you feel if your screen suddenly goes blank, perhaps in the middle of working on something important? You may feel terrified of losing data. It is a problem common with systems with Windows 10 or Windows 7.
One of the most common causes of why your monitor keeps going to sleep is your system's power settings. You may face this problem sometimes if your system's sleep mode duration is very short. For instance, you are likely to see your monitor going to sleep persistently if you set it to 2 minutes. You may want to change the settings to a longer time to stop this from happening. 
Another common cause is the function of the screen saver. Every version of the Windows operating system has screen saver functionality. Your monitor may go to sleep mode when idle if you enable the screen saver and put the sleep mode in a specific short duration. 
Your monitor can keep going to sleep if the graphics card driver is out-of-date. This is considered the primary cause of this issue. An outdated graphics card driver can make the functionalities of the system stop working, leading to sleep mode.
Methods To Prevent the Monitor From Going To Sleep
After knowing the factors that could be responsible for the monitor going to sleep, the next action should be to try out the proper method to fix the issue. Below are several ways that can help alleviate the problem. 
Method #1: Check the Connecting Cables
Sometimes, the issue may be with the cable connections. If it has become loose, it may stop the monitor from getting a constant power supply, which keeps it on. 
Here's how to fix a connection issue.
Start by checking the connection between the computer and the monitor (video ports and cables).
Remove and reconnect the cables.
Restart the monitor.
Method #2: Use the Hardware and Devices Troubleshooter
At times, any minor hardware glitch can make your monitor keep going to sleep. To fix issues that develop via this, you can try to run Windows built-in troubleshooting software. 
Here's how to run the software.
Press Windows + I on your keyboard to launch the Settings app.
Hit "Troubleshoot" on the left side.
Click "Recommended troubleshooting" if the option is available; if not, move to the next step.
Press "View Troubleshooting History".
Hit "Hardware and Devices Troubleshooter".
Finish the operation after following on-screen instructions.
Method #3: Turn Off the Screen Saver
The screen saver is a built-in feature in Windows. It activates automatically if there is no windows activity for a specific duration. When it's activated, your monitor screen will go into sleep mode.
Here's how to disable the screen saver.
Open the lock screen setting and hit the result in Windows 10.
Tap "Screen Saver Settings" and change the settings to "None".
Uncheck "On resume, display logon screen".
Click "OK" to save the change.
Method #4: Update the Monitor Driver 
You can update the driver if the monitor keeps going to sleep. With this, you can fix every issue associated with an outdated driver.
Here's how to update the monitor driver.
Tap the Windows Log Key and type "X". Then, press "Device Manager".
Locate and hit "Monitor".
Click "Update Driver".
Select "Search Automatically for Updated Driver".
Restart the system.
Method #5: Change the Power Plan
To save on battery, you may need to alter the battery settings. If you have it out of the limit, you may want to check the option.
Here's how to change the power plan.
Click the Win + X keys and select "Power Options".
Open a new window by hitting the link "Additional power settings".
Press "Change plan settings".
Set both "Plugged in" and "On battery" to "Never" for "Turn off the display" and "Put the computer to sleep".
Method #6: Set "System Unattended Sleep Timeout"
This method is a better alternative if the other ways fail. All you need to do here is set "System unattended sleep timeout" to a longer time. It is invisible by default, but make it visible by changing Windows Registry. 
You need to back up your registry item to prevent some accidents if you intend to use this method. Only use this method when comfortable because it's a more advanced option.
Here's how to change sleep timeout.
Click the Win + R keys, type "Regedit", and hit "OK".
Visit "Computer\HKEY_LOCAL_MACHINE\SYSTEM\CurrentControlSet\Control\Power\PowerSettings" to see the directory.
Set "Value data" to 2 after double-clicking "Attributes".
Next, return to Change System unattended sleep timeout.
Right-click the Windows icon.
Select "Power Options".
Hit "Additional power settings".
Choose "Change advance power settings" after clicking "Change plan settings".
Press "System unattended sleep timeout" to change the duration to any preferred long time, such as 30 minutes.
Conclusion 
In a nutshell, a monitor keeps going to sleep issue is what you don't want to experience. But if you do, you can fix it through suitable methods in the article. With these methods, you can have your monitor work the way you want.