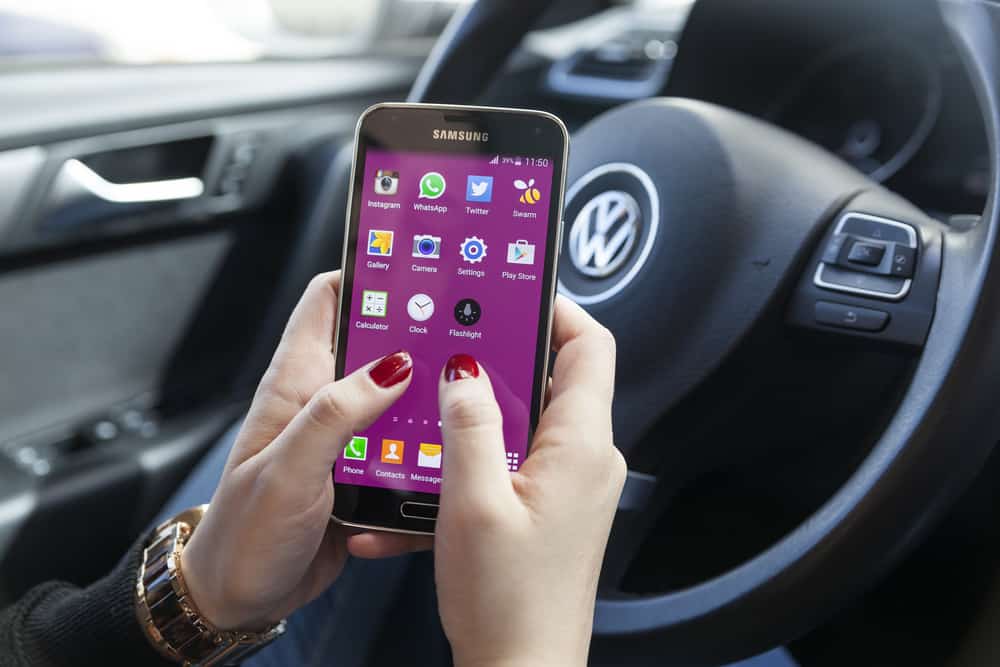 The Android Auto app is an application developed by Google in 2014, and it enables you to control specific Android smartphone features even as you drive. This app has become popular thanks to its outstanding features, such as music playback, text messaging, hands-free calling, and turn-by-turn navigation. 
However, there are instances when Android Auto stops connecting to your car altogether, preventing you from having the perfect driving experience.
Some possible reasons this might happen include having an outdated app or operating system, a faulty USB cable, too much cache, incompatibility with the Android Auto app, and being connected to the wrong vehicle.
Read on for a more detailed look at why Android Auto isn't connecting to your car as expected. You'll also learn how to fix these issues when they arise to avoid the situation of Android Auto not working as expected. Let's get started.  
You Have an Outdated Operating System or App
One reason Android Auto will not connect to your car's infotainment system is an outdated operating system or app. In such instances, you'll need to install new app updates or update the operating system as a whole. 
If you own a Samsung smartphone, updating the operating system is simple and can be done by following these steps.
Go to the Settings app on your Samsung device. 
Tap on "Software Update". 
Click on the option "Download" and "Install", after which you should click on the Install option if new software is available. 
The steps to follow on other Android devices differs slightly.
Open the Settings app. 
Click on "System". 
Tap on "System Update" to look for fresh updates. Go ahead and download the update if available and follow the instructions on your smartphone's screen.
Besides updating your Android smartphone's operating system, you must also update the Android Auto app. Here are the steps to follow.
Go to the Google Play Store. 
Click on your profile picture in the upper right corner. 
Tap on "Manage apps & device", and you'll see the option "Updates available" if there are several pending updates or "All apps up to date" if all applications are updated. 
Click "Update" beside "Android Auto" if available updates exist. Also, don't forget to update other integral apps such as Google Play Services and Google to fix voice command issues with Android Auto. 
Doing all this will help resolve any issue with the Android Auto app, and you can better enjoy your driving. 
You Have a Faulty USB Cable 
The Android Auto app is sensitive to minor issues such as faulty or poor-quality USB cables. Without a fully functional USB cable, the connection of the Android Auto app won't work as expected because it keeps letting loose. 
You can resolve this issue by getting a USB cable to charge your Android device and transmit data simultaneously. A quality USB cable won't cause any disconnection thanks to its reliable build quality. These cables also fit securely and snugly onto the point where you attach your smartphone.  
Your Car or Smartphone Isn't Compatible With Android Auto
Many cars manufactured from 2016 onward come with Android Auto installed and a USB port. However, this doesn't mean that this car's compatibility with Android Auto is a guarantee. You must check out the Android Auto-compatible vehicles list to know if your car falls in that category. 
Android Auto may also stop connecting because your Android smartphone runs on an older operating system. The Android Auto app can only connect with your smartphone if it's running on Android's 6.0 Marshmallow or newer. If not, you'll need to upgrade and get a newer Android smartphone compatible with Android Auto.    
You Have Too Much Cache 
One issue with most Android apps is that they have too many temporary files that are needed for things such as custom settings and authentication. The malfunction or corruption of this cache is the last thing you want when looking to connect the Android Auto app and your car. The app stops working because it's constantly crashing, making it less dependable. 
You can deal with such an issue by clearing Android Auto's cache by following these steps.
Launch the Settings app. 
Go to "Apps & Notifications" or "Apps" on Android 12  
Tap on "See all X apps". 
Click on "Android Auto". 
Tap on "Storage & Cache". 
Select "Clear Cache".
After you've cleared the cache, all the temporary files will be removed, allowing the Android Auto app to work much more effectively. You shouldn't worry about clearing the cache and deleting all your Android Auto preferences. 
Your Android Auto App Is Connected to the Wrong Vehicle
You can pair your Android Auto app to several cars. So if you've connected Android Auto to many cars, it shouldn't be a surprise that the Android Auto app might start to experience some problems working. This issue can be resolved by reconnecting Android Auto to your vehicle, and these are the simple steps to follow.
Launch the Settings app. 
Click on "Connected Devices". 
Tap on the option "Connection Preferences" to show the different kinds of connectivity supported by your smartphone. 
Click on "Android Auto" to open its interface. 
You can remove every other car by clicking "Previously Connected Cars". 
Tap on the three-dot menu in your smartphone's upper right corner. 
Click the option "Forget all cars". 
Head to the preceding menu, click "Connect a Car", and follow the instructions on your phone's screen. 
Summary 
It's no doubt that the Android Auto feature is a convenient app to have as a driver and can effortlessly connect with your vehicle's infotainment system. However, there are certain instances when Android Auto stops connecting to your car, as you had earlier expected. 
If you experience such an issue, this guide has detailed everything you need to know on how to resolve this issue best. Therefore, you can start enjoying your car's infotainment system and better direct your focus on the road rather than using your smartphone. This is convenient and reduces the chances of getting involved in an accident.