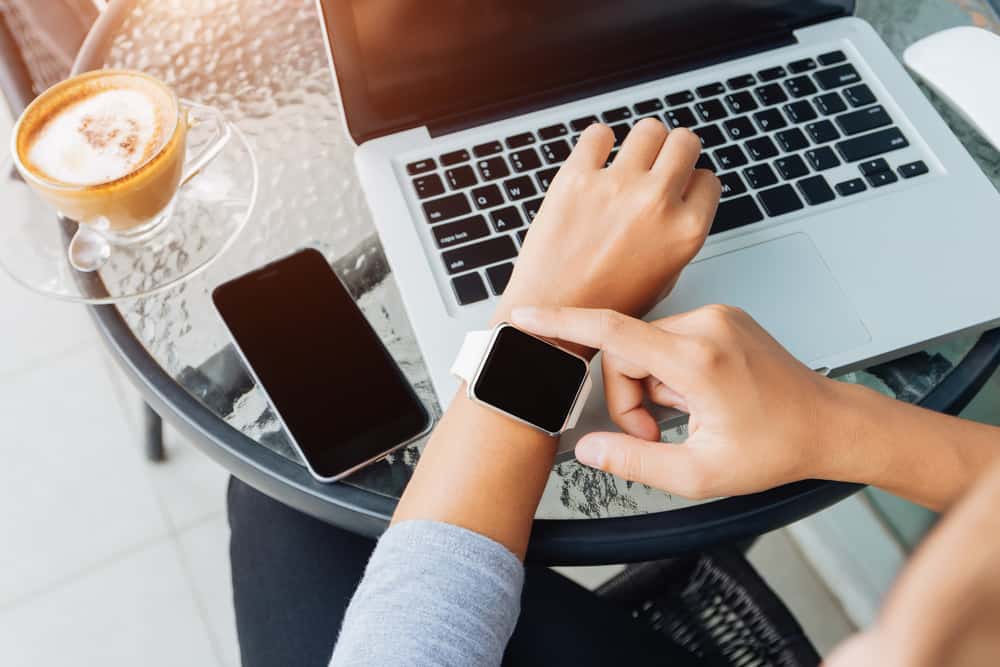 It's early in the morning when you wake up to sweet chirping. Feeling fresh and rested, you decide to go for a run. You get ready and reach out to set up the Apple Watch. But the screen is black and does not respond. Feeling panic, you want to resolve this fast.
So, why do apple screens turn black and unresponsive suddenly?
One of the reasons the Apple watch's screen curtain is available. A low battery can be another reason. So, a few hours of charging will take care of the black screen problem. Software corruption also causes this issue. This is easily resolved with a hard reset.
Software bugs also bring such issues to the Apple watch. Updating your watchOS fixes this as well. So let us see each resolution and issue in detail.
Why Is My Apple Watch Screen Black: Solutions
Method #1: Give the Apple Watch a Hard Reboot
Sometimes, a bug or glitch in the firmware causes such still black screens on devices. Here is to do a force reboot to resolve the issue:
On your watch's side, press down on the "Digital Crown" and a small button below it.
Keep holding both the buttons down till an Apple logo is seen on the screen.
This means the watch is rebooting and will take 10 to 30 seconds to complete.
If there is no change after 30 seconds, give it an extra 30 seconds. If still nothing happens, move on to other solutions.
Method #2: Disable the Screen Curtain App
The screen curtain feature gets activated on the Apple Watch a few times, leaving the screen blank. During the screen curtain, your watch's display turns off for privacy and can't be seen. You can only use voice commands to operate your phone. But, you can easily turn off the screen curtain app by,
Open your watch's "Settings" menu by clicking on the white gear icon.
Click on "General" and then "Accessibility".
Move down through the list, and under the "Vision" menu, clicks on "VoiceOver" to toggle it off.
Next, on the same menu, browse down to "Screen Curtain". Turn the toggle switch to turn it off.
Method #3: Force Restarting Your Phone after Recharging
Your watch may be completely drained. So you need to charge it beforehand for a while to accumulate power. Once charged, your phone has enough power to turn on. So if none of the above steps work, try charging your phone for at least 30 minutes. You will see a charging indicator that says that it's charging currently.
If using a charging pad, make sure there is no plastic wrap stuck underneath. This causes charging problems. Also, check for damage and tears on the charging cable. You can then do a force restart using the steps in Method 1 after around thirty minutes of charging.
Method #4: Update Your watchOS
Firmware glitches and bugs in the software can cause this black screen problem. This happens when you introduce new features. Let us see how to update your watchOS.
Launch the Watch app on your iPhone.
Now click on "General" and then go to "Software Update".
Here check if an OS update is present.
If yes, click on Download and Install or Install Now option to install the update.
This issue should get resolved hopefully after the update If not, please follow the next options.
Method #5: Remove All Your Settings and Content
This is the last step you can take after trying everything else. This involves the actual erasure of data and is mainly good for software problems with no cosmetic solution in sight. This restores your watch to factory settings.
Take a backup of all the Apple Watch data and disconnect it from your iPhone.
Now, place the Apple Watch and iPhone close.
Launch the app Watch on the iPhone and click on the "My Watch" tab.
In the top left-hand corner, click on "All Watches".
Next to the watch's right you want to reset, click on the "Information" option.
Finally, click on "Unpair Apple Watch" to disconnect it from your iPhone.
Method #6: Call Apple Support
If even getting your watch back to factory settings did not work, there seems to be a more serious problem. You may need to call up the Apple tech support team. It is most probably a hardware issue needing a fix. Apple has a tech support team accessible over mail, online, telephone, or in-person. If you plan a visit to your local Apple store, do schedule an appointment beforehand.
Conclusion
The screen of the Apple Watch can go blank unexpectedly. There are many ways to bring your screen back by fixing the issue in such cases. One of them is to do a hard reboot after erasing all your content and settings. Before that, though, you can always try restarting your phone or updating your watchOS. If those don't work, the Apple tech support is always ready to be of service. They can easily fix any firmware issues you may be facing.
Frequently Asked Questions
My Apple Watch is unresponsive and stuck. What should I do?
Suppose the Apple watch is stuck and locked. Try to restart it by holding the side button and digital crown down together for at least ten to thirty seconds. Once you see the Apple logo, you know that your Apple watch is restarting. Your watch starts working normally once you do that. Alternatively, you can also check for any latest updates on your watch OS.
Why can I see a vertical white line on my Apple Watch screen?
Sometimes, you may see a white, thin vertical line on the Apple Watch screen. This may be a serious problem where your device is dealing with a damaged cable. This issue is also called a minefield. Your watch may sadly be unrepairable at this point.