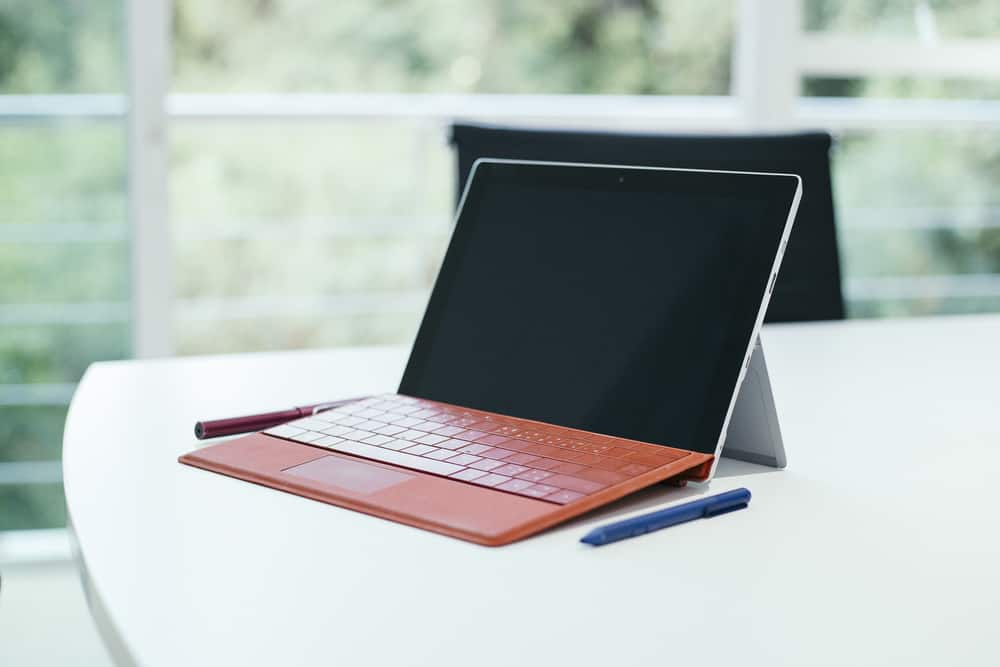 Microsoft has a brand of laptops known as the Surface laptops with fixed and non-detachable keyboards. Another model of these Surface laptops is known as the Surface Pro laptop. Essentially, the Surface Pro is more accurately described as a tablet rather than a laptop. They assume the shape of a laptop when you attach a keyboard or a type cover to them.
Because the Microsoft Surface Pro has its keyboard detachable, this keyboard is very prone to having little faults occasionally. This article will reveal the primary reasons why your surface pro keyboard fails to work.
If your Surface Pro keyboard fails to work, it can be due to outdated drivers and a faulty attachment to the Surface Pro tablet. Defective system files and wrong "Keyboard Accessibility" settings can also make your Microsoft Surface Pro not work.
This article will explain how these factors usually prevent your Surface Pro keyboard from working and will also show you how to eliminate the problem.
Why Is My Surface Pro Keyboard Not Working?
The reason your Surface Pro keyboard fails to work can be caused by a faulty keyboard attachment. Defective files, drivers, and settings in your Surface Pro tablet/laptop can also halt the keyboard from working correctly.
Here are the many reasons your Surface Pro keyboard fails to work and how to fix it.
Reason #1: Faulty Attachment of the Type Cover or Keyboard
This diagnosis is the first you should attempt when your Surface Pro keyboard fails to work. The reason is that your Surface Pro keyboard could be exposed to environmental hazards. Therefore, most faults are likely to come from it.
Defects could arise from the damages, dust, or debris around where your keyboard and laptop attach, and these things interfere with communication between your Surface Pro laptop and keyboard.
You should follow these steps to fix the faulty type cover and keyboard attachment to the surface pro laptop.
Unplug your Surface Pro laptop if it is connected to any power outlet.
Detach the type cover or keyboard from the keyboard.
Clean the attachment sites using a clean cloth, wiping any dust, stains, or debris from them.
Reattach the keyboard to the Surface Pro tablet. You should ensure that both are firmly held with the support of the magnet on the keyboard.
Reason #2: Faulty Files and Settings
Our laptops usually have the default settings and system files changed over time.
We may download corrupt system files, extensions, software, and plugins during its use. Further, in attempts to allow our PC to perform a particular function, we may adjust some settings wrongly.
Our Surface Pro tablets can misbehave when we have these wrong settings and corrupt files. Hence, to get our Surface Pro tablet and keyboard to function normally, we have to reset it to its default way.
Here is how to reset your Surface Pro.
Go to the Start menu.
Select Settings > "Updates and Securities" > "Recovery" > "Get Started". Options like "Keep My Files" or "Remove Everything" will appear.
Select "Keep My Files". Later, a list of instructions for resetting your Surface Pro will appear, and you should follow it.
Once reset is completed, restart your Surface Pro tablet.
If you selected "Keep My Files" and your keyboard still malfunctions, start the resetting process again. However, this time, click on "Remove Everything".
Reason #3: Wrong Ease of Access Keyboard Settings
You can adjust your keyboard functions and how it operates in the "Ease of Access" settings. Making improper selections in your "Keyboard Ease of Access" settings may cause it not to work as you want it to.
Here is how to adjust the "Ease of Access" settings.
Go to the Search function.
Type in "Ease of Access".
Click on "Ease of Access Keyboard Settings" from the list.
Go to "Useful Keys" and turn off "Sticky Keys" and "Filter Keys".
Reason #4: Outdated Drivers
An outdated Windows driver will likely not process any input information sent from your keyboard because of incompatibility issues. You should follow through with any pending Windows driver updates available.
Here is how to get your Surface Pro keyboard working again by updating your drivers.
Go to Search on your tablet.
Type in "Check For Updates" and click on the best match.
Install the necessary updates available.
Restart your PC.
Here's how to restart your laptop or tablet.
Follow the procedures below to restart your PC:
Close all open tabs and windows.
Go to the Start icon.
Click "Power".
Select "Restart" or "Update and Restart".
If you need more information about updating your drivers, see these Microsoft driver update instructions.
Conclusion
Microsoft Surface Pro keyboards are prone to having faults sometimes and may misbehave. When your surface pro keyboard fails to work correctly, ensure you clean the attachment sites and update your files/drivers/OS. Also, adjusting your ease of access settings can get your Surface Pro keyboard working again.