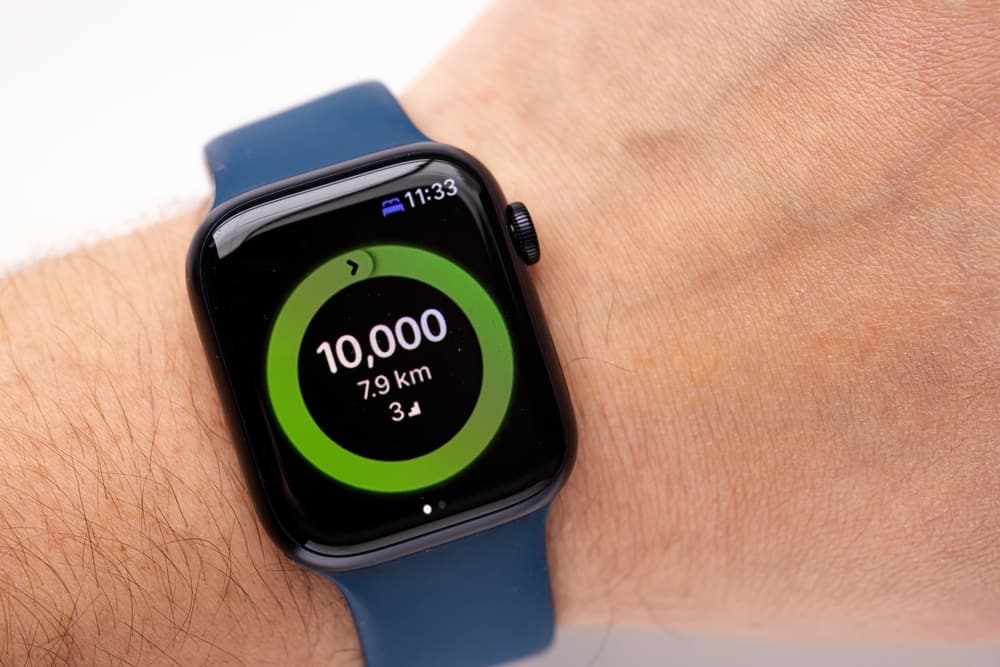 The Apple Watch functions way beyond an ordinary watch. One of the numerous features of this smart device is that you can also use it as a simple step tracker that allows you to track walking distance. It's just that the steps won't automatically appear on your watch face—hence, the need for you to add them manually. So, how do you add steps to your Apple Watch display?
Since there is no native way to add steps to your Apple Watch, you can use third-party pedometer apps that support complications to achieve this feat. You can download these pedometer complications directly on your Apple Watch or iPhone. Apps like Duffy, Pedometer++, or StepsApp are great options. 
It isn't entirely clear why Apple does not automatically allow the steps to reflect on the watch display. While the lack of this option is frustrating to some users, there is a workaround. This guide will show you how to add steps to an Apple Watch face.
How To Use a Pedometer Complication to Add Steps to an Apple Watch Screen
If you have not heard about the Apple Watch complication, then you have been missing out on many cool features the Apple Watch can do. The Apple Watch complication is a unique feature that lets you customize your watch display to your taste. You can use the Apple Watch complication to customize the display of your Apple Watch to allow you to view data you care about.
Note that the Apple Watch complication is not available on all faces on your Apple Watch. But most faces can display at least one complication, while some can display four or more. To take full advantage of the customizable complications, you should get some third-party apps from the App Store that support complications.
Follow the step-by-step guide below to add steps to an Apple Watch face.
Step #1: Get the Right App
As we said earlier, pedometer complication apps like Duffy, Pedometer++, and StepsApp are great choices to add steps to your Apple Watch display. These apps are free on the App Store and easy to navigate. To get any of these apps, open the App Store on your iPhone or Apple Watch, search for the app, download, and install it.
Once you have installed your preferred app, proceed by allowing tracking for all categories in Apple's Health app. Also, grant access to your Motion & Fitness Activity data. When you give the pedometer app these permissions, it will sync all your data from your Apple Watch sent to the Health app.
Step #2: Add the Step Count on Your Apple Watch Display
You can add the step count to your Apple Watch display using the Watch app on your iPhone or directly from the Apple Watch. But first, you need to decide on the watch face you want to use and then customize it by adding the steps complication.
If you want to use your iPhone, open the Watch app and select a location you'd like the step counter to be located in the complication section. The next thing is to scroll to the "Pedometer" section, select "Steps and Distance", and it will automatically sync on your Apple Watch.
Suppose you want to use your Apple Watch to add the step counter, press and hold the display, and tap "Edit". If you don't see the complication section immediately, swipe to the right or left. You can then scroll down to the pedometer section to find steps and count; tap it and click the crown, which will appear on display.
If none of the faces in the Face Gallery suits your taste, you can always create a custom face. You can leverage the internet to explore more about how an Apple Watch works.
Conclusion
In summary, adding steps to your Apple Watch display is pretty straightforward. While Apple didn't see the need to include a native way to add steps to your Apple Watch, you can use several third-party apps that support pedometer complications to achieve this feat.
Frequently Asked Questions
How do I prevent pedometer apps from counting my steps twice? 
If you are concerned that the pedometer app will count both the steps from your Apple Watch and your iPhone, you don't have to worry. An option on most pedometer apps allows you to disable merging your Apple Watch and iPhone step counts. 
Why are my steps not updating on my Apple Watch display? 
It is worth noting that most pedometer apps don't count in real-time if you are experiencing a lag when you walk a few steps. However, if your steps are not updated, it could be because you didn't turn on background refresh for the app in your iPhone settings app.