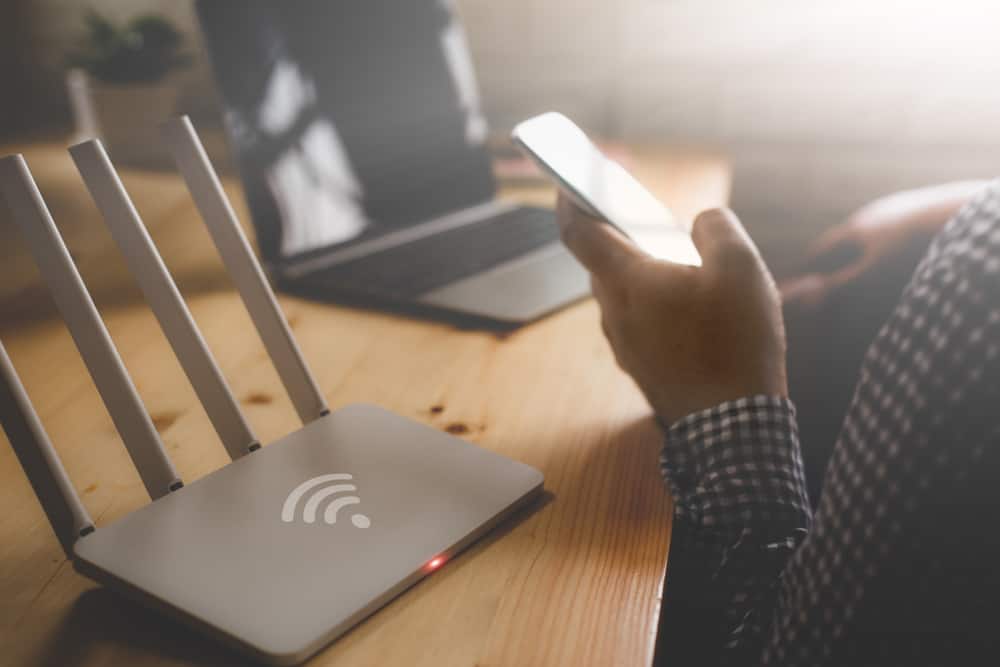 After paying for Wi-Fi at home or work, you want to get maximum value from your investment. However, unauthorized access to your Wi-Fi network can result in experiencing a drastic fall in the network speeds or unsanctioned access to private data. This reduced speed can also be because of sharing the Wi-Fi password with family and friends you couldn't say no to. 
Fortunately, there are different ways you can remove unwanted devices connected to your Wi-Fi router.
1) Change your router's Wi-Fi password. 
2) Restrict the number of devices connected to your Wi-Fi network.  
3) Factory reset your Wi-Fi router. 
4) Set up a guest network.
Without further ado, let's go ahead and take a look at how you can remove gadgets connected to your Wi-Fi router's network.  
Change Your Router's Wi-Fi Password 
The simplest and safest way to remove unsanctioned devices from your Wi-Fi network is by changing your router's password. Doing this will disconnect all the gadgets connected to your Wi-Fi network, including those you own. And to be reconnected, you'll need to reenter the new password. Anyone without the new password won't be able to connect to the Wi-Fi network. 
While this method effectively disconnects unwanted gadgets, it'll leave you with a lot of work putting in the new password to your gadgets. This can be a hassle and time-consuming if you own many gadgets and want them connected to the Wi-Fi network.  
Restrict the Number of Connected Devices
If you find changing your Wi-Fi router's work to be a lot of work, another alternative to consider is restricting the number of connections to your Wi-Fi network. This way, you won't bother accepted persons such as your friends or family members but only unauthorized individuals. 
When doing this, you should start with accessing your Wi-Fi router's control panel by logging in using the internet browser. After that, you should follow these steps. 
Go to "Settings". 
Progress to "Advanced Setup". 
Search for the "WLAN" option, usually found in the advanced settings or setup in many routers. 
Click on "Connected Gadgets" to display all the connected gadgets with their MAC address and model number.
Choose the gadget or gadgets you want to block with their MAC address and consequently tap on "Block". 
Click on "Apply" to save these new settings.
All the devices you've added to the block list will no longer be able to access your Wi-Fi network.
Factory Reset Your Wi-Fi Router
Many routers come with a "Factory Reset" button that enables you to reset everything back to the initial default settings, including the original password. This method is ideal if you've misplaced your router's password. It's also an option if you're router got hacked by someone else and you no longer have control over it. 
You can find the factory reset button on your router's back section, usually in the opposite direction from the "ON/OFF" switches and charging jack. This button, in certain instances, isn't noticeable but just a small hole. Therefore, you'll be forced to get a pin to click the "Quick Reset" or "Factory Reset" button. 
After clicking the factory reset button, all the custom settings will be erased, and the router will be restored to the default settings it had after unboxing. Therefore, you can only access the Wi-Fi network using the default username and password, which you'll be able to see somewhere on your router. 
Once the router has been reset, you can personalize it and add your custom settings, be it the Wi-Fi network name or password. This way, you can be sure someone can't easily join the Wi-Fi network by reading the default password easily evident on the router. 
Set Up a Guest Network for Your Wi-Fi 
While this option isn't available on all Wi-Fi routers, it's one you should consider if your router allows you to create a guest network. Using this method, you'll be able to limit unwanted gadgets from gaining access to your Wi-Fi network. The segregated users with their guest network will have a unique name and password split from the primary Wi-Fi network. 
Setting up a guest network is essential, especially if you're cautious and want to protect your network. This is because the gadgets connected to the guest network won't be able to access the files shared between your computer and other connected devices. Here are the steps to follow when setting up a guest network. 
Sign in to your Wi-Fi router to access the settings. 
Search for "Guest Network" by heading to "Wireless", "Advanced", or "Network Settings". 
Create the SSID (network name) and pick a password different from your router's original password. 
With the "Guest Network" set up, all connected gadgets will be prevented from accessing your main Wi-Fi network.     
Summary 
If you want to enjoy the optimal performance of your Wi-Fi network, it's necessary to remove unauthorized devices. This is a problem because people are notorious for hoarding Wi-Fi networks, affecting bandwidth and speeds. 
This blog post has highlighted helpful ways you can follow to kick off unsanctioned persons connected to your Wi-Fi network. Therefore, you'll be able to enjoy uninterrupted and smooth internet connectivity. This means you'll enjoy an improved overall experience using your Wi-Fi network because it can deliver excellent download and upload speeds.