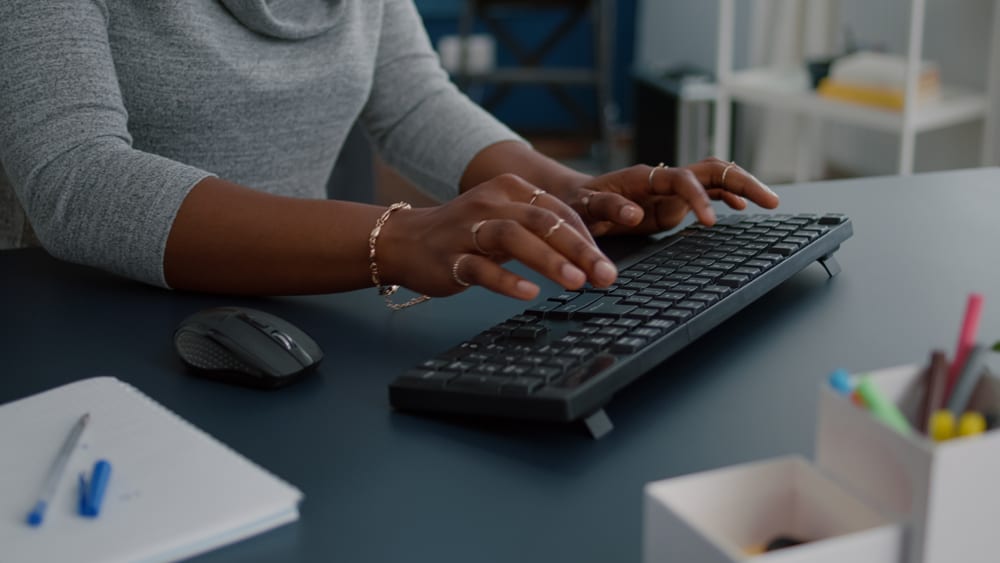 Wire tangling has become a thing of the past. Almost every tech firm is moving towards wireless options, whether it be earphones, speakers, mice, or keyboards. However, these devices, especially wireless keyboards, run into some errors because of a faulty connection. Resetting the keyboard fixes such issues in most cases, but how's it done?
You can easily reset a wireless keyboard by holding its power button for some seconds and reconnecting it. You can also change your keyboard's language or uninstall the keyboard drivers to reset the device. These methods will work for both Windows and Mac keyboards.
The resetting process might vary on Windows and macOS; however, it's relatively straightforward and can resolve all software issues from your wireless keyboard.
In the article below, you'll find everything you need to reset a wireless keyboard so that you can continue the work or gaming sessions on your computer.
Method #1: Manual Resetting
The most common fix for any technical device is restarting. It resolves connection problems most of the time, so reconnecting your Bluetooth keyboard should also do the trick. The steps might differ depending pon your keyboard's manufacturer, but the overall process remains the same. Follow the steps mentioned below.
Find the power key of your keyboard and turn it off.
Hold the Esc key down for over 5 seconds and turn the keyboard on. Remember not to release the Esc key while turning on the keyboard.
After 5 seconds, look for an indicator to confirm the keyboard has restarted. It could be a flashing light or a beeping sound.
Method #2: Resetting a Wireless Keyboard From the Settings
If the simple reset method didn't work for you, a reset from the settings panel of your computer might fix the issue. The process is slightly different on Windows and Mac, so we're listing them under separate sections.
On Windows
Turn off your wireless keyboard using the power button.
Click on the Windows menu to head to your PC's settings panel.
Navigate and select the "Devices" menu from the settings page.
Click the "Bluetooth and other devices" option.
Turn on Bluetooth to see the list of paired devices.
Find and click on your wireless keyboard's name under the "Mouse, keyboard, & pen" panel.
Click on "Remove device".
Confirm your selection, and your keyboard will be removed from the list.
Now that you have unpaired your keyboard, you must pair it again to restart.
Click on "Add Bluetooth or other device" from the Bluetooth panel.
Select the first Bluetooth option from the menu to add your keyboard.
Turn on your keyboard and wait until its name appears in the discoverable devices list. Click on the name to pair the keyboard.
A successful connection pop-up menu will appear. Click "Done" to complete the restarting and pairing process.
On Mac
Turn off the Apple keyboard connected to your Mac.
Head to Mac's Apple menu and select the System Preferences tab from the drop-down menu.
Click on the Bluetooth icon at the bottom of your screen and turn on your Mac's Bluetooth.
Click the "x" in front of your Apple keyboard from the list of connected devices. A pop-up will ask if you want to confirm removing your keyboard.
Click "Remove", and your Apple keyboard will be unpaired.
Turn on your keyboard to pair it again to your Mac.
The re-connection is easier than on Windows because of Apple's ecosystem, as the keyboard automatically connects when you turn it on. This process will restart the Apple keyboard and remove the connection issues.
If the keyboard doesn't pair immediately, try connecting it to your Mac with a lightning cable. It will automatically establish a connection once your Mac recognizes the device.
The Bottom Line
Wireless keyboards make working on a computer very convenient. However, sometimes you have to restart your Bluetooth keyboard to remove certain software issues. You can manually reset a keyboard by turning it off and pressing the Esc key.
If this simple fix doesn't work, you must re-establish a Bluetooth connection to your Windows or Mac PC. You must turn off the keyboard, unpair it from your computer's settings and pair it back by turning it on. These simple methods will reset your wireless keyboard and make it work smoothly again.
Frequently Asked Questions
How do I reset my keyboard if the keys are not responding?
If your keyboard keys are not responding, press Ctrl + Alt + Delete until the screen shows a power menu. Click cancel there, and your keys should work fine again. 
Why is my wireless keyboard not working properly?
While restarting can fix most of the software issues, it surely cannot provide your keyboard with power. This means that you should always check the batteries inside your keyboard to see if they have a reasonable charge. Replace the batteries and check if your keyboard starts working fine again.