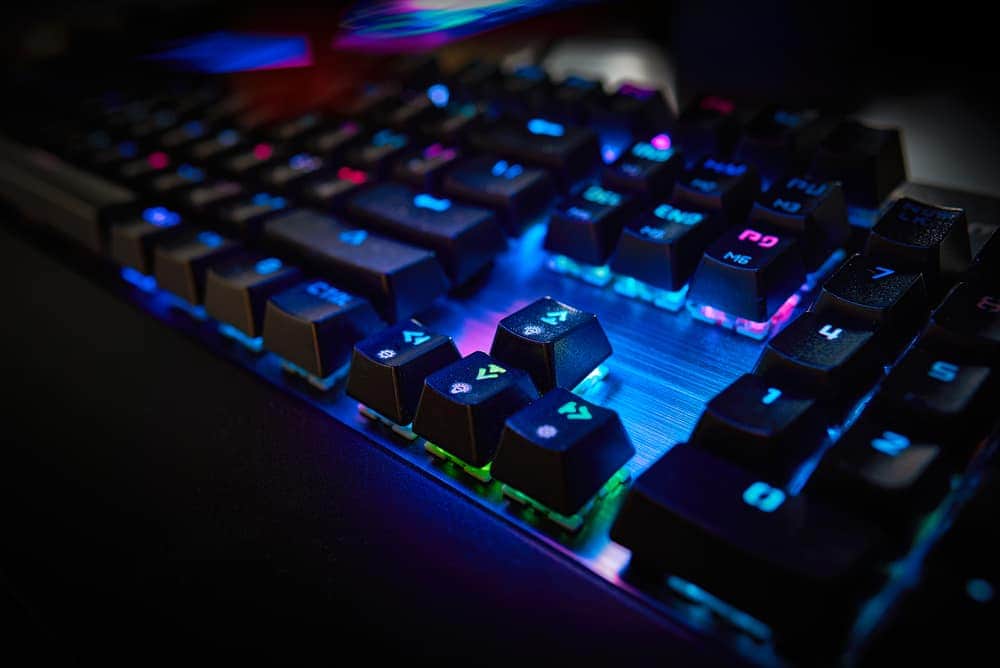 Are you like most individuals who don't know how you can change the color of your keyboard? If so, you're in luck because this comprehensive guide will look at the different ways you can change your keyboard's color. If you're a passionate gamer, this is important as it helps to enhance your overall gaming experience further.
Fortunately, changing the keyboard's color isn't as complicated as most people assume. If you have some doubts, let's not waste any more of your precious time. Here's a guide on how you can go about changing the color of your keyboard, be it on your computer, MSI laptop.
How Can You Change The Keyboard Color Of Your Computer?
Changing the backlight color of your laptop or PC keyboard through the different colors, red, white, blue, and green installed by default, is relatively simple. You need to press + keys and go to the wheel color displaying the different backlight color options. And to add other colors besides those installed by default, set up a cycle by going to the system setup (BIOS).
And to change the colors displaying on your keyboard, here are the steps you need to follow;
Once you've pressed + , go to the left navigation sidebar and choose "Lighting."
After that, the option "keyboard" will pop up on the screen's right-hand side. Go ahead and select this option to allow for setting the keyboard's backlight.
Three modes will appear: Static, Off, and Animation. Go ahead and pick the option "Static."
After choosing this option, you can proceed to alter the backlight color of your keyboard to specific areas.
How To Change Your MSI Laptop's Keyboard Color?
MSI is famous for building exceptional gaming laptops that incorporate flashy features otherwise not found on regular PCs. In addition, they also come with superb keyboards that allow you to alter the lighting per-key basis or any style you wish.
If you own an MSI laptop, you can change the backlight colors of your keyboard depending on the specific model. And while all MSI users know their keyboards support numerous colors, most don't know how to switch them. Luckily, this process isn't complex, and here's a step-by-step guide on how you can change the keyboard color on your MSI laptop:
Download and install the most recent version of SteelSeries Engine.
Press on the Start Menu and type SteelSeries Engine in the search bar.
Tap on the SteelSeries Engine to launch it via the window search.
Go to the Engine tab and select the GEAR option.
Go through the drop-down menu and tap the MSI Per-Key RGB keyboard.
Choose a configuration from the numerous options shown on the drop-down menu.
Tap "New Button" to alter your keyboard's color to suit your preference.
Enter a name for this new configuration, and after this, you can make changes as you wish.
One advantage with the MSI keyboard is you can make the specific changes you wish to put in place thanks to comprehensive disposal of tools, and this includes:
Select: This ensures you choose every key or zone.
Group select: It's a feature that can pick more than one key or zone simultaneously.
Paintbrush: It adds an effect to a specific key or zone.
Eraser: It gets rid of a specific key effect from a zone.
Magic Wand: This enables you to choose all zones or keys with a similar effect.
Effect picker: It enables you to select a zone or key and consequently a respective effect.
Paint Bucket: This effect occurs to all touched keys or zones.
Below these tools, you'll see a drop-down list and a color selector. The color picker chooses the color effect, and the drop-down list defines what kind of effect you should use.
Here's the meaning of the different effect types:
Reactive key: It assigns an inactive and active color to a key and is used each time a button is clicked and released, respectively.
Color shift: It moves different colors to the chosen zones or keys.
Permanent: This makes use of color in the chosen zones or buttons.
Cooling timer: It shifts to "Cooling" from "Standby" for a pre-determined duration after a preset signal.
Color change: This allows you to assign four colors to a particular key or area.
Disable backlight: It deactivates the RGB of the area or button.
How Do You Change Keyboard Color On The MacBook Air?
You can also easily change the keyboard color of your MacBook Air. This process that's easier than many think, so you don't need to be overly concerned.
Below are the steps you should follow when making these changes:
Go to the Apple Menu section.
Click on the Apple Menu, and System Preferences will appear.
Once on the System Preferences tab, tap on the "Keyboard" option.
You'll see an option to "Adjust keyboard brightness in low light."
Go ahead and select this option to adjust your keyboard's backlight to match your gaming gears and preference.
Summary
The steps to follow when changing the color of your keyboard depend on the type of PC or keyboard you're using. Fortunately, the steps are relatively straightforward regardless of the option you decide to follow. This guide has outlined everything you need to know about this topic if you have no clue where to start.
Frequently Asked Questions
How can you control the lights on your MSI keyboard?
You can only control the lights on the MSI keyboard after installing the newest SteelSeries Engine software. Only after this will you be able to switch the keyboard color to match your individual needs.
The SteelSeries Engine software is free, so you can go ahead and download it from the company's site without paying a penny. But before you start installing it, first examine the condition of your MSI laptop keyboard to confirm it's in perfect working condition. Consequently, go ahead with the installation, and this process is quick and straightforward.
How Do You Change The Colors On Your Windows 10 Laptop?
Changing the keyboard colors on a laptop running on Windows 10 is simple, and you need to do this manually. Here are the steps you should follow:
1) Click on the Start Button and proceed to the setting option.
2) Tap on the "Personalization" option and choose the "Color" option.
3) While in the "Color" option, click on the custom tab.
4) Select the default windows mode option and pick dark.
5) Pick whichever option you prefer, be it dark or light, depending on your needs.