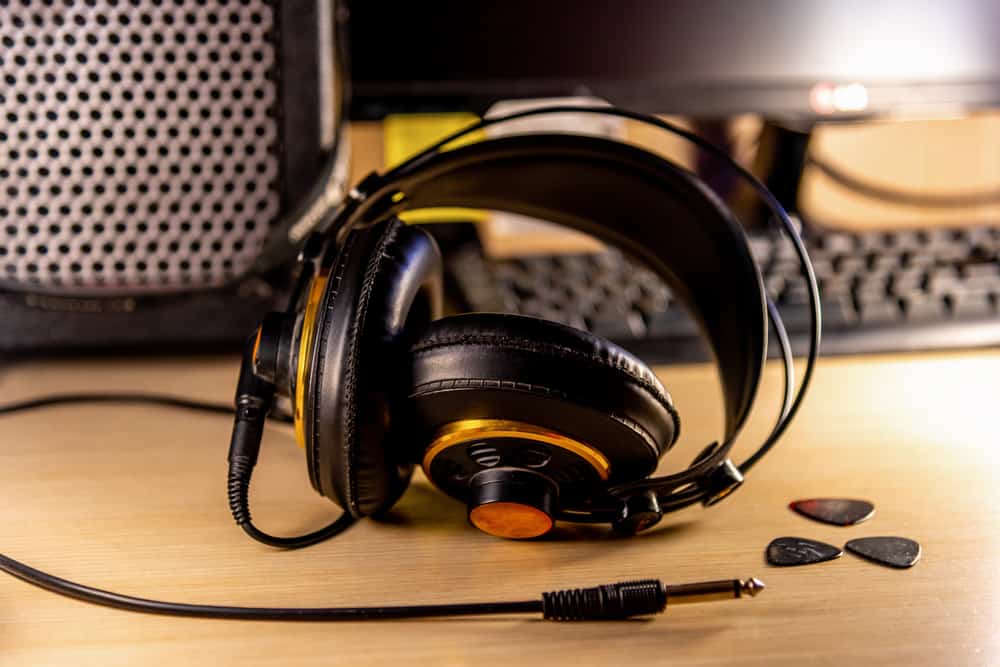 Wired headsets are all fun and games until you get your hands on one with only a single jack. The problem with single jack headsets is that they don't have dedicated jacks for audio input and output. And if you connect them to a PC, they do not function properly.
One solution is buying a splitter to have a dedicated audio input and output avenues. However, you can't find a splitter that easily. So what do you do instead? How to use a single jack headset on your PC without a splitter?
Read on to find out a few ways to use a single jack headset without needing a splitter.
Why You Can't Use a Single Jack Headset on a PC
Before we discuss how you can use a single jack headset on your PC, you should first understand why it is not possible to use a single jack headset on your PC.
Most of the old PCs come with two headphone jacks, one for microphone and one for audio. This is to ensure that there is minimal interference. If you plug in a single jack headset in one of these ports, you will find that either the microphone or the audio output will not work properly. You have put a headphone with a single cable for both audio and mic into a dedicated PC port which is either only for the mic or for the audio.
Many people prefer single jack headsets as they have a single cable which is quite convenient to use. However, if you have a PC with multiple jacks, you may be confused about where you should plug the headset. Moreover, if you connect a single jack headset to a PC, it may not function properly.
Therefore, users have to turn to splitters to have dedicated audio and mic port cables. But what if you don't have a splitter? How do you use a single jack headset on your PC, then? Well, read on to find out.
How To Use a Single Jack Headset on Your PC Without Splitter
Here are three methods to use a single jack headset on your PC, without having to use a splitter.
Method #1: Old PCs With Separate Ports for Audio Input and Output
Click on the "Start" menu on your PC and open the "Control Panel".
Click on "Sound".
Go to the "Recording" tab.
Left-click on the device and click on "Set Default" to set it as your default device.
Method #2: PCs With Dual-Purpose Port
Most newer PCs come with a dual-purpose port compatible with headsets featuring a TRRS jack. A TRRS (Tip Ring Ring Sleeve) jack offers functionality for both the microphone and headphone via one connection, instead of TRS (Tip Ring Sleeve) ports which are limited to offering functionality for audio output.
If your PC has a dual-purpose port, just plug in your headset, and you will be able to get both audio input and output functionality without any problem. However, if the audio input or output is not working properly, you will have to adjust the Sound settings that we discussed in Method 1 for older PCs. Your PC may not have a dual-purpose port.
Method #3: Mac Computers
Use the Spotlight Search tool in the top bar on your Mac and search for "Sound in System Preferences".
Go to the "Input" tab and left-click on your desired audio device to make it default.
That's it! You will now be able to use a single jack headset on your old or new Windows and Mac PC without using a splitter. Once you have made these changes to your PC, check the sound quality in your audio device by playing different types of music and sounds. You should also run a mic test to ensure that your microphone is working properly.
Why You Should Use a Single Jack Headset
Many people prefer a single jack headset, and why you should too is because they are quite easier and more convenient to use, especially if you use headsets for longer durations. You don't have to get confused between multiple sources, as their setup is pretty straightforward. Moreover, you will have fewer cables and a less cluttered PC setup.
Many people use headsets for mobiles and consoles, which only feature a single headset output. Therefore, a single jack for computers is a more convenient option as they won't have to fiddle through extra cables.
Conclusion
In this guide about using a single jack headset on your PC without needing a splitter, we discussed how you could use a single jack headset on an old PC with separate ports for audio input and output on a new PC with a dual-purpose port and on a Mac.
We hope we have answered your queries and explained why single jack headsets are a more convenient choice for users with this guide. Now go ahead and try out these methods to use single jack headsets on your PC without any constraints!
You can use these quick and easy solutions to work your single-jack headset on your PC without requiring a splitter.
Frequently Asked Questions
Do headphone splitters work with mics?
Most headphone splitters do not work with mics because the input and output use different connections. For instance, the microphone side has a TRRS connection, whereas the headphone side has a TRS or TS connector. Therefore, most of these cannot be used with microphones.
Can you use a headphone splitter on a PC?
Yes, you can. Just plug in the splitter in your PC and put the headphones cable into the splitter. Most of the splitters are Y-shaped and split the headset jacks into two audio outputs, allowing you to use two headphones simultaneously.