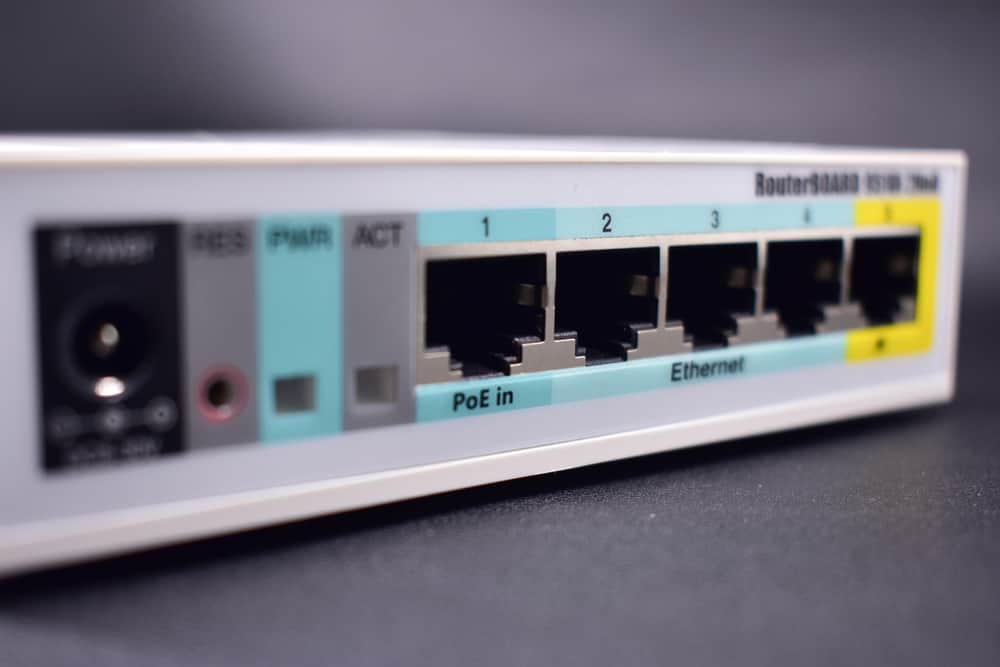 Unsuccessful firmware updates or incorrect configuration can make you lose access to your MikroTik router. If that happens, you can't log in to the device to manage it anymore. It can be undoubtedly frustrating, especially for a novice user. Fortunately, if you accidentally lose access to your MikroTik device, you can gain access by resetting your router to its factory settings. This article will show you how you do that.
We've covered these three methods in a step-by-step manner below. Let's take you through them so you can reset your router once and for all. 
3 Methods to Reset MikroTik Router
Well, you can reset your MikroTik router using three simple methods. The first method is to reset from Winbox. The second is to perform a soft reset from web login, and the third is a hard reset using the reset button on the router's body. 
Method #1: Reset Your MikroTik Router Using Winbox
Resetting your MikroTik router using Winbox needs you to log in first by entering your username and password to make any changes. This method is helpful if your router misbehaves or has stability issues. To perform this method, follow these easy steps:
Connect the MikroTik Router you wish to reset. 
Open Winbox and then sign in using your username and password.
Navigate to "New Terminal" on the left side menu and run the command below:
"[admin@MikroTik] > system reset-configuration
Dangerous! Reset anyway? [y/N]: y"
You can confirm yes to this command by typing "y" and pressing the "Enter" key on your keyboard. Then, the MikroTik router will restart, and you can now access it through the default MikroTik settings. 
Method #2: Reset Your MikroTik From Web Application
This method allows you to reset your MikroTik device to factory settings without the Winbox tools. Firstly, you need to log in to the web application to access the MikroTik router's configuration setting from your web browser. Afterward, follow these steps below:
Configure your computer IP address to 192.168.88.2.
Open the MikroTik web application by copying and pasting the IP address 192.168.88.1 on your browser and pressing the "Enter" key on your keyboard. This address is the default IP of MikroTik.
You should see the "Reset" button on the right-side bottom. Click on it to reset your device. 
Method #3: Reset Your MikroTik Router Using The Reset Button
This method is called hard reset and restores the device to its factory settings by erasing all the info saved into it. Every electronic device comes with a tiny button to help restore it to factory settings. You can also use this method to reset complete wired and wireless devices such as MikroTik Cloud Core Router, MikroTik RB450, MikroTik Hex Lite series, etc. Please take a look carefully at the following steps to do the hard reset:
Unplug the power cable from the router to power off your MikroTik device.
Press and hold the reset button without releasing it.
The button may be inside the body of the MikroTik device. You can look for a thin object like a screwdriver to press the button. Press the reset button gently as too much force can damage it. 
Plug the power cable/cord in. After a moment, you should see the ACT light begins flashing.
Release the reset button to erase the configuration.
Give the router a few minutes to clear and reset the factory settings.
Connect your laptop/desktop computer to port number 3 on your MikroTik router.
Go to the "Admin Page." 
If the reset process were successful, it would redirect you to the quickset page, and you'll not need to log in. But, if you need to, the default MikroTik username and password to log in are admin (for username) and no password (you don't need to enter a password). 
Go to the menu on the left and choose "Files," then click the option "Default Backup."
Choose "Restore" and click "OK" to initiate the reset process. Now the router will restart and be restored to the default configuration.
You're most likely to lose all the data and configuration on your router once you reset it. Carry on with caution. Ensure you have a backup configuration file before resetting your device to its factory settings.  
Summary
The above was our article on how to reset the MikroTik router. We've discussed three easy methods of resetting a MikroTik router: using Winbox, reset from web login, or the reset button (hard reset). We hope you've successfully reset your router to factory settings to gain back access or resolve any issues you were having. 
Frequently Asked Questions
What is the default MikroTik router username and password?
Every MikroTik router is pre-configured at the factory with the IP address 192.168.88.1/24 on the ether1 port. The default username is admin, and the password is no password (you don't need to enter a password). You'll need these MikroTik credentials to sign in to the router's web interface when you want to make configuration changes.