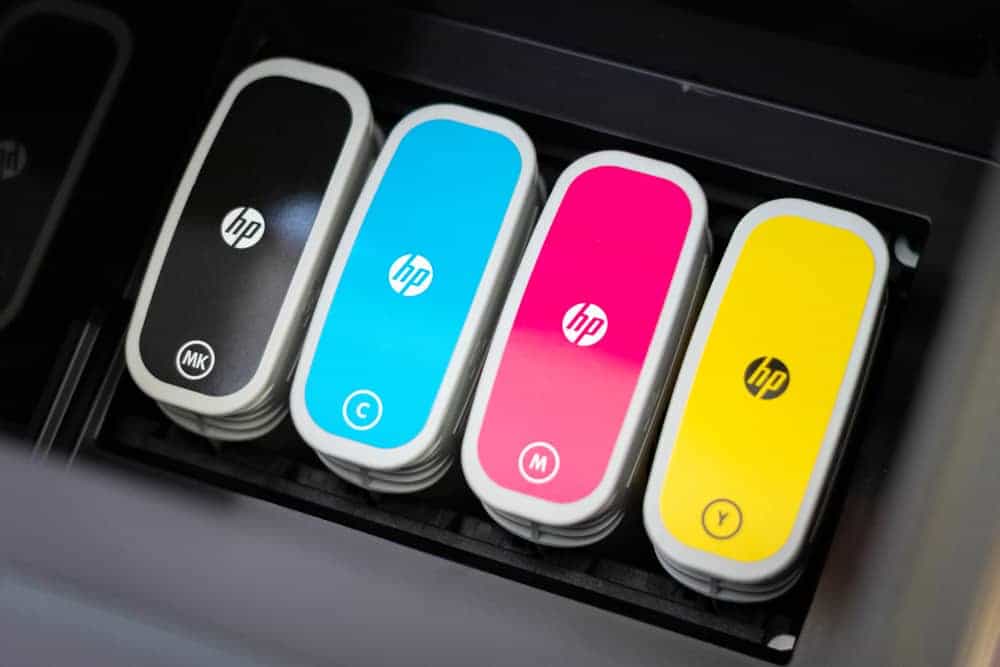 People who own an HP all-in-one printer, or even just a simple inkjet without a scanner or fax option, frequently ask whether or not the printer will work with only the black ink.
The tricky thing about HP printers is that the printers are designed to take a little bit of the colored ink in with the black ink during print jobs, ostensibly, so the colored ink doesn't get clogged.
However, colored ink tends to be very expensive compared to black ink, and you always seem to be out of colored ink for the one time you want to use color for a picture instead of just black for standard documents.
So, below are some tips and tricks to convince your HP printer to print with only black ink.
For some of these bypasses to work and get around programming, you may need to restore the factory default settings to your printer. This can be done by pressing the "Menu" button on the printer's control panel. All newer HP printers have a small control screen built into the printer.
Navigate to the "Service" screen from the menu and then select "Restore Defaults."
Using an Empty Color Cartridge
This will generate a warning from your printer that the color cartridge, or one of the color cartridges, is empty. HP does recommend that you replace the color cartridge as soon as possible to prevent damage to the printhead, and they are not technically wrong.
Unfortunately, it was designed that way.
This also does not work for every printer. Some printers require ink in all cartridges for the printer to print, even in only black and white. For these printers, the feature cannot be bypassed.
However, for the printers that will work with an empty cartridge, just select the "Print in Black and White" setting from the dialog box.
Single Cartridge Mode
This option is only available to printers with a two cartridge system rather than a four or five cartridge system. This is commonly seen in HP ENVYs but is also in other similar printers. To print in single-cartridge mode, remove the tricolor cartridge, and the printer will default to using only black ink.
Print in Grayscale
This method will work regardless of whether or not you have an empty cartridge sitting there. Select "Properties" and navigate to the "Color" tab if necessary. Sometimes you just need to scroll down, depending on your operating system or if you're printing from a browser or not.
From the "Color" tab or section, check the box that says "Print in Grayscale." This should force your printer only to utilize the black ink cartridge and not the colored one(s).
In Microsoft Word, there is no "Color" tab, but the feature can be found under "Paper/Quality." There is a drop-down menu for "Print in Grayscale" that gives you the option to "Use Black Ink Only" or use "High-Quality Grayscale." Select "Use Black Ink Only" to only pull from the black cartridge.
The other option still bleeds colored ink for shading. It's designed for contrast in black and white photo printing.
Some browser printing options do not allow you to change the color settings from the browser, so you will either need to force the browser to use the system dialog options for the printer or save a copy to your computer before printing.
Conclusion
Unfortunately, HP printers have made it very hard to print with only black ink in recent years. There are a few ways to get around the issues, but even those are becoming harder and harder.
You used to be able to change printer preferences from the Windows Control Panel and force the printer only to use black ink unless otherwise stated, but that option has since been removed in recent OS updates.
Hopefully, choosing to "Use Black Ink Only" in Grayscale Options will continue to work as a means of your printer only pulling ink from the black cartridge for a long time to come. Hopefully, these tips will help you combat the rise in ink costs.