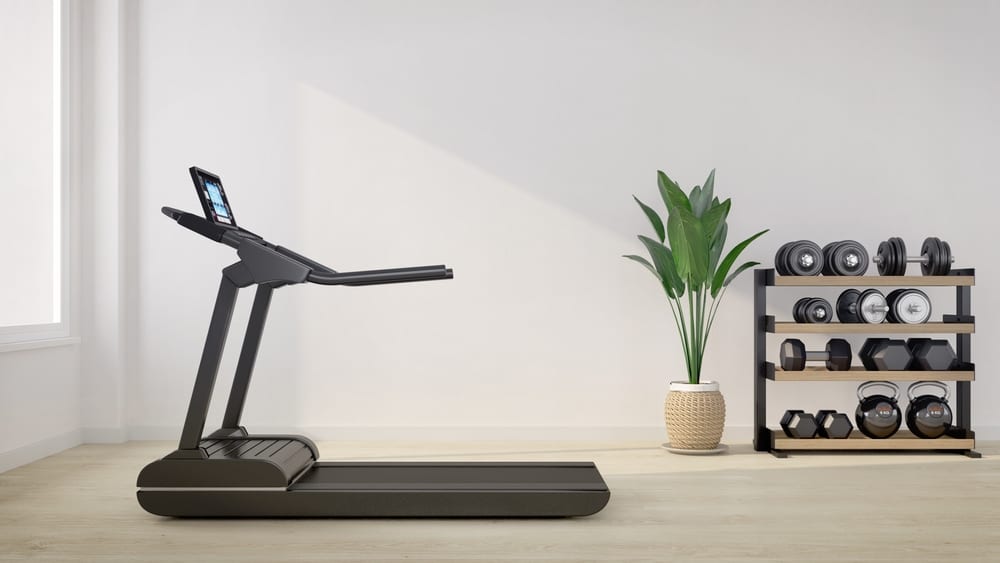 One of the many features of the Apple Watch that makes it stand out from others is its ability to pair with gym equipment and sync your exercise routine with the workout app. With this feature, you can pair the Apple Watch with several gym equipment like treadmills, ellipticals, indoor bikes, etc. But which treadmills are compatible with the Apple Watch?
The GymKit is one of Apple's first forays into the exercise industry. Manufacturers design their treadmill with this feature to wirelessly link with a user's Apple Watch. The Apple Watch is compatible with several homes and commercial treadmills, provided it supports the GymKit.  
When you want to invest in a treadmill, there are other factors besides its compatibility with Apple Watch. Features like Bluetooth connectivity and media mounted on the front are essentials that can come in handy in your exercise session. Keep reading to learn more about the best treadmills compatible with the Apple Watch.
Best Treadmills To Use With an Apple Watch
It isn't enough that your treadmill is equipped with the GymKit; it needs to be well-built and come with extra features that will make it a worthy investment. Below are our top six best treadmills to invest in that are compatible with Apple Watch.
When searching for a great treadmill to invest in, Life Fitness is one of the few home gym equipment manufacturers that features the GymKit in their treadmill. What makes this treadmill stand out is that it offers superior functionality and enough room for customization. The Life Fitness T5 features a built-in shock-absorbing system, so you wouldn't harm your ankles or knees even if the treadmill is under heavy use.
You can set this treadmill to run at a minimum speed of 0.5 mph and a maximum of 12 mph. It also has a built-in heart rate monitor and a quick start function, allowing you to set up presets for easy access. There is plenty of space for running as the running surface measures 60 x 22 inches. And despite the size of this treadmill, it is energy efficient, reducing its energy consumption by up to 90%.
The Cybex 770T is another recommended treadmill if you want something that works with Apple Watch. This treadmill is a bit pricey, but it comes with features that give you value for your money. It is a well-built, durable material that can support a user weighing up to 400 lbs. And with the shock-absorbing intelligent suspension deck, you can be sure it will cushion every step you take on this treadmill, irrespective of whether you are running or walking.
This Cybex treadmill also comes with a centralized control which makes the whole experience on this treadmill fun. The control system makes it easy to customize both your exercise and entertainment. The 15.6 inches large screen is larger than what you will get on an average treadmill. You can adjust the speed of this treadmill to achieve a maximum speed limit of 12.4 mph. For stability, this treadmill features two stabilizer bars which also increases its level of safety.
This Sunny SF-T7909 treadmill is the perfect exercising tool every home needs. It is relatively affordable, considering its extensive features. Apart from this treadmill featuring the GymKit, it also comes with a multi-functional performance monitor, Bluetooth connectivity, speakers, a USB port, a device holder, a pulse monitor, and so much more. Another exciting feature of this treadmill that makes it a great buy is that it is portable, and you can fold it for easy storage.
But because of its portable design, it can only support a maximum user weight of 240 lbs. You can incline this treadmill up to 12 levels for more intense exercise. There are three countdown modes: calories, speed, and time displayed on its backlit LCD, which gives you the ability to measure your exercise in different ways. You can also adjust the speed range of this device to achieve a minimum speed range of 1 mph and a maximum of 8 mph. You also get an amply running space measuring 49.5 x 16.5 inches.
The OMA 5108EB is a well-built treadmill compatible with the GymKit feature. Hence, you can connect your Apple Watch to this treadmill and sync any time you spend on the treadmill in your Workout app. This treadmill is built with heavy-duty steel manufactured with grit blasting and passing through a series of tests. As such, the alloy steel of this treadmill can support up to 300 lbs. The treadmill is also built with a 6-layer wider running belt which offers an ample running area, an anti-slip feature, and a shock-absorbing feature.
You can get this treadmill in 3 inclined positions manually. Also, you get up to 36 preset programs, which come in handy for various exercises, and three custom programs to make a plan for yourself. And with the powerful motor on this treadmill, you can get a maximum speed of up to 8.1 mph. To control the speed and other settings on this treadmill, the control handle and LCD screen come in handy. If you need to store this treadmill away for a while, it is collapsible, thus requiring little storage space.
The Lifepro Pacer is another excellent treadmill compatible with the Apple Watch. This treadmill has all the basic features you want in a home treadmill. The quality of this treadmill is pretty durable, considering its manufacturer uses alloy steel and acrylonitrile butadiene styrene. The treadmill is so durable that it can comfortably handle a user weight of up to 220 lbs without breaking down. Lifepro also uses a powerful motor on this treadmill that delivers up to 1.75 hp.
With the amount of power from this treadmill, you can adjust it to a speed of up to 10 mph. You also get ample running space as its running belt measures 49.2 x 16.5 inches. And if you want to take things a notch higher, you can incline this treadmill to reach a height of 12 inches. There are also up to 36 preset programs allowing you to choose the right exercise for you.
The XTERRA TR150 is an excellent treadmill if you are on a budget. Apart from that, it is durably built with alloy steel which is strong enough to hold a weight of up to 250 lbs. This treadmill is built with comfort, as it has cushioned deck technology and a spacious 16 x 50 running belt. The handle and easy-to-read display make adjusting the settings on this treadmill easy. The perfect home treadmill comes with the GymFit feature to sync your Apple Watch with the treadmill.
With the powerful 2.25 hp motor on this treadmill, you can get the speed up to 10 mph. And if you want to perform a more intense workout session, you can manually incline the treadmill to any of the 3 levels. There are also up to 12 preset programs, which come in handy in choosing what works best for you. The treadmill is also collapsible for easy storage. And with the wheels, you can quickly move this 108 lbs treadmill to a storage unit.
Connecting your Apple Watch to a treadmill is straightforward, provided your Watch is compatible with the treadmill. To connect it, open the Settings app on your Apple Watch, and tap on "Workout". Next, turn on the "Detect Gym Equipment" and hold your watch close to the treadmill with the display facing the reader, and it will connect automatically.
Conclusion
As you can see, there are different treadmills you can get. The more features you get on the treadmill, the more expensive it will be. While the Life Fitness T5 is the best you can get, it is also quite expensive. So, when you want to buy a treadmill, it all comes down to what features are more important to you and the ones you can do away with.