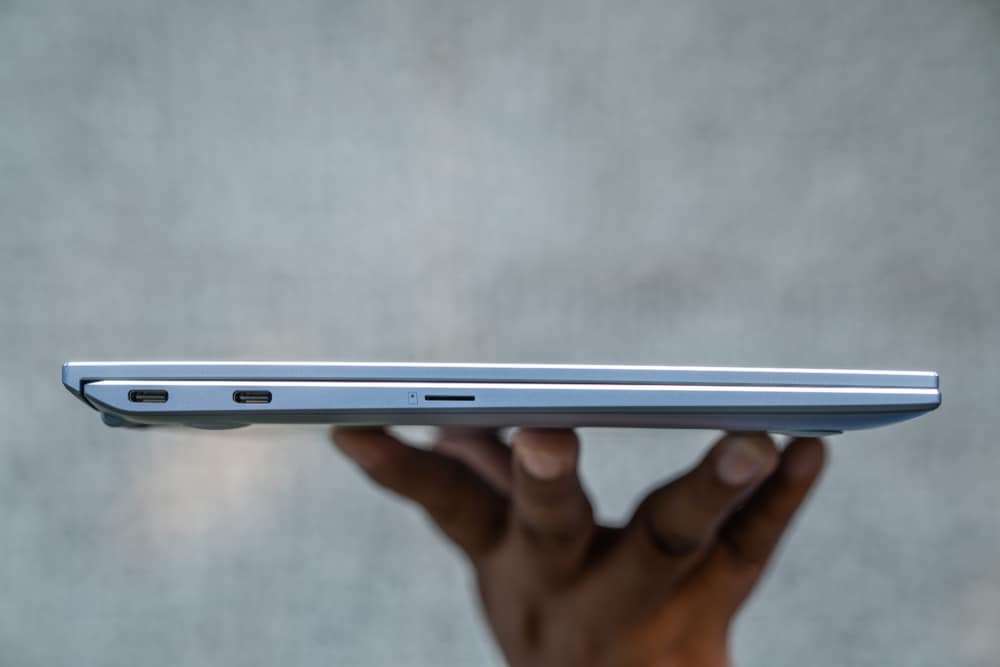 Most laptops weigh between two to eight pounds, depending on the size of the laptop.
There are five weight and size categories for laptops, ascending from small and ultra-lightweight to larger, desktop replacements that are much heavier.
In this article, we'll break down why you may want to consider the weight of a laptop in your buying decision, what weight you can expect based on the size laptop you want, and what most people's general preference is when it comes to laptop weight.
What Is the Average Weight of a Laptop?
The average laptop weighs approximately two to eight pounds, depending on the dimensions. Dimensions largely determine what weight category a laptop falls into.
In grams, a laptop weighs between 900 and 3600 grams.
In kilograms, a laptop weighs just under one kilogram to 3.6 kilograms.
A general rule of thumb is that a laptop that's between 13-15 inches wide is going to weigh around two to five pounds total. A laptop that's more than 17 inches wide will weigh in on the heavier end, between five- and eight-pounds total.
Ultrabooks; Chromebooks
Ultrabooks; Chromebooks are two types of laptops, the first made by Intel and the latter made by Google, that offer varying degrees of power. Ultrabooks run on Windows, while Chromebooks are built on ChromeOS.
Both laptops are ultralight, ranging from 9 to 13.5 inches wide, 8 to 11 inches deep, less than an inch thick (or high), and weighing in at just two to three pounds.
Ultraportable Laptops
Ultraportable laptops almost always weigh less than three pounds and are three quarters of an inch thick or less. That means that most of these options top out at a 14-inch screen and have fewer ports.
Examples include the Dell XPS 13, the MacBook Air M1, and the HP Pavilion Aero 13.
Thin and Light Laptops
The Thin and Light laptop category includes computers that are just a tad bigger and heavier than the ultraportable category, such as the Microsoft Surface Book, Lenovo Yogo, and the Google Pixelbook.
They max out at 15 inches wide, less than 11 inches deep, no more than 1.5 inches thick, and weigh anywhere between three and six pounds.
Desktop Replacement
A Desktop Replacement laptop still weighs far less than a desktop computer at somewhere under four pounds.
But as the moniker suggests, this category of laptop will do anything that a desktop computer does, just on the move. So, it's heavier and thicker than the Thing and Light category prior.
If you want desktop-grade performance, you'll be looking at laptops such as the Apple MacBook Pro, the HP Omen 15, the Lenovo Ideapad L340, and the HP Envy 17T.
Luggables Laptops
Luggables were just like they sound: a heavy, do-it-all laptop that had to be lugged around like a briefcase. Today, you won't find Luggables like the original Compaq Portable II, but laptops that are heavier than you want them to be still get stuck with this name.
This category of laptop has the largest screen size at approximately 18 inches wide, 13 inches deep, and around an inch thick. You know the ones – they barely fit in a backpack, and they'll feel like you're toting around a bunch of heavy books.
How Is Laptop Weight Calculated?
When a manufacturer tells you how much a laptop weighs in their specifications, they're usually listing the computer on its own including the battery. If different battery options are available, you'll need to factor in the weight of that battery yourself.
Other items that can add to your computer's weight include adapters, detachable keyboards, media bays, and any other add-ons.  
Why Does Laptop Weight Matter?
The weight of your laptop has less to do with the quality of the machine and more to do with your use case.
You can purchase a very high-quality laptop with a small screen that works perfectly for your needs as a blogger, but a graphic designer may require something heavier simply because they need a bigger screen.
Sometimes, lighter laptops have fewer inputs for HDMI, USB, and other adapters that may be a requirement for you.
Laptop fans also add significant weight to a computer, and the more powerful your machine is, the bigger (and heavier) the fan will need to be.
Some scenarios to consider when you're looking at laptop weights include:
Traveling
Do you travel often? You may prefer a lightweight laptop that you can easily take with you on planes and trains without the extra bulk. A lightweight laptop is less weight to carry, yes, but also less bulk in a bag if you're tight on space.
On the other hand, lightweight laptops often lack the extra ports that you may need if you use your laptop to present at conferences and business meetings. Having these extra ports means that you're more likely to be able to connect to the audio and visual system in unfamiliar spaces.
If the laptop is purely for entertainment purposes while traveling, say, to use as a tablet for a child, an ultra-lightweight option could be best for you.
Carrying in a Backpack Around Campus or to and From Work
If you're considering a laptop for school, you'll want a machine that's powerful enough to last you a long time, but light enough to carry in a backpack. You also want to make sure your laptop is heavy enough to withstand being tossed around as move from class to class, so a midweight option would be best for you.
General Ease of Use and Portability
You'll want to balance the weight of your laptop with the tasks you need it to accomplish, including the amount of power it will need, ports, and screen size.
Lighter-weight laptops are easier to pull out of a bag frequently and easier to put back in, but if you plan to work mostly from one place, a desktop replacement laptop would probably be a better option for you.
It is still portable when you need it to be, but you won't need to buy add-ons to make it connect to everything you need it to, such as larger monitors, printers, external hard drives, and more.
Conclusion
Laptops today are all lightweight when you compare them to the luggables of the past, but a few pounds here and there can make a big difference for you depending on how you plant to use the computer. In general, the more powerful the machine and the bigger the screen, the heavier the laptop.