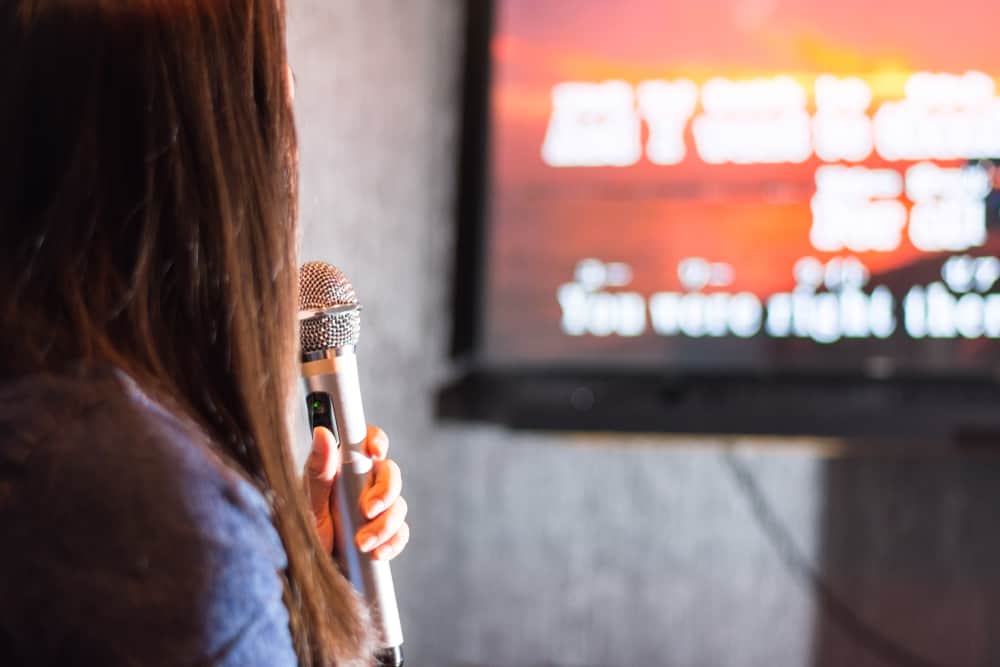 If you want to make your friends and family nights memorable, you should always mix things up by including karaoke into the schedule. Karaoke is a great way to break the ice at parties and can bring out some serious talent!
If you want to make it easier for the singers to read the lyrics, you'll need to know how to connect karaoke to a smart TV. If that's what you're trying to do, you've come to the right place!
Keep reading for a brief guide that walks you through the different methods to connect your karaoke to smart TVs!
How to Connect a Karaoke Machine to a Smart TV
Karaoke machines are easily the best way to enjoy singing songs. They come with premium speakers that overcome distortion at high volumes and high-quality microphones for a clear singing voice.
Additionally, a karaoke machine will have a built-in mixer that will allow you to adjust various aspects of the songs, including tempo, keys, reverb, etc.
If you want to use the smart TV's larger screen to make it easier to display and sing along with the lyrics, the following methods will do the trick for you.
Method #1: Using Wired Connections
Direct cable connections are the first and most popular way of connecting a karaoke machine to a smart TV.
What's great about this method is that it only uses one type of cable for connection. This makes it highly compatible with all kinds of TVs, whether they're smart or not.
Additionally, it has the lowest propagation delay time due to high-speed connections, which is essential for fast-tempo songs. Here's how to do it.
Step #1: Get a Proper Connection Cable
Most karaoke machines still use AV and RCA cables to connect to TVs. Check the back of your karaoke machine, find the cable connection it operates, and make sure that your TV supports the same kind of connection.
AV and RCA connections usually have 2 or 3 circular ports that are color-coded (red, white, and yellow). If your karaoke machine doesn't come with a proper cable, you should get the following:
Step #2: Connect the Cables
Check the ports for cables on both the Karaoke machine and your TV. Start by connecting the proper cables to the Karaoke machine end, which are usually at the back of the device. Make sure that you match the colors of your cables with the ports accordingly.
Your TV may have multiple sets of colored AV connections. Make sure that you connect them to the output port and memorize the number on the connection.
Step #3: Display the Karaoke on TV
Now that you've connected all devices to the screen, it's time to adjust your TV to the right channel to display the Karaoke screen.
You'll need to use the TV's remote control and press the "Source" button. Now, you'll need to choose the channel at which you've connected your karaoke cables to the TV, which is either AV if you used the colored ports or HDMI if you used a converter.
Method #2: Using Wireless Connections
Wireless connections will ensure a much cleaner and easier connection if you want to avoid the hassle of connecting your Karaoke via cables.
However, your karaoke machine has to support Bluetooth, Wifi, or both for this method to work. Here's how to do it.
Step #1: Put Your Karaoke Machine in Pairing Mode
Most modern karaoke machines are equipped with a Bluetooth chip to connect directly to other Bluetooth devices.
All you have to do is turn on the pairing mode in your machine by checking the method in the machine's manual. In many cases, activating the pairing mode is by holding the Bluetooth button for a couple of seconds until the indicator light starts flashing.
Make sure that your Karaoke machine isn't connected to any other devices via Bluetooth to avoid conflicts.
The same goes for karaoke machines that have a Wifi chip to connect. In that case, make sure that you connect to the same Wifi source as the smart TV.
Step #2: Pair Your Smart TV with the Karaoke Machine
Once your karaoke machine is in pairing mode, use your TV's remote control and navigate through the Bluetooth settings or devices.
There you should find the name of your karaoke machine in the list of "Found Devices." Click on the device and complete any authentication settings necessary.
As soon as the two devices are paired, the TV should display the lyrics for the songs played on the machine.
Alternative Methods to Use Your Smart TV for Karaoke without the Machine
If you're having a karaoke night but you don't have a karaoke machine, you can still have a great time and enjoy singing your favorite songs in various ways.
Of course, each of the following methods will depend on some aspects and will have its pros and cons. So you'll have to keep that in mind to pick the method that works best with your smart TV.
Using Smartphone Apps
There are plenty of excellent smartphone karaoke apps out there. These include options like Smule, Yoke Karaoke, KaraFun, and more!
After installing your favorite app to your phone, you'll need to use the screen sharing feature in your smartphone to make your Smart TV display the lyrics and play the music. Here are simple guides for Android and iOS.
Alternatively, if you have an Android smart TV, you can download these apps directly to your TV and play them without needing to use screen-sharing features
Using YouTube App
If you want to cut the hassle of downloading various apps and connecting your phone to the TV, you can use the YouTube casting feature to enjoy your karaoke time.
The good thing about YouTube is that there are hundreds of channels that specialize in making karaoke versions for nearly any song you like.
Download and install the YouTube app on your smart TV, create your playlist of songs you want in the karaoke version, then play them right away!
Remember that you still need a microphone setup to match your voice with the TV volume.
Final Thoughts
This wraps it up for today's guide that shows you how to connect karaoke to a smart TV. As you can see, there are plenty of methods that you can use to turn your smart TV into a karaoke screen, whether you're using a karaoke machine or not!
The best part about all these methods is that smart devices now make it much easier to enjoy your singalong nights without having to opt for complex setups with mixers and tons of cables!