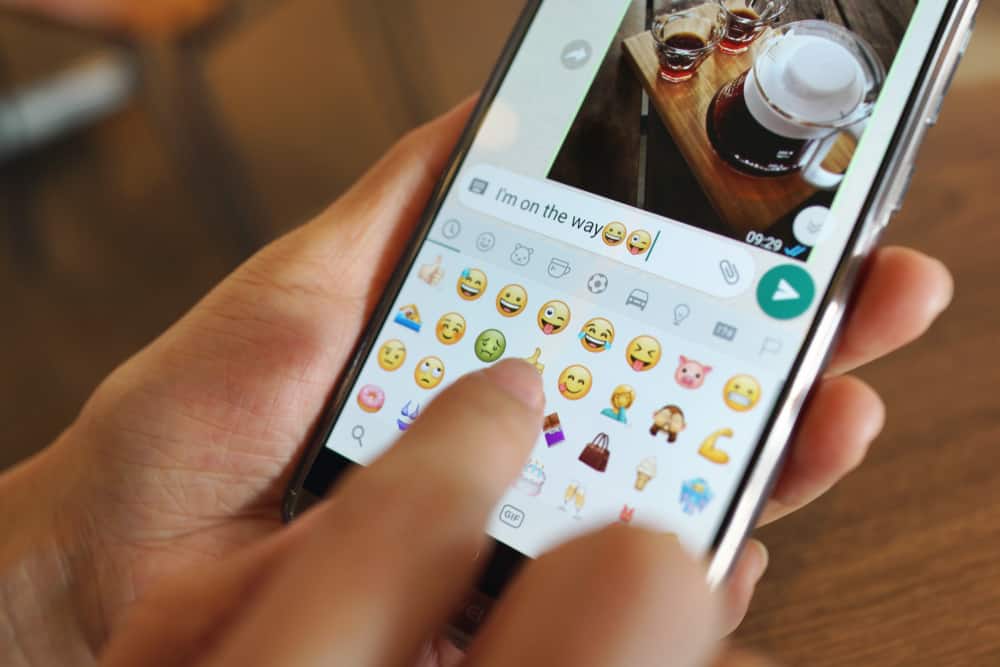 Android phones became common during the late 2000s; so did Emojis, and ever since, they have had a significant impact on how we interact. Since emojis aren't for everyone, it would feel nice if you could delete them on your Android device.
It is possible to delete Emojis on Android by disabling the Emoji keyboard, Emoji app, Emoji bar on Gboard, or switching to a new Emojiless keyboard.
We've written this guide to provide insight into the many step-by-step methods for removing emojis from your Android device.
Do Emojis Come Installed On Android?
For the most part, Emojis are already supported by Android's keyboards, especially with preinstalled Gboard.
Like most people, you might be using Gboard as your primary keyboard on your phone.
With swipe-to-text functionality, you can search Gboard for an Emoji, monitor your most frequently used Emojis, add animated stickers to your chats, and utilize gifs and old-fashioned emoticons.
How To Delete Emojis on Android?
Emojis are a component of your keyboard, and their settings are found in the keyboard configurations. Depending on the keyboard you're using, you'll have to access these settings differently.
Our step-by-step instructions will help you go through these settings quickly and effortlessly. Now it's time to find out the four methods to delete Emojis on Android.
Gboard should be the default keyboard on most recent Android smartphones. The following methods may differ somewhat, but they are all based on Stock Android.
Method #1: Disable Emoji Switch Key
In the first method, you will disable the Emoji switch key to hide the Emojis. Follow these instructions:
Go over to Android Settings (You can also access the Settings menu by holding down the comma [,] key while the virtual keyboard is visible).
Tap on System and select Keyboards & Input from the available options.
Next, search for Gboard and tap on it to access its Settings.
Now choose Preferences and Toggle the Show emoji switch key to the Off position.
You will no longer be able to access Emojis with a dedicated key. To insert them into text again, you must press and hold the comma key.
Method #2: Clear Google Keyboard Cache
Clearing the Gboard cache removes the Emojis' history and hides them until you use them again. To do this:
Go to Google Keyboard in Settings under Apps.
Now tap on the Storage option.
Finally, tap on Clear Data and Clear cache simultaneously.
You can also clear your social apps caches to hide Emojis on them. Also, if you are using an alternative keyboard, clear its cache as well.
Method #3: Disable Emoji Bar on GBoard
A quick way to delete Emojis is to disable the Emoji bar on Gboard. You can do it in the following way.
Open a chat on any Messaging app and locate the Emoji bar.
Swipe left on the emoji bar once you've started typing to bring up the emoji menu.
Select the Remove Bar to access Settings.
Finally, disable the Settings to remove the Emoji fast-access bar on the top of your Gboard.
Method #4: Switch To a New Keyboard
If you can't delete or hide Emojis on Gboard, use an alternate keyboard.
Head to the Play Store, and download and install your desired keyboard.
Now access the Settings menu on your Android device and go to System > Languages & input.
Next, select the Virtual keyboard option and choose your newly installed keyboard.
To use Emojis again, switch to Gboard by selecting the keyboard icon at the bottom of your keyboard app.
Deleting Emoji Launcher on Android
Emoji Launcher for Android is a dedicated app filled with top trending Emojis that can pop up on any platform. You can uninstall the app to delete the Emojis on your Android device.
In Settings > Apps, find the Emoji launcher app.
Tap on the Open by default option when opening the app.
Return to the previous screen, and Uninstall should now be available.
To uninstall the app, click Uninstall and OK.
If you can't uninstall Emoji Launcher, you may need to disable it as a system administrator. Uncheck the Emoji launcher in Settings > Security > Device Administrators.
Summary
In this article about how to delete Emojis on Android, we've addressed the problem of emojis. It is impossible to remove emojis from your phone or tablet, as these are an integral part of the Android OS. However, we discussed different methods to hide or disable them.
Hopefully, now you don't have to see emojis popping up on your screen every time, and you can make your conversations professional if needed.
Frequently Asked Questions
Are Emoji Keyboard Apps Safe?
Not all applications threaten your data security on an Android device, particularly keyboard apps. Therefore, we don't recommend deleting them, but there are a few safe choices such as SwiftKey, GBoard, and Fleksy for your smartphone.
While installing them, carefully review the list of permissions they want to access to better understand them being safe.