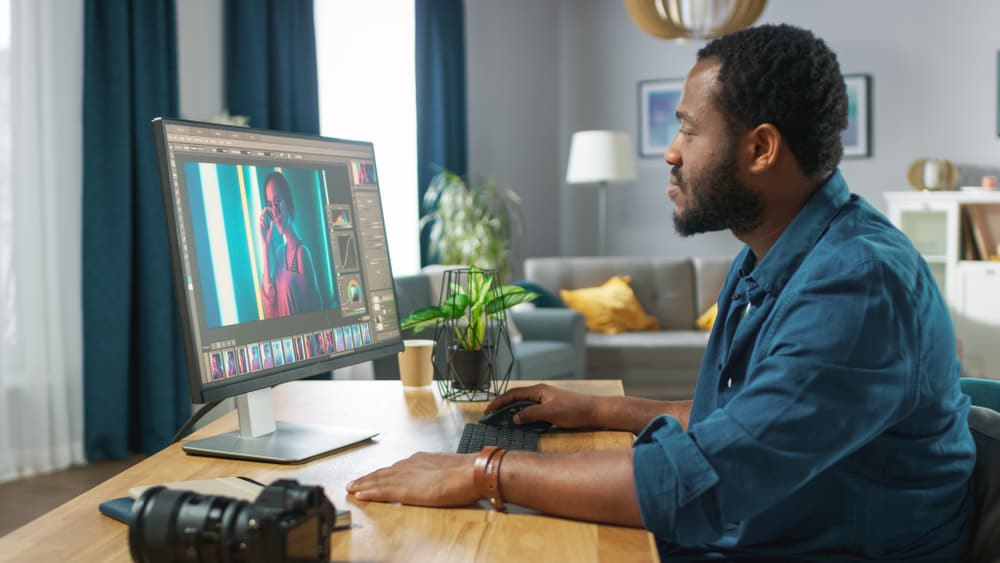 Have you ever seen a cool picture and considered redrawing it proportionally but don't know how to grid it on the computer? Well, have no fear! This blog post is here to help.
Adding a grid to a picture on the computer is pretty simple. You don't always need to install any large photo-editing software like Photoshop. You can just grid a picture with the pre-installed apps on your PC like MS Paint and Paint 3D. Moreover, you can also do it online through Google Drawing or by installing the Proportion Grid Maker from the Microsoft Store.
Further, I will walk you through multiple methods to grid a picture. However, first, you need to understand why people place grids on images.
Why Do Artists Grid a Picture?
When duplicating or expanding an image or photo, graphic artists traditionally rely on the grid approach to ensure they maintain the correct proportions of the picture.
Once the grid is added to a photograph, it becomes much simpler to correctly recreate the picture by laying out a grid with the same proportions on a drawing paper or canvas. You can replicate the image square by square.
Now that you have digital technology, rather than printing out a digital photo and adding grid lines by hand, you can simplify the process using graphics software on your PC such as MS Paint, Grid Maker, Google Drawings, etc.
How To Grid a Picture on the Computer Without Third-Party Apps
You can add a grid to your picture with multiple third-party photo editing apps like Adobe Photoshop and Illustrator. However, if you are looking for a way to do so without installing any of them, you can use built-in apps like Microsoft Paint and Paint 3D.
Method #1: Using Microsoft Paint
Adding a grid to the picture using MS Paint is a simple task. Follow these few steps, and you can quickly end up with a gridded image.
Open the MS Paint application.
o to the "View" tab. Check the "Grid Lines" option.
Go to "Files" > "Open". Move to the directory where the image is stored and open it.
The image is displayed in Paint, with gridlines overlaid on it.
Method #2: Using Paint 3D
Unlike Microsoft Paint, Paint 3D doesn't give you the luxury of directly applying gridlines to your image.
In that case, you need to download a grid image with transparent background from free image sites like pngtree. Once you download that grid image, follow these steps.
Open the Paint 3D by searching it through Windows search.
Select "Open" > "Browse Files", and choose your target image (i.e., the image on which you want to apply the grid).
Once the image is open, tap the "Menu" button on the top.
Select "Browse Files" and open the transparent grid image you just downloaded.
Resize the grid based on your photo dimensions. Or, if possible, crop your photo into the grid.
How To Grid a Picture Online on Your PC
Apart from the built-in tools, you can also add the grid to pictures online. Here are a few sites you can use to do so.
Google Drawing
A straightforward drawing tool that is freely available online is Google Drawing. The good news is it can also help you add a grid to your picture.
There is no direct grid setting. However, if you follow the procedure, then you surely do it easily.
Open Google Drawing and create a new file.
Go to "Insert" > "Image" > "Upload From Computer".
Select your target image.
Resize the canvas based on your image. To do so, drag from the corner of your canvas and make it according to the image dimension.
Tap "Insert" > "Table". It will ask you about the grid size; you can choose any size you want: 5 x 5 or 10 x 10.
You can drag the table around the canvas and fit it on the image. If the table unfits the canvas, you can increase your canvas size again.
In addition, you can also change the grid color by using the pencil icon in the taskbar. Choose from the range of colors you want.
Proportion Grid Maker
Another small-sized app that helps you grid a picture is Proportion Grid Maker.
Proportion Grid Marker is free software from Vavatch Software, which is available on your Microsoft Store. Download it and grid your image.
Out of the methods explained, adding a grid is the easiest method. Launch the app, press "Load Image" and open the target image. It automatically adds a 10 x 10 grid to the image. However, you customize the grid sizing and color through the top menu.
The only drawback with the app is that you can see ads in the free version.
Wrapping Up
Gridding an image is important when you want to enlarge an image or copy it proportionally. The common notion is that you need to have bulky editing software such as Adobe Photoshop to do so. It can be an option. However, you can add a grid with your computer's built-in software like Paint or online tools like Google drawing.