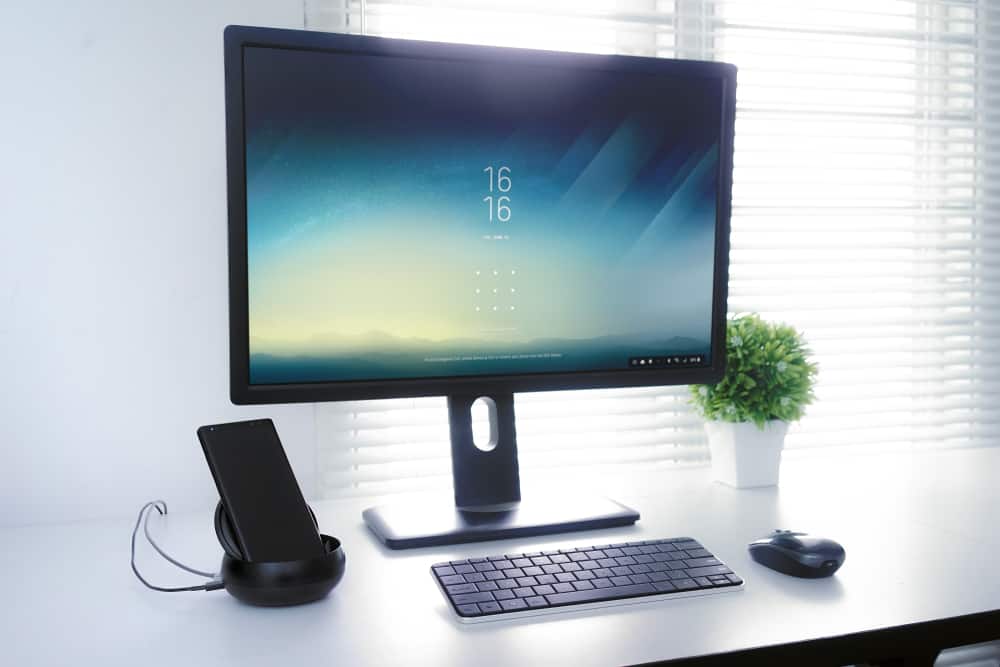 When you want to leave your Dell computer unattended, it's essential to either turn it off or activate a screen lock that requires a password to resume working. Password protecting your computer ensures that nobody accesses your information without your consent. Even though locking your Dell monitor is critical to safeguarding your data, it can be difficult if you don't know how to unlock the monitor after.
Sometimes simple tasks such as unlocking your Dell monitor can be confusing. Luckily, this task only takes a few simple moves. Just long-press the menu button for about 15 seconds until you see the "Unlock" icon on your Dell monitor screen.
If you have struggled with unlocking your Dell monitor, this article is for you.
Locked Dell Monitors
If you frequently leave your computer unattended, creating a locking and unlocking habit is critical. This practice may seem unnecessary if you don't intend to leave the computer for long, but it's best to always be prepared. Locking your Dell monitor is the surest way to prevent prying third parties from snooping on your computer and accessing your private files.
If you feel like locking and unlocking the Dell computer monitor is too much work, you can configure the computer to automatically lock after a specific time of inactivity. For example, you can set an automatic lock timer to go off after 5 minutes of monitor inactivity.
You can manually lock the Dell monitor if you don't want an automatic lock timer. When you manually lock the monitor, you don't have to close any ongoing programs or documents. You can easily lock and unlock the Dell computer monitor and resume working.
But, it's impossible to create a locking and unlocking routine if you don't know how to unlock your Dell computer monitor. Let's delve into the steps to unlock your Dell monitor.
Unlocking Dell Monitor: Step-by-Step Guide
Follow the steps below to unlock your Dell monitor:
Press and hold the "Menu" button for at least 15 seconds.
An "Unlock" icon will display on the monitor.
To lock the Dell monitor, you'll follow the same basic steps as unlocking. Press and hold the "Menu" button for at least 15 seconds. The monitor should lock automatically. The "Menu" button is basically an "On" and "Off" switch you use to lock and unlock the monitor.
If you use one of the recent Dell computer models, the above steps may not work for your computer. Instead, use the steps below:
Turn on the monitor.
Press and hold the button at the bottom-left of the monitor for 15 seconds. Note that this is not the power button. Long-pressing the power button will shut down the computer and not just the monitor.
Hold the button until an "Unlock" icon appears on the screen.
If the two unlocking methods don't work for your Dell monitor, you can try unlocking through the onscreen menu. To use this method, do the following:
Press the "Menu" button on the monitor.
On the list appearing on the screen, scroll to the "OSD Lock."
Select "No" or "Off" to unlock.
Select "Yes" to lock.
What To Do if You Can't Unlock Your Dell Monitor
If you have a problem unlocking your Dell monitor, ensure that none of the buttons are stuck. If the monitor's menu button is stuck, it's best to take it to a repair shop for fixing.
If buttons are not the issue, check the connecting cables. Disconnect and then reconnect the wires to see if it unlocks the monitor. If not, you might be experiencing a software problem.
Typically, software problems that lead to Dell unlocking monitor issues occur when your default screen saver is not using a specific program. You can also experience issues unlocking your Dell monitor if you're using a corrupted password-protected screen saver.
To fix the software problems mentioned above, you can perform a computer systems restore or update the graphic drivers.
Summary
As you've learned from this article, unlocking your Dell monitor is pretty simple. Remember to habitually lock and unlock your monitor when leaving the computer unattended to prevent unauthorized access to your information.
If you frequently leave your computer unattended, setting a password-protected lock timer to set in after several minutes is easier.
Frequently Asked Questions
How do I lock my Dell monitor?
To lock your Dell monitor, when the monitor is on, long-press the "Menu" button for ten to fifteen seconds until the monitor locks automatically.
What is the difference between a frozen monitor and a monitor that won't unlock?
The difference between a frozen monitor and one that fails to unlock is that there's no onscreen movement or response to any keys when the monitor is frozen. When the monitor fails to unlock, the keys are working well, but you can't go past the "Lock" icon on the screen.
How can I unfreeze my frozen Dell monitor?
The best way to unfreeze a frozen Dell monitor is to restart your computer. To restart, long-press the power button for ten seconds.