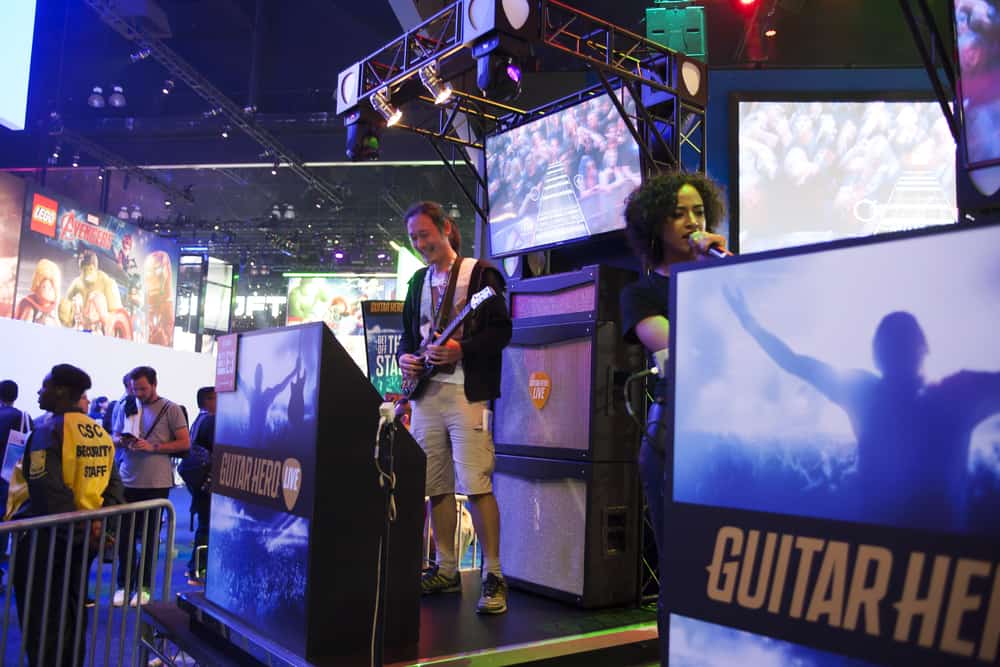 If you're a Guitar Hero fan, you'd know it comes with a controller or guitar. Whether you have the first generation, second generation, etc., the two main varieties it can come in are wired or wireless. But have you ever wondered which Guitar Hero guitar would work on a PC? 
Not all Guitar Hero guitars would work on a PC. For the Guitar Hero guitar to work with a PC, it must come with a USB port or wireless connectivity feature.
So many Guitar Hero guitars fall within this category, such as the RedOctane, the NBCP, X-Plorer, DOYO, etc. This article will elaborate on some of the best Guitar Hero guitars you can use on PC to play other musical games. 
Guitar Hero Guitars That Work on PCs 
While Guitar Hero is the most popular music game with a controller, there are other musical games in the industry. You can play Guitar Hero on a console and PC, but many other musical games you might be interested in playing are unavailable on your console. 
Or whether you simply don't want to use a console but a PC to play a musical game, there are several guitars you can use to achieve this. Below are the five best Guitar Hero guitars that also work on PCs. 
The RedOctane Guitar Hero II SG Controller is one of the best Guitar Hero controllers on the market. Not only is it affordable and well-known, but it is well built and comes with all the essential ports you'd want a guitar controller to feature. It features the regular five keys on the fret, which you use to play Guitar Hero or any other game. 
Unlike some controllers, this RedOctane is wired, so you have to be glued to a PC in this case. But because it is wired, you would never experience interference or lag. 
Another great buy is this wireless Guitar Hero guitar. The wireless feature on this guitar is the main reason this controller stands out, as you don't have to deal with the nuisance of a wired connection. It uses a 2.4 GHz wireless connection, allowing you to connect to a PC without a matching code. 
What's even more interesting about this controller is its lightweight design weighing around 3 pounds. It also has five multi-color keys for playing Guitar Hero or any other musical game. The highly responsive chrome whammy bar is also satisfactory. 
If you'd like to get that electric guitar vibe while playing your favorite music game on a PC, this X-Plorer guitar is ideal for you. Although it is a wired guitar, its star-like shape makes you feel like a rock star. 
To use this guitar controller on a PC, you need to buy a USB dongle as you can't plug in the guitar cable directly to a PC. We also love that this guitar comes with the standard five multi-color keys and a whammy bar to make you feel like you're playing an actual guitar. In addition, this guitar weighs around 2 pounds meaning you can keep playing for hours without your hands tiring. 
This DOYO guitar controller is the perfect match if you want to take things a notch higher. Surprisingly, despite the numerous features that come with this guitar controller, it is more affordable than its counterparts. The ten multi-color keys on this guitar controller let you move up and down the fretboard like a real guitar lord. The fretboard is about 30 inches long, the body is 9.5 inches wide, and it weighs almost 3 pounds, making it the ideal guitar controller for everyone of any age. The guitar is powered by the Wii remote, which can easily be connected to a PC, with no additional battery required. 
Lastly, this guitar controller from DOYO is another controller you should check out. However, it features five multi-color keys, unlike its counterpart, which comes with ten multi-color keys. It features multiple modes that emit different rhythmic notes when you hit the right keys. Furthermore, this guitar is a 2-in-1 guitar controller with 2.4 GHz RF technology and a USB connection to a PC. In addition, it offers an authentic musical experience as it is professionally engineered to respond quickly and effectively. The guitar weighs around 3 pounds, making it lightweight enough for everyone. 
Always buy a third-party guitar controller for Guitar Hero as a last resort so as not to have compatibility issues. Many guitar controllers on the market don't play many musical games, so it helps to have that at the back of your mind while shopping.
Conclusion 
Getting a guitar controller for Guitar Hero that works on a PC is pretty challenging as there are many other things to consider apart from cost and connectivity support. You have to consider the weight of the guitar controller, its fret length, and the keys featured, amongst other things. So, when you find that perfect one, its price might be discouraging. We understand these challenges; hence, we came up with these guitar controllers above to help you find the perfect one that works on consoles and PC at an affordable price.