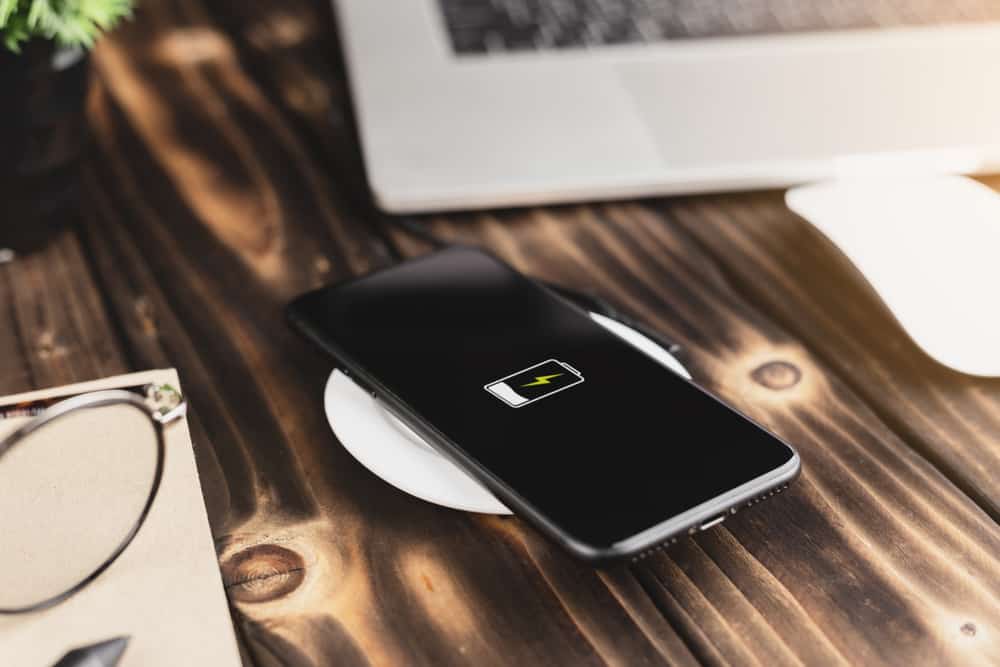 The amount of mAh needed to charge a phone varies depending on the phone's battery capacity. Usually, iPhone batteries drain out faster than Android batteries and require more mAh to charge completely. 
For the latest iPhone models, i.e., all models after the iPhone 7, a battery with 3,000mAh will be enough to hold the electrical charge and last your phone for the day. Although it depends on how often you use your phone, aim for a minimum of 3000mAh. 
This article will further explain how much mAh different iPhones need to charge. You will also find the best suggestion for buying a power bank for your phone.  
How Many mAh Do I Need To Charge My iPhone?
Different iPhones have different battery capacities. Thus, the time it takes them to charge and discharge also varies. 
The average time for an iPhone to charge from zero to 100% is 3 to 4 hours, and its charge typically lasts for about 10 to 20 hours, depending on the battery mAh. 
mAh, which stands for milliamp-hour, basically measures how much charge a battery can hold and decides the battery cycle (from charge to discharge) according to usage. Knowing your iPhone's mAh is significant as it can help you figure out how long your battery can last.
Below we have reviewed the mAh, or battery capacity, to charge different iPhones.
iPhone 8 Plus
The iPhone 8 Plus has a battery capacity of 2619mAh, and it requires 4036.5mAh to get fully charged. Its charge lasts for over 14 hours. However, its capacity is much greater than that of the iPhone 8, i.e., 1821mAh, which requires 2731.5mAh to complete a full charge. 
iPhone XS
The battery capacity of the iPhone XS is 2658mAh, and it requires 3987mAh to get fully charged. This iPhone can hold its charge for up to 14 hours. Similarly, the iPhone XR has a capacity of 2942mAh and needs a 4413 mAh to stay charged for 16 hours.
iPhone 11
The iPhone 11 has a battery capacity of 3110mAh, and it requires 4665mAh to get fully charged. It can hold its charge for over 17 hours which is 1 hour less than the iPhone 11 Pro, which comes with a battery of 3046mAh.
iPhone 13
Like the iPhone 12, the latest iPhone 13 battery is 3,227mAh and can hold a charge for about 28 hours, depending on the usage.
Choosing the Best Power Bank for Your iPhone
So now you know the battery capacity of your iPhone. If you are planning an outdoor trip or going out of the city where you can't leave your phone plugged into a charging outlet, you can buy a power bank to charge it.
With various power banks on the market where every other brand is claiming to be better than the other, it's hard to decide on one. That's why we have picked out some features to look for in power banks. 
Step #1: Know the Charging Capacity
The charging capacity of a power bank is measured in mAh. So whenever you want to buy one, check the mAh of the battery of your iPhone and buy accordingly.
If your iPhone requires 4000mAh capacity to charge it, you can buy a 20000mAh power bank that can easily charge your phone 2 to 3 times in a single go.
Power banks need to be charged first to charge your iPhone.
Step #2: Check Portability
The portability of the power bank is directly proportional to its charging capacity. For example, a less portable charging bank is physically large and thus, has more mAh capacity. Therefore, whenever you buy one, always consider what you need.
Step #3: Check Charging Output/Input
The higher the output ampere, the faster the power bank will charge your iPhone, and the higher the input ampere, the quicker the power bank will recharge itself. They usually come with two types of output, 1A for iPhones and 2.1A for iPads, while the input ranges from 1A to 2.1A.
Summary
In this guide about how much mAh is needed to charge an iPhone, we defined the meaning of mAh, and tried to cover everything about different iPhones' battery capacities and choosing a power bank. 
Hopefully, now you can keep your iPhone charged and enjoy all the exciting features of your iOS device without worrying about its battery life.
Frequently Asked Questions
Which is better, 20,000mAh or 10,000mAh?
The better battery capacity of the power bank varies depending on your purpose. For instance, if you are getting a power bank to charge your iPhone several times, go for a capacity of 20,000mAh. However, if you only wish to charge your phone once, a 10,000mAh battery capacity would make more sense.
Is a 50000mAh power bank good?
A 50000mAh power bank is an excellent option for people who want a product with a lot of stored power. With this high capacity, you can charge your iPhone several times. These kinds of banks work best for long trips. However, a power bank with a higher battery capacity is much heavier than other low-capacity ones.