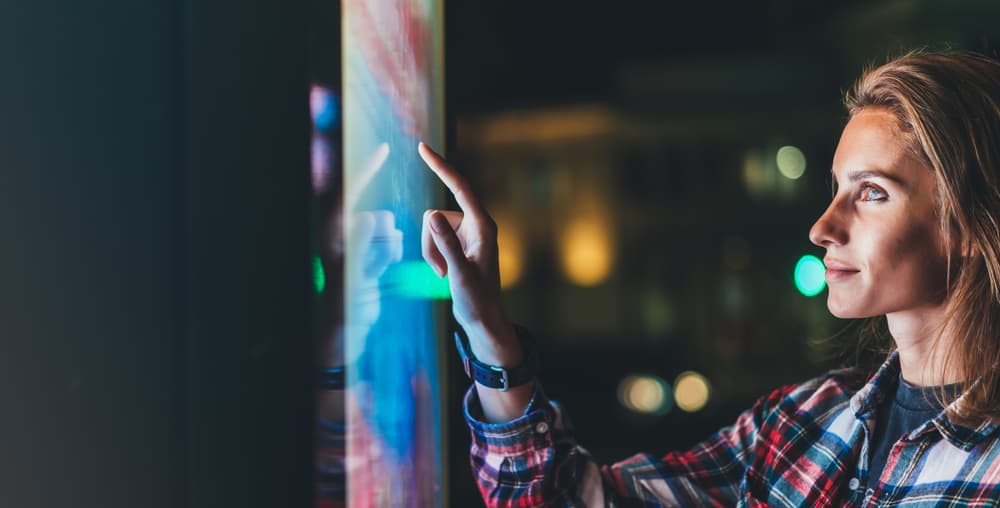 A touchscreen, by all means, is a fancy idea, but so is the cost of touchscreen monitors. Still, at some point, you may have wondered if you can convert your humble non-touch monitor into a touchscreen monitor. Well, there are ways to make a monitor touchscreen.
For one thing, you can install a laser gun, such as AirBar, at the base of your monitor screen. It'll sense your finger movements near the screen and convert them into screen commands. Else, you can install a touchscreen overlay over your LCD panel. Moreover, there's also the technology the likes of touch pens and touch gloves you can find in the future.
In this article, I'll discuss how you can make your monitor touchscreen by employing different methods.
Method #1: Install Laser Technology on Your Monitor Screen
In modern times, we've been well aware of the technologies rolling in with lasers. Touch sensing is an old name in this regard. But you might be surprised at the idea that lasers can be used to make a monitor touchscreen. Here's how it works.
You take a laser gun – generally of the form of a bar –  spanning over the size of the screen and put it at the base of your monitor. Most such bars come with a magnet to cling to the monitor. 
Also, it comes with a cable with a USB switch to insert into your laptop's USB port. It won't give you the most seamless experience, but it will suffice as a workable monitor touchscreen.
Neonode's AirBar is a great option in this regard. It is a compact little bar you can simply pop onto your monitor's screen. Above that, it comes in a reasonable price range.
Method #2: Install a Touchscreen Overlay
A touchscreen overlay effectively adds a layer to your monitor's screen. Although it doesn't cost much, it provides you with all the functioning of a touchscreen. 
You can get such an overlay from Amazon or any tech store in your area. If you plan to install it yourself, make sure you have the installation guide with you. Installing a touchscreen overlay over your monitor's screen is fairly simple. Here's what you need to do.
Remove the monitor from its housing.
Place the overlay on a clean and protective surface. Make sure it is upside down.
Clean the overlay and the monitor screen thoroughly.
Carefully fit the monitor screen inside the overlay.
Screw the overlay straps onto the monitor's back. Try to be gentle while doing so.
Put the USB cable attached to the overlay screen into a PC.
Insert the external IR sensor cable that comes in the kit in the IR port.
Adhere the sensor to the side of the monitor with the double tape.
And you're done! Now, you can operate your monitor by touch. Not all monitors have the same installation procedure. So, don't fret if you aren't able to figure out how to install the overlay over your monitor's screen. Rather, look for the installation guide that comes with it.
Be Careful When Installing!
Place the monitor over a soft and firm surface. Also, clean the dust thoroughly both from the monitor and the overlay. Else, it'll stick there annoyingly. If you don't get how to install an overlay on your PC, leave the work for some expert. Otherwise, chances are you'll end up damaging the monitor.
Method #3: Use Touch Gloves and Touch Pens
Apart from installing a laser sensing system or a touchscreen overlay on your monitor, there are other options. Fancy as it may sound but touch gloves and pens are a reality.
The concept is that you just have to hold a pen which will affect the electric fields of the screen, providing the coordinates of the screen to the sensing system. These coordinates, then, can be turned into a touch stimulus.
Based on the same concept is the idea of touch gloves. Although none of them have hit the market yet, it's only a matter of time. Soon, you'll just have to wear a glove and connect a remote device to your PC to control it. 
Touchscreen Monitors
Although touchscreen remedies can work reasonably well, their functionality is quite limited. To enjoy the touchscreen experience, you'll have to buy an original touchscreen monitor. You can get a top-class touchscreen monitor for less than four hundred bucks.
Dell P2418HT and ViewSonic TD2230 are great names in this regard. Both of these provide you with tapping, swiping, zooming, and long-pressing options. Moreover, the display graphics are seamless.
If you have a sufficient budget, I would advise getting an original touchscreen monitor.
Conclusion
In a nutshell, the easiest way of making your monitor touchscreen is by installing a laser-sensing bar at the base of your monitor. Although not very agile, it'll do a reasonable job. You can also try installing an overlay over the computer's screen. Not very handy, it'll add the basic touch functions to your computer.
Regardless of these options, the best way to go – assuming you can afford it – is to get a touchscreen monitor.