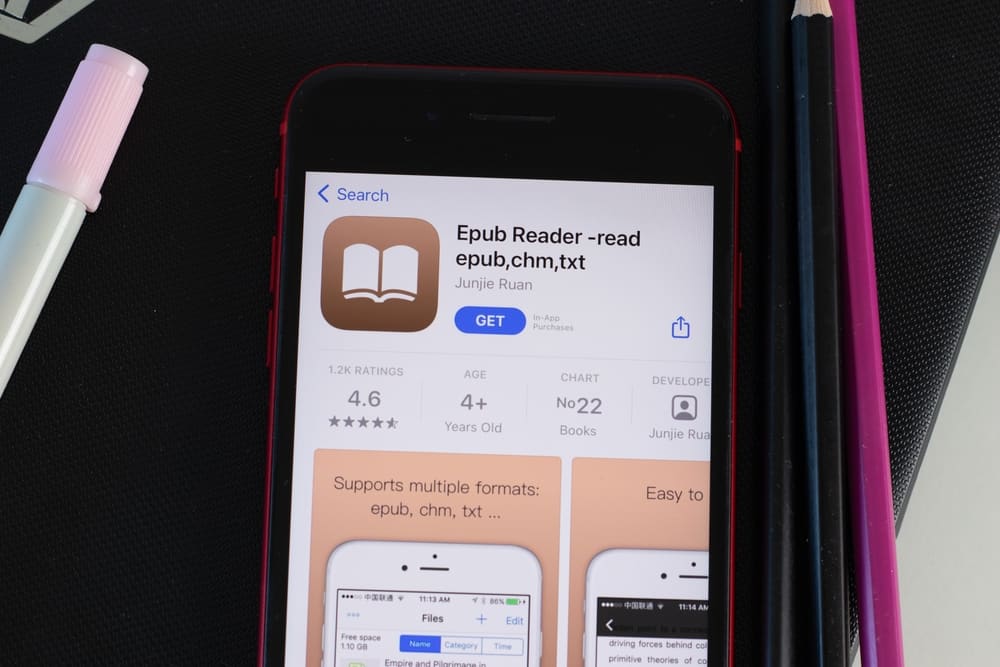 EPUB is a file format used for digital publications and is one of the most common formats used by e-book readers, including Apple's iBooks app. Unfortunately, most e-reader programs cannot open these files directly. However, if you have an iPhone and an EPUB or PDF file, you do not need to worry about accessing it.
You can open EPUB files on your iPhone by downloading the document in the Files app of the phone and reading it via the iBooks app. Besides, you can also try third-party apps such as EPUB Reader to view these files on your iPhone. 
Many people prefer e-books over the book in hand in today's world. However, you may have got your hands on a favorite e-book from somewhere but found out you cannot open it.
Therefore, we have written a comprehensive guide on how to open EPUB files on your iPhone to enable you to enjoy reading your favorite books.
Things To Consider Before Opening EPUB Files on iPhone.
EPUB stands for "electronic publication." It is a file type used for digital publications such as books and magazines. Besides, it is a known fact that many people use iPhones and iPads to read eBooks. But there are some things that you should consider before opening EPUB files on iPhone.
The first thing is that the device does not support all file formats. Therefore, if you try to open an EPUB file on your iOS device, it will not open and show you an error message.
Check that your iPhone is up-to-date; update iOS and all apps — including iBooks — to the latest version.
Ensure that the book you are trying to read is formatted correctly. For example, some books may be missing metadata or even images, which will prevent them from opening properly on your device.
Check whether or not there are any restrictions in place for opening EPUB files on your iPhone. For example, if you have parental controls on your account, those will apply when opening EPUB files.
Opening EPUB Files on iPhone
If you're a fan of eBooks, you'll be pleased to know that the iPhone is one of the best devices for reading them. Unfortunately, however, there are situations when you cannot access an EPUB file on your iPhone.
However, our step-by-step instructions will ensure that you can view EPUB files on your device. We'll also discuss accessing EPUB files on macOS.
So without any delay, here are the three methods for opening EPUB files on iPhone.
Method #1: Using iBooks
iBooks app is specially designed for you to read eBooks and other documents on iPhone and other Apple devices. To open EPUB files via iBooks, you need to install Dropbox on your phone and download the EPUB document. Then, follow these steps:
Open the Dropbox app, locate the EPUB file, and press the down arrow button.
Now select "Send Link" from the actions list.
Next, tap the "Open In…" option.
Now select "Copy to iBooks."
Finally, the iBooks app opens, and your EPUB file can be seen among the other files, tagged as "New."
Method #2: Using iTunes on Your PC
You can open the EPUB files on your iPhone by downloading them to your computer and then syncing them to your iPhone using iTunes in the following way:
Install iTunes on your PC and connect the iPhone via USB cable.
Open iTunes and the folder with the EPUB file. Now drag the file into the Library in "Books" of iTunes.
Now click on the "Books" in the "Library" section and select the EPUB document.
Check the "Sync Books" option and click on it to start syncing both devices.
Once done, you can view the file in the iBooks app of your iPhone.
Method #3: Using Third-Party Reader Apps
Several third-party reader apps are available in the App Store that let you read eBooks with ease. Here is how to open an EPUB file on iPhone using one of them:
Download and install EPUB Reader – Neat from the App Store; create a new account.
Now open Neat-Reader Transfer on your PC and log in with the same credentials.
Next, select the book (EPUB) file you wish to view and get the fetch code.
Now open the app, tap on "Books" on the bottom bar and select Add Books > Online Transfer.
Type in the fetch code and tap "Start Reading" to view the EPUB file. Have fun reading!
You can also use the WiFi Transfer option in the app. To do so, ensure that both devices are connected to the same internet. Upon selecting the option, the app displays a URL address. Now go to that address via your internet browser and import the EPUB files. The documents are quickly transferred to the app for you to read them easily.
Opening EPUB File on macOS
If you use macOS to view EPUB files, there are several ways to do it, but the most common way is to use the built-in iBooks app.
Download the EPUB file on the macOS.
Open the file by double-clicking on it.
The file will open in the iBooks app.
Now enjoy reading your eBook.
Summary
In this guide about opening EPUB files on iPhone, we have discussed everything about EPUB files and three different methods to view these files on your cellphone. Moreover, we have also explored the method of opening an EPUB file on a macOS.
We hope you can now successfully open and view EPUB files on your iPhone without any inconvenience. 
Frequently Asked Questions
How do you enable EPUB books on iPhone?
EPUB books can be read on the iPhone, but they are not enabled by default. Therefore, to read an EPUB book on your iPhone, you need to enable it in the settings first.
To do so, open the Settings app and tap on your iCloud ID. Next, select "iCloud" and toggle the iCloud Drive switch to "ON." Finally, turn the iBooks switch to "ON" to enable EPUB books on your iPhone.