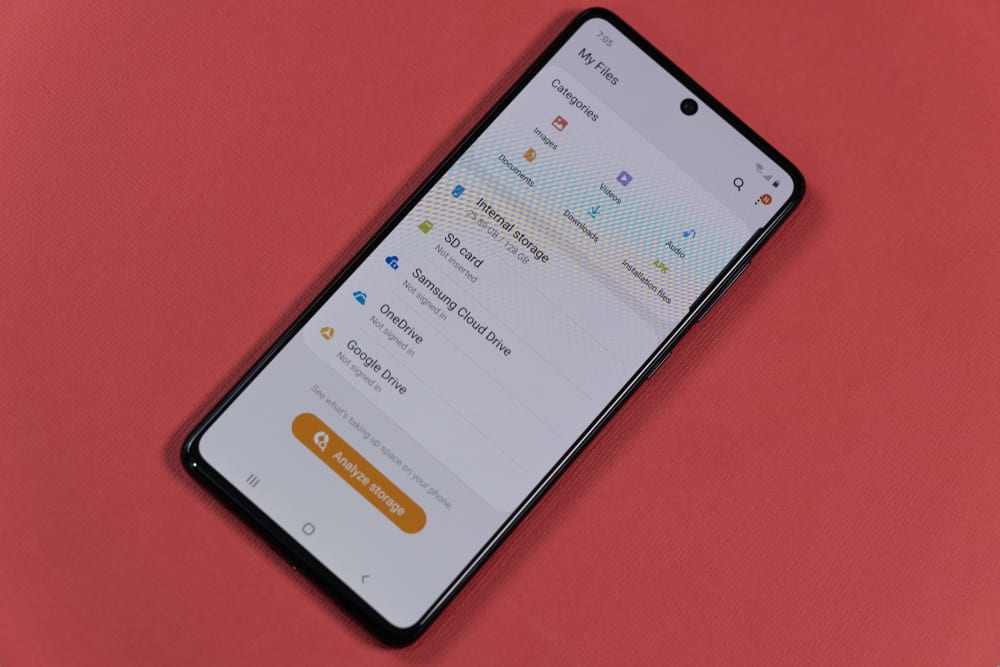 Some audio formats are popular, for example, the mp3, ogg, and aac formats. Other audio file extensions which are not so common are WAV, WMA, and M4a. This article will touch on the M4a file format. It is the audio file format for Apple devices such as iPhones, iPad, and iPod touch.
As the M4a format is not common, it doesn't have many media players that support it. Hence, it isn't easy to play it on an Android phone.
The simplest way of playing M4a files on Android is to play them on a multimedia audio player. Otherwise, you can play the M4a on Android by converting the file to an MP3 format. 
This article covers how to play M4a on Android. It also presents to you the list of M4a players for Android. Additionally, the article will cover how to fix an M4a player that isn't working and answer if a Samsung phone can play M4a audio files.
How To Play M4a Files on Android
Using a file converter or multimedia player, you can play M4a on Android. The file converters include apps, software, or websites that perform the conversion of M4a to MP3 files. For multimedia players, software developers design them to play more than one audio file type.
Below are the different file converters and multimedia players.
Method #1: Using iTunes To Convert M4a to MP3
iTunes offers a quick way to convert M4a files to MP3 format.
Here is how to use iTunes to convert M4a to MP3 format.
Go to your Mac PC, and open the iTunes app.
Go to "Preferences" and select "Import Settings".
Change the settings to "MP3 encoder".
Import the M4a files and click "File Convert". Once you run it, the system will help you convert it to an MP3 version.
The good thing is that both the old M4a and the new file (MP3) will be saved on your PC. The new file will be added to your music library. You can transfer it to your Android and start listening to it.
Method #2: Using a Converter App
Specific apps are available for you to convert M4a files to MP3 files. However, you should select an app that will not further downgrade the quality.
Each app has its bit rate. While some apps offer higher quality, others don't and may lose some information. Hence, you should check the reviews on the App Store or Google Play Store before downloading them.
Here are some of the apps for converting M4a to MP3.
Method #3: Using an Online M4a to MP3 Converter
If you want to save space on your Android phone by not installing any app, you can use an online M4a to MP3 converter. Some websites that offer online M4a to MP3 conversion are ZamZar, Evano, medio.io, and online audio converter.
With Zamzar, you only need three clicks to convert your file; it's that simple. Upload the M4a file, click the "Convert" button, and finally click "Download".
Some websites have extra features such as editing, cutting, and audio quality adjustment.
Method #4: Directly Playing the M4a Audio File on Android
Instead of taking too much time downloading apps and converting the file, you can directly play them on your Android device. Nevertheless, not every Android device supports playing M4a files because their operating system doesn't support it.
Hence, you should use a third-party audio player that can play M4a files. Of these third-party audio players, VLC is the best. VLC audio player and support nearly all audio files.
With third-party audio players, you also get features for editing, equalizers, lyrics, timers, etc.
Why Can't I Play M4a Files?
You can't play M4a files on some Android phones because the operating system and inbuilt music player do not support it. However, some Android phones whose operating system and inbuilt music player support it can play M4a audio files.
You should update your Android OS and install an external audio player like the VLC player to fix it.
For iPhones, iPad, and iOs devices, if you experience problems playing the M4a files on iTunes, it is usually because the file is corrupt. Incomplete downloads or wrong file extensions generally cause corrupt files.
To fix it, you should use the QuickTime music player. Another way is to convert the M4a file to MP4 format. With the MP4 format, it will play on iTunes.
Does Samsung Support M4a?
Yes, Samsung Galaxy and Samsung Note models support M4a files.
If you are having problems playing the M4a file on a Samsung phone, you should ensure your OS is updated and have the latest Samsung Music Player.
How Does M4a Audio Format Compare to MP3?
One thing to note about M4a and MP3 is that both files are compressed. Hence, if you want to edit audio files or mix music, these formats are not suitable. The advantage of compressed formats is that they are space economical, and many audio players support them.
However, an M4a format can still be best for you and better than an Android because it retains much of its audio quality despite being compressed.
Today, you mainly still see several audio players that will play the M4a format. You should use a third-party media player if you don't have any files to play it. You can play the M4a format on Android by converting the M4a to MP3.
Conclusion
When you are in a situation where you need to play an M4a file on your Android phone, remember that all you need is a file converter. Alternatively, you can use a multimedia player. The multimedia player and file converters given in this article will surely help you.