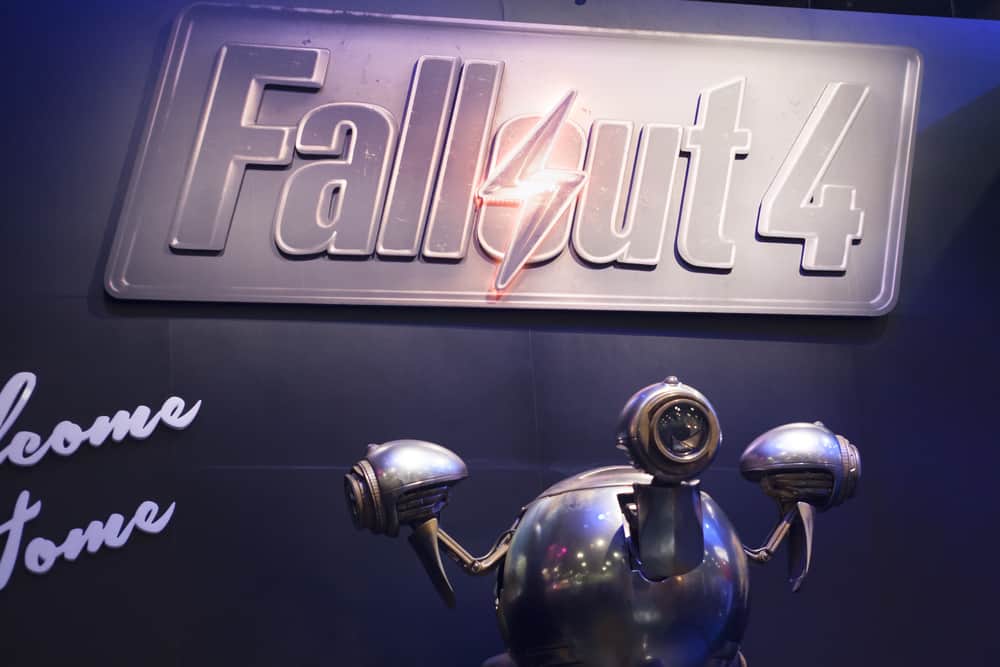 Developed by Bethesda Software in 2015, Fallout 4 is a role-playing game and the next generation of open-world gaming. Based on the requirements stated by Bethesda, to play Fallout 4 seamlessly, you need a PC, preferably a gaming PC with a modern GPU and at least 30 GB of disk space. So, what laptop can you use to play Fallout 4 seamlessly?
It would be best if you had a laptop with a processor not lower than AMD Phenom II X4 945 3.0 GHz, Core i5-22300 2.8 GHz, or equivalent. The laptop also has to have a minimum of 8 GB of RAM and runs a GeForce GTX 550 Ti or Radeon HD 7870 or equivalent. ASUS TUF Dash 15, Acer Nitro 5, Lenovo Legion 5 15, Dell Inspiron 15, and HP 15 are laptops in this category. 
To play Fallout 4, you don't need a high-end gaming laptop. As long as the laptop comes with a dedicated graphic card and high FPS, you will enjoy a seamless experience. Most laptops have integrated GPUs that often don't meet the minimum requirement to play Fallout 4.
Let's take a closer look at some of the best laptops that support Fallout 4 below.
Best Laptops for Fallout 4
There are several laptops on the market that can play Fallout 4. However, the only restriction could be your budget. You will need to spend between $1000 and $1500 to get a pretty decent laptop that will play Fallout 4 seamlessly and serve your other needs.
Below is a review of the best laptops below $1,000 that can play Fallout 4.
If you are on a budget, the ASUS TUF Dash 15 (2022) is the perfect laptop to buy and play Fallout 4 at high gaming settings. This laptop comes with the supercharged NVidia GeForce RTX 3060, with up to 6GB of GDDR6 dedicated graphics card. This graphics card is 986% faster and more effective than Bethesda's recommended NVidia graphics card for Fallout 4. With a budget of less than $1000, you can get this ASUS TUF Dash 15.
Additionally, you will get the Core i7-12650H processor on the ASUS TUF Dash 15, which features 10 cores, 24MB cache, and up to 4.7 GHz. With this much power, combined with its 16GB DDR5 RAM and 512GB NVMe M.2 SSD storage, you can take advantage of the full RTX gaming experience.
A significant problem most laptops face with this much power is overheating, but not with the ASUS TUF Dash 15, as it comes with a dual self-cleaning Arc flow fan which is also dust-proof. To further stay ahead of the competition, the 15.5-inch FHD display with 144Hz refresh rate gives you a smooth gaming visual.
Another laptop you can get to play Fallout 4, which is under $1000, is the Acer Nitro 5. Though it is quite an affordable option, it doesn't mean Acer compromised on performance. The latest NVidia GeForce RT 3050 Ti is featured on this Acer laptop, which features 4GB of GDDR6 dedicated graphics card. Compared to the recommended graphics card by Bethesda to play Fallout 4, this graphics card is 551% faster. Also, this graphics card supports the Microsoft DirectX 12 Ultimate, Resizable BAR, 3rd-gen Tensor Cores, and 2nd-gen Ray Tracing Cores, amongst others, for better game support.
To further give you the best gaming experience, this Acer laptop comes with an Intel Core i7-11800H processor, which is excellent at battery performance. The processor features 8 cores, 24MB cache, and up to 4.6GHz in clock speed. Unlike the ASUS, this Acer laptop comes with 16GB DDR4 RAM with a read-write speed of 3200 MHz; although slower, it is fast enough to play Fallout 4 at high graphics settings. You also get two storage space slots on this Acer laptop: a PCIe M.2 slot and a 2.5-inch hard drive bay. To ensure the laptop does not overheat, the Acer CoolBoost technology can increase fan speed by 10%.
If you are looking for a high-end gaming laptop, the Lenovo Legion 5 is perfect for you. With a price of slightly over $1000, this Lenovo laptop is purposely built for gaming performance. It features the GeForce RTX 3050 Ti graphics card, which surpasses what you need to play Fallout 4 at the best graphics settings. This graphics card comes with the 3rd gen AI Tensor cores, 2nd gen Ray tracing, and more to give you true depth and visual fidelity.
The Lenovo Legion 5 comes with the latest AMD Ryzen 7 5800H processor, which features eight high-performance cores and a clock speed of 3.2 GHz, or 4.05 GHz, at turbo boost. Also, the 15.6-inch FHD display with up to 165Hz refresh rate, less than 3ms response time, and the AMD FreeSync and Dolby Vision give you premium graphics. Along with its outstanding CPU, this Lenovo laptop comes with 512 GB of NVMe SSD storage and 16GB of DDR4 RAM.
The Dell Inspiron 15 is quite affordable yet packed with all you need to play, even action-heavy games. The NVidia GeForce GTX 1050 Ti on this Dell laptop comes with up to 4GB of a dedicated graphics card, which is 241% more efficient than the AMD FX-9590 GPU recommended by Bethesda to play Fallout.
Furthermore, this Dell laptop has an Intel core i5-7300HQ processor, 4 cores, and a base clock speed of 2.5 GHz. The 8GB of DDR4 RAM and 256 SSD storage also help to give this Dell laptop the boost it needs to play highly demanding games. Also, the 15.6-inch FHD LED display of this Dell laptop with anti-glare display for comfortable gaming.
Laptop #5: HP 15 
The HP 15 is perhaps the cheapest laptop in this guide that you can buy to play Fallout 4. With a price of over $600, this laptop comes with just the basic specifications to play Fallout 4 and other games. Powered by the NVidia GeForce RTX 3050 Ti, this HP laptop provides up to 4GB of high-speed, dedicated graphics memory. This graphics card also features tensor cores, enhanced ray tracking, and several new streaming multiprocessors.
HP also integrated this laptop's superior core i5-12500H processor, capable of dynamic power distribution where the system needs it most. This processor puts things in perspective when HP claims this laptop battery can last up to 8 hours of gaming. Furthermore, featured on this HP laptop is up to 8GB of DDR4 RAM and 512GB of SSD storage, making this laptop very responsive to running games with several open tabs.
When searching for a gaming laptop, you should look for the GPU, CPU, RAM, storage, screen type, and battery life.
Conclusion
Finding an ideal laptop that meets your budget and needs can be challenging, considering the several brands and models on the market. But if playing Fallout 4 is quite important to you, the laptops mentioned above are great buys. With the features of the laptops we mentioned above, you can also use the laptop to play several other high graphics games like The Outer Worlds, Metro Exodus, and The Elder Scrolls V: Skyrim, amongst others.