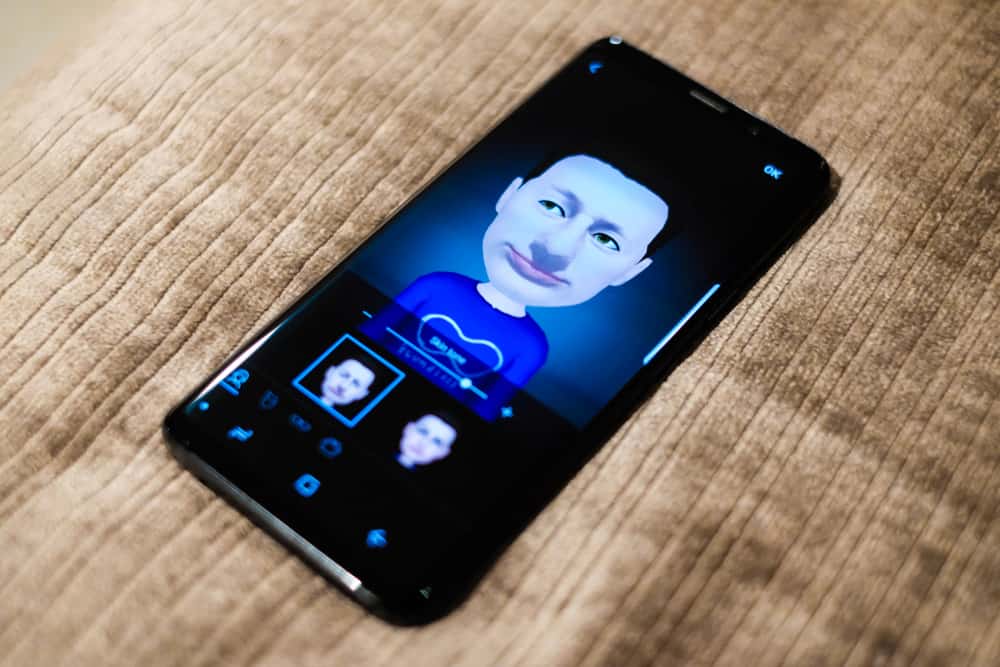 The AR Zone app allows Galaxy S9 and S9+ users to experience augmented reality with their devices and is used to play AR Emoji, AR Doodle, and AR Zone. However, you might not be a fan of the AR Zone app and want to remove it from your device to free up some storage. Thankfully, doing this is a quick and easy process.
You can remove the AR Zone app by opening the app and navigating to the Settings on the top-right corner of the screen. Now, turn the "Add AR Zone to Apps screen" switch to "OFF." The app will disappear but will not uninstall.
The AR Zone application is pre-loaded on all Samsung Android devices, and we all are well aware that you cannot uninstall them. However, you can still make them disappear.
We have written a comprehensive guide on removing the AR Zone app from your phone and making some space for other apps on the screen.
What Is the AR Zone App?
An AR Zone app is a camera feature that enables you to apply different effects and filters, create augmented reality stickers and masks, etc. The AR Zone app comes pre-installed on most Samsung smartphones.
AR Zone uses Augmented Reality (AR) technology to have fun with the world around you. The app includes various features, including AR Emoji, to create and customize emoji stickers, and share them among friends.
Removing AR Zone App
AR Zone is an incredible tool for helping you create exceptional experiences, but it might be useless to you. Therefore, you may want to clear up some space and tidy up your screen menu by removing the app.
Our step-by-step methods will help you quickly get rid of the AR Zone app. So let's get started.
Method #1: Using the AR Zone App
AR Zone is a built-in app integrated with your mobile camera. However, you cannot uninstall it but can remove it to clear your apps screen in the following way:
Open the AR Zone app.
Tap on the settings icon on the top-right of the window.
Toggle the "Add AR Zone to Apps Screen" button to "OFF."
Now the app is removed.
Method #2: Using Phone Settings
Another quick way to remove the AR Zone app from your screen is to disable it from your Phone settings. To do this:
Go to your Samsung phone's Settings and search for "Apps."

Now scroll down to find the AR Zone app and tap on it.
Next, select "Disable" to remove the app from the Apps screen.
Deleting AR Emoji
If you don't want to remove the AR Zone app but want to clear some space, you can delete some of the AR Emojis. To do so, follow these steps:
Open the Camera app.
Tap on the "More" option.
Select AR Zone> AR Emoji Camera.

Now tap on the Settings icon on the top and select "Manage Emojis."
Choose the emojis you want to delete and tap on "Delete."
What Is AR in Smartphone Camera Technology?
Augmented Reality (AR) is not just an app that uses your camera to superimpose graphics onto the real world. The technology blends the digital and physical worlds, generally via a smartphone camera, so that you can interact with both at the same time.
AR lets you see the world around you while also providing additional information that doesn't exist on the physical plane. Some of the most basic examples of AR are Snapchat and the forgotten Pokémon Go game.
Summary
In this guide about removing the AR Zone app, we have discussed AR Zone and explored two methods to delete it from your Samsung phone. We've also explained how you can delete emojis from the AR Zone app to free up some space without uninstalling the built-in camera app.
Hopefully, now you have space on your phone for other apps to download. Have a great day!
Frequently Asked Questions
AR Emojis are the latest feature in Samsung's line of smartphones. They use face-scanning technology and image-mapping software to create digital facial expressions.
With AR and its AI ability to use facial mapping techniques, you can create an emoji of yourself with several facial expressions. Besides, you can customize your emoji with different clothes and hairstyles and create stickers from that 3D model.